---

The American health care system from A to Z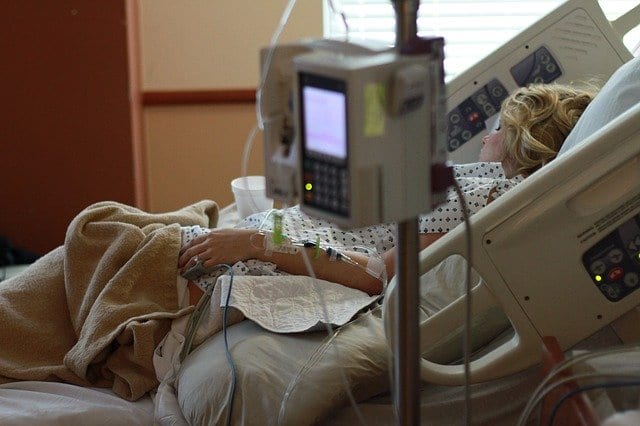 In the 1960s, then-President Lyndon B. Johnson proposed establishing a semi-universal healthcare system. That structure is still the foundation of the American health-care system today. Obamacare defined it in 2010: Medicaire and Medicaid. Let's explore how the healthcare system designed in the United States operates.
How does the American healthcare system work?
Unlike in Europe, where the right to health is uniformly guaranteed for everyone by state regulations (in Italy, it is guaranteed by article 32 of the Constitution), the right to health in the United States is mostly founded on private principles.
Essentially, this means that, although healthcare is available to all residents regardless of wealth or income on the old continent, it is not available in America. In reality, access to therapy is only assured for those who can afford it financially, either because they are financially covered or have particular insurance coverage.
Medicare and Medicaid are both government-funded health-care programmes in the United States. The Centers for Medicare and Medicaid Services (CMS) is in charge of monitoring them, as well as the Children's Health Insurance Program (CHIP).
The applications, however, operate somewhat differently and are designed, above all, to suit distinct sorts of users. Although both systems are an essential and effective component of the American health-care system, they are vastly different.
What are the differences between Medicare and Medicaid?
Medicaid: What is it for and how does it work?
Medicaid, which was established in 1965, is essentially a government health programme that assists the less well-off (low-income people and families) in bearing the expenses of health insurance, covering a more or less relevant portion based on their stated income.
The programme is financed by the federal government of the United States, but it is wholly handled by each of the 50 states. Medicaid covers the following:
dental expenses;
x-rays;
treatments in psychiatric clinics;
examinations and controls for people under 21;
transporting a patient to visits, including by ambulance;
medicines, equipment of various kinds (such as wheelchairs), and more.
However, with the exception of emergency care, Medicaid does not cover all impoverished individuals.
Income (including real estate and bank accounts), age, and any handicap all influence entrance criteria (paralysis, blindness). Even if you are an immigrant with a regular permit, you are covered by Medicaid.
Because Medicaid is managed by the states rather than the federal government, each state determines income criteria for eligibility.
Medicaid membership is primarily optional under the statute, although the programme has now been embraced by all US states.
The introduction of Obamacare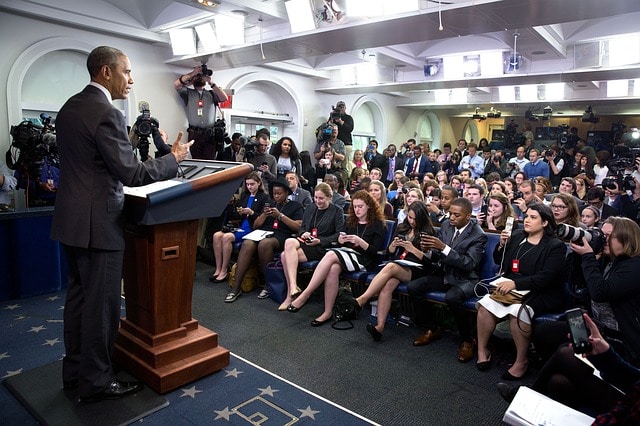 The passage of Obamacare by President Barack Obama in 2010 was a significant innovation. This initiative provided coverage to income categories who did not previously fulfil Medicaid standards.
In reality, the previous president has made a number of improvements to the health-care system, such as increasing the number of people eligible for it tenfold.
Among the modifications brought by Obamacare are the requirements for businesses with more than 50 employees to contribute to the expenses of their employees' policy purchases, the restriction on insurance companies denying the stipulation of plans, and aid for specific disorders.
It has also imposed fines on those who do not obtain insurance.
What is Medicare?
Medicare, the flip side of the American health-care system, is a medical insurance programme sponsored by the US government that primarily covers the elderly and handicapped, regardless of reported income.
It is funded at the federal level by payments from employees and companies.
HOW IS MEDICARE DIVIDED?
Lyndon Johnson introduced Medicare as Medicaid, and it is divided into two parts: part A is Hospital Insurance, which covers the costs of stays in hospitals or hospices (coverage is based on the patient's income range), and part B is Medical Insurance, which covers the costs of other medical treatments, such as home care and some medications.
Most users of this insurance pay a fixed monthly percentage; Part A and Part B, also known as Original Medicare, work together to cover the majority of the beneficiaries' inpatient and outpatient medical needs, and are thus considered basic health coverage, as the system essentially forces citizens to enrol in the Medicare health programme by imposing a series of harsh penalties.
WHAT DOES MEDICARE PART A COVER?
Medicare A covers hospitalisation and includes the following benefits:
Hospital stays (semi-private rooms) up to 60 days;
hospital meals;
nursing services;
intensive care services;
medications, medical supplies, and equipment used on the premises;
laboratory tests and X-rays performed in the hospital;
surgery and recovery costs;
rehabilitation and therapy services;
part-time home nursing care.
WHAT DOES MEDICARE B COVER?
Medicare B covers your outpatient medical requirements and includes the following benefits:
routine doctor visits;
tests and x-rays;
flu vaccines and other vaccinations;
necessary medical supplies;
outpatient mental health care;
medically necessary preventive care;
The Medicare programme, on the other hand, provides private health insurance known as Part C (Medicare Advantage) and Part D.
WHAT DOES MEDICARE C COVER?
Medicare Advantage plans (part C) are provided by commercial health insurance firms and provide, in addition to everything currently covered in parts A and B (Original Medicare), a variety of extra services such as:
Cleanings, x-rays, and dentures are all part of basic dental care.
regular vision care, which includes contact lenses and spectacles;
regular hearing aids;
Fitness advantages, such as exercise courses
WHAT DOES MEDICARE D COVER?
Only commercial health plans provide Part D (prescription medication coverage).
Despite massive public investment, it must be stated that, while the majority of Americans acquire health care in some form or another, the middle class, who earns little but is not poor enough to qualify for Medicaid, can face considerable financial difficulties.
How much does US health insurance cost?
Both health programmes, as they are now designed, include expenses that consume about half of state budgets. In fact, a recent research issued by CMS/Office of Enterprise Data & Analytics/Office of the Actuary highlighted the US government's Medicare spending in 2017:
Part A has been utilised by 7.7 million persons for a total cost of 188.1 billion dollars, which has been distributed as follows:
6.6 million hospital admissions and $135.3 billion spent;
1.8 million patients enrolled to rehabilitation institutions, with a total cost of $28.1 billion;
1.6 million persons in need of home care services, with a $6.8 billion budget;
At a cost of $17.9 billion, 1.5 million patients were admitted to long-term care (hospice) homes.
34.2 million persons participated in B for a total cost of 188.9 billion dollars, which was distributed as follows:
33.6 million patients for medical appointments at a cost of $105.6 billion
Outpatient treatments for 25.7 million persons at a cost of $72.3 billion;
2 million individuals will receive home care services at a cost of $11 billion.
The 2019 changes
Access to Medicare Parts A and B is predicted to be 61.2 million in 2019, split between those over 65 (52.6 million) and those handicapped (8.6), with Medicaid access expected to be 75.8 million.
Trump's election as President of the United States, on the other hand, has put Obama's health-care reform into doubt. Indeed, Trumpcare, unlike Obamacare, acknowledged the right to health as universal and proper to all people. Not only that, but it confirms the idea that health care is no longer a universal entitlement, but rather a choice made by citizens.
As a result, no one will be obliged to purchase an insurance under penalty of paying a penalty, as required under the prior law. The assignment has also been cancelled for businesses with more than fifty employees that are obligated to provide health insurance to their employees.
Furthermore, Trump's American Health Care Act intends to abolish or gradually diminish benefits for low-income Americans, replacing them with a partial tax credit (depending on the policyholder's age and income).
The impact of the Covid-19 pandemic in 2020
Several laws are beginning to be reduced as a result of the proliferation of Covid-19 in the United States during the month of March. The subject is broad and might fill several articles. Let's look at a few examples of what's going on.
To assist cope with the situation, the Centers for Medicare & Medicaid Services, for example, has expanded coverage of telehealth services. It should be emphasised that these coverages were formerly relatively restricted. Companies that provided telemedicine services grew dramatically during this time period, as did everything else.
Another clear indication of the system's progress is the relaxation of the licencing requirement: formerly, a doctor had to hold a licence for the state in which he wished to practise. The federal and state governments are now approving this in areas severely impacted by the virus. It may appear weird, if not insane, to those accustomed to national health systems, but in the United States, this is the standard.
How can I get health insurance in the USA?
As we have seen, in order to acquire health care in the United States, you must satisfy highly precise conditions that change depending on the insurance programme.
Medicaid (if you have a low income or fall into one of the categories listed below):
at least 65 years old
less than the age of 19;
pregnancy (being pregnant);
have a handicap;
adult or parent with a minor dependant;
adult who does not have any dependent children (in some states);
qualified immigrant
Medicare:
at least 65 years old
under 65 and handicapped;
End-stage renal disease at any age (permanent renal failure requiring dialysis or a kidney transplant).
Travel medical insurance for US visitors
As a result, it appears clear that anyone planning a trip to the United States, whether for pleasure, work, or study, must obtain a series of documents to ensure that his trip finally begins (for example, the 'ESTA for those who intend to stay in the USA for a maximum of 90 days) and that he can then continue and end up safe from any unforeseen events.
International travellers can compare several health insurance policies for foreigners; multiple medical insurance plans are offered. Visitors visiting the United States should be aware of certain important considerations to consider when acquiring US travel medical insurance.
We intend to refer to the various types of guarantees provided and the maximum limits contemplated; in the first case, a guarantee that should not be overlooked is that relating to trip cancellation in order to ensure the value of the cost invested in the trip in the event that something prevents it from being completed.
Given the high expense of health care in the United States, it is best to maintain the ceilings somewhat high.
Read the specific article on this link for additional information about health insurance for your trip to the United States.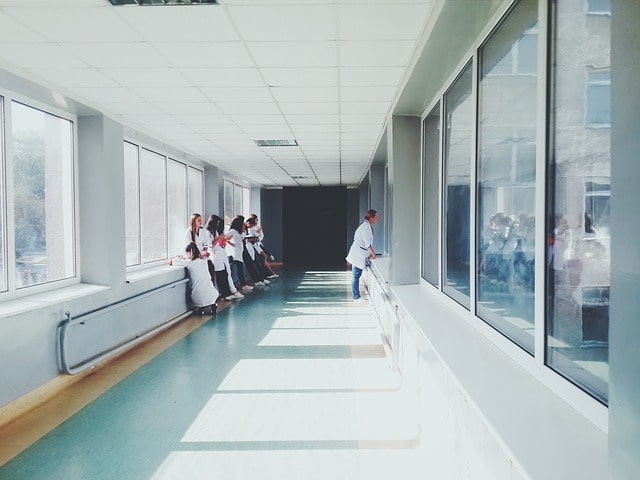 Corridor of an American hospital
American health system: final considerations
As we have seen, health care in the United States is a pretty sensitive issue, even for American politics. The transition from Obamacare to Trumpcare will almost surely be painful for the millions of US people who may have to supply the majority of their own health care.
This emphasises the distinction between our National Health System (SSN), which unavoidably defends the health of all Italian residents, and the American system. For these reasons, it is important to remember that having a solid health insurance coverage in the area of a trip to the United States is necessary.