---

All about the Green Card: what it is and how to get it
The Green Card, or "Carta Verde" in Italian, is a certificate that permits you to live and work permanently in the United States. The methods for acquiring it vary and can be fairly difficult at times.
In this essay, we will discuss the three basic methods for obtaining this coveted certificate. You will discover important information on the conditions to meet in order to seek it, and we will ultimately address the distinction between a Green Card and American citizenship.
What is the Green Card for and what is it?
The formal name for the well-known Green Card is Permanent Residence Permit. As the name implies, it is a document that permits you to immigrate to and reside permanently in the United States. As a result, anyone has this document is eligible to work in America.
Green Card users are given a plastic card that contains all of their personal information. Carta Verde receives its name from the card's distinctive green tint. In addition to the ability to live in the United States, permanent residency confers several benefits. Green Card holders are permitted to:
serves in the United States military and several federal institutions
work for any company, with the exception of US federal entities;
be protected by federal, state, and local laws in the United States;
travel freely outside the United States for up to a year;
petition for a Green Card for family members, such as wives and children;
However, becoming a permanent resident implies several responsibilities:
follow all federal, state, and municipal laws in the United States;
finish your US tax return;
Finally, men between the ages of 18 and 25 should register with the Selective Service System.
How to get the Green Card and live in the USA?
There are now 13.2 million permanent residents in the United States, accounting for around 4% of the total population. As a result, the number of Green Card holders remains quite low, and acquiring one may be rather difficult.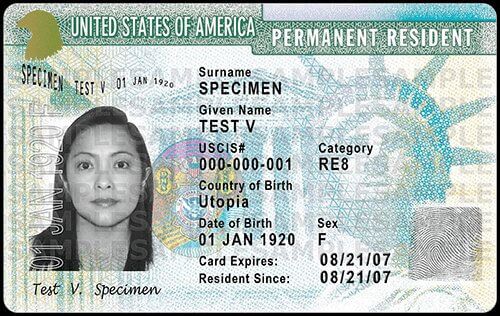 In actuality, there are just three major criteria that qualify for a Green Card, which we shall discuss further below:
a family member's petition;
Lottery for Green Cards;
prerequisites for employment
Each of these categories has extra criteria for candidates. The anticipated wait periods for obtaining the permit also vary greatly. While some candidates can acquire a Green Card in one year, others must wait up to ten years.
Permanent residence in the United States on a family basis
Having a next of kin who is a US citizen or permanent resident is most likely the simplest way to come to the US. In actuality, this category includes between 300,000 and 500,000 persons who come to the United States each year.
Not all familial relationships, however, are created equal. While some virtually always guarantee a Green Card, others have a limited quantity. The following are all of the family categories that are eligible for permanent residence in the United States.
| category | Average waiting time | Annual number of visas |
| --- | --- | --- |
| Green Card for marriage and next of kin of a US citizen | from 6 to 14 months | Without limits |
| unmarried children over the age of 21 of a US citizen | from 8 to 21 years old | 23,400 |
| spouses and children under the age of 21 of a permanent resident | from 1 to 2 years | 88,000 |
| unmarried children over the age of 21 of a permanent resident | from 4 to 6 years | 26,300 |
| married children of a US citizen | from 10 to 22 years old | 23,400 |
| brothers and sisters of a US citizen | from 13 to 24 years old | 65,000 |
Please keep in mind that if you fall into one of these categories, you will be unable to apply for permanent residence on your own. In any case, your US relative or Green Card holder must start the sponsorship process on your behalf.
Green Card Lottery and Permanent Residency
Every year, the US State Department holds a lottery to award 55,000 Green Cards. The Immigrant and Nationality Act of 1965 governs the effort, which aims to reduce prejudice in the admission of migrants.
Indeed, previous to the formation of the lottery, non-Northern European migrants were regularly discriminated against in the United States. Today, however, inhabitants of several countries, including Italy, can enter this lottery once a year for a chance to win a Green Card.
The goal of the lottery inspired the name of the visa awarded to the winner, Diversity Visa. However, there are prerequisites for participation and obtaining this visa.
having finished at least secondary school (or have obtained an equivalent qualification). This criteria can be completed by working for two years in a position requiring at least two years of experience.
be a citizen of a nation that allows participation If you do not fulfil this condition, you can still participate by claiming that you are from the nation of your spouse.
Every year, the US government prohibits people from certain nations from entering the lottery. In the previous five years, more than 50,000 people have moved to the United States from these states. As a result, the following nations did not participate in the most recent round of the Green Card Lottery, which concluded in October 2019 and is valid through 2021:
bangladesh
Brazil
Canada
china
Colombia
South Korea
El Salvador
Philippines
Guatemala
Haiti
India
Jamaica
Mexico
Nigeria
Pakistan
United Kingdom (except Northern Ireland)
Dominican Republic
This article will be updated as soon as the countries excluded from the 2022 edition are announced. For the time being, it is known that the drawing for 2022, known as the DV2022 Lottery, will take place on March 1, 2021, and the winners will be announced on May 5, 2021.
How to participate in the Green Card lottery?
Every year, from early October to early November, you can enter the lottery. In May, the winners are chosen at random by a computer, usually around the fifth of the month. If you submit more than one application per person, US authorities will reject your application.
Participation is simple, and you can apply for free through the Green Card Lottery's official website by following these steps:
Before beginning the registration process, gather all essential personal data: the standard ones like name, place and date of birth, data on children, spouses, and so on.
Make sure you have a photograph that passes DV Lottery requirements, which are often the same as those for a US passport or visa. The site will request a photo of you as well as images of your spouse and children, if relevant.
complete the online form: as you begin filling out the form, make frequent use of the "save" option. You are not required to complete the question in one sitting, and we recommend utilising browsers such as Chrome or Firefox.
Make a note of the code you will receive after submitting your application: After submitting the form, you will be granted a code through email, which you will use to monitor the progress of your application.
Check the status of your application: the Electronic Diversity Visa Lottery results are normally accessible from 5 May to 30 September.
You merely need to input the code you were given after finishing the application in the relevant area of the official website. The code is required since you will not be alerted via email regardless of the outcome of your application.
I have been selected: what to do?
Being chosen does not ensure permanent residence in any way. If you are one of the lottery winners, you will be required to:
Make an appointment at your nearest US Consulate. After you have verified the status of your application, you will be given specific instructions.
take the necessary medical exams and immunizations to acquire the Green Card;
Form DS-260 must be completed.
Finally, collect all relevant documents in English translation:

a printed copy of the appointment confirmation with the consultant;
print the confirmation page for the DS-260 form;
passport valid for at least 6 months from the appointment date
high school diploma or equivalent job experience
marriage licence;
inevitable annotation of the divorce or separation sentence;
family situation

pay the consular fee of $330 and show up for the interview.
After the interview, the consular officer will decide whether or not to grant you a Green Card. If you get a positive response, you will now be able to live in the United States.
Permanent residence with E2 visa and other working visas
Another alternative for relocating to the United States is to qualify based on your job. This is an option for specialised foreign employees who are already temporarily resident in the United States. The following categories are eligible for work-based permanent residency:
Priority Foreign Workers (E1 Visas)
Annually, around 41,500 visas are available for these workers. The waiting period for this visa ranges from 18 months to 4 years. This category has three subgroups:
Foreigners having "exceptional" abilities in the arts, sciences, academia, business, or sports;
foreign researchers and professors with internationally recognised skills and at least three years of experience;
Foreign executives and managers who obtain an intra-company transfer to the United States.
Professionals with an advanced educational qualification or with skills considered "exceptional" (E2 visas).
This US work visa for Italians and other foreigners, however, is not always accessible. The yearly allotment is roughly 41,500 visas in years when the US authorities decide to give it.
E3 visas are for professionals and skilled employees. The first group comprises everyone whose job needs a three-year degree or above. The second, on the other hand, is intended for people who work in a job that needs at least two years of experience or apprenticeship. Again, the maximum yearly number of visas is 41,500, which is not always accessible.
Ministers, religious workers, and former US government employees (E4 visas). This group receives little more than 10,000 visas every year from US authorities.
investors (E5 visas) (E5 visas). To qualify for this category, you must spend at least $900,000 in rural areas of the United States, generating at least 10 jobs. You must also contribute at least $1.8 million.
The main categories of Green Cards
Given the vast number of possibilities that might lead to a person applying for a Green Card, its categories are likewise vast. The three primary categories connected to persons searching for job in the United States, known as "Employed-Based" or EB, are listed below.
GREEN CARD EB1
Outstanding professionals, such as prominent university professors or high-level CEOs, are eligible for this form of Green Card. It is also known as "First choice."
Because it does not require any certification from the Department of Labor, this sort of green card (which is normally difficult to get unless in extremely particular instances) is processed faster than the other categories of green cards (DOL).
EB2 GREEN CARD
EB2 is likewise reserved for top experts and labourers. In any event, the purchase of an EB2 type Green Card is contingent on a permanent work offer from an American employer. Also known as "second choice."
Unless the professional in issue is on the National Interest Waiver registry, special certification from the Department of Labor is nearly usually necessary for this form of green card.
EB3 GREEN CARD
The EB3 green card category is designated for talented employees (of any category) who have been offered a permanent position by an American firm.
However, as previously stated, this sort of Green Card is subject to certain verification. The Department of Labor must certify that the particular foreign citizen will not have a negative impact on the American labour market.
This sort of Green Card is difficult to get and has lengthy waiting periods of up to two years. These processes, on the other hand, are frequently handled directly by the firm interested in recruiting that specific individual on a permanent basis.
GREEN CARD EB4
This permanent immigrant visa is intended for foreign religious workers and minors whose guardianship has been entrusted to an American court for whatever reason.
Permanent residency and U.S. citizenship
Take caution not to mix up permanent residency with US citizenship. Obtaining the former does not, however, ensure access to the latter. Let's look at what distinguishes a Green Card from American citizenship.
Permanent residency, unlike citizenship, does not grant the right to vote or hold public office.
Permanent residency can be removed, although losing US citizenship is extremely unusual. Being convicted of a major crime or being abroad for more than a year might result in the revocation of permanent status.
How to get U.S. citizenship?
American Citizenship Ceremony
Regardless of these distinctions, a foreigner must be a permanent resident in order to be naturalised. Here's how to apply for US citizenship:
must be at least 18 years old
having lived in the country for at least 5 years For spouses of US citizens, the minimum is three years.
evidence that you have lived in the United States for the last 5 years prior to filing for naturalisation;
establish that you have spent at least 30 months of these 5 years physically in the United States;
having resided in the federal state where you are applying for at least three months;
be able to communicate in English on a basic level;
learn about the history and civic ideas of the United States
show a commitment to the ideas and goals of the American Constitution
Following completion of these criteria, you will need to:
pass an English language exam as well as a civics exam on US history and culture
Attend an interview with a US officer
Finally, in a public ceremony, swear allegiance to the United States.
Final considerations: is it possible to move to the USA with the Green Card?
Permanent residency, often known as a Green Card, is the only American visa that permits you to live and work in the United States without limits. However, as we have seen, acquiring it is far from straightforward, and in order to request it, one must belong to well-defined groups.
The most convenient method to live permanently in America is to have relatives who are permanent residents or citizens of the United States. In any case, the wait for family-based Green Cards can be quite extensive.
Work-based immigration can be considerably more complicated because the traits necessary are extremely particular.