---

The United States is preparing to lift travel restrictions for visitors. What do the new rules mean?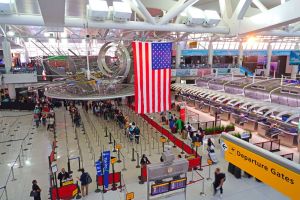 The Biden administration would enable vaccinated overseas travellers, including those from nations previously forbidden from entering because to the Covid-19 epidemic, to enter the United States.
Details are still being worked out, but this is what we know thus far.
The White House announced on Monday, September 20, 2021, that the ban on most travellers from the European Union, China, Iran, South Africa, Brazil, and India will be lifted in November, provided such travellers show proof of vaccination and a negative coronavirus test in the country.
Many countries whose citizens were barred from entering the United States directly applauded the new rules.
To yet, the only way in has been through painful and frequently costly manoeuvres.
For example, it will put an end to one of the strangest alternative solutions to the pandemic that has been seen: travellers from countries where entry is prohibited spend two weeks in "quarantine" in an intermediary country (usually Mexico or the Dominican Republic) and then fly to the United States after receiving a negative coronavirus test there.
However, the "quarantine" mentioned above is not a true isolation, but rather a two-week vacation to a third nation with no travel restrictions with the United States.
According to Mexican sources, the entire cross-country travel business is a scam," since the odds of catching the coronavirus are actually higher in the Cancn region, for example, than in the hometowns of many of the prospective travellers. reach the United States
The option of entering the United States through Mexico will soon be obsolete.
However, the new regulation, which applies to all international air travellers, raises numerous concerns and issues.
While many specifics have still to be worked out and revealed, here is an overview of what we know so far about how the new policy would influence entrance into the United States.
How do the new rules affect people from banned countries?
Over the last 18 months, practically all tourists from prohibited nations, including Italians and other EU nationals, have been blocked from entering the United States directly.
The White House pandemic coordinator, Jeffrey D. Zients, revealed Monday that the policy will be phased out in early November. Citizens of Italy and the other EU countries will be able to fly to the United States, just as they could before the pandemic.
This is only possible if international travellers from Italy show proof of vaccination and a negative coronavirus test performed within three days of boarding the flight to the United States.
There will be no need for quarantine upon arrival.
The Centers for Disease Control and Prevention (CDC) will also issue an order mandating airlines to gather phone numbers and email addresses from passengers for a new contact tracing system.
The ESTA form will almost certainly be revised in light of this new policy, with new sections registering the vaccine and the negative swab.
Further information about the contact tracing system has not yet been released.
It was also stated that unvaccinated people who do not have US citizenship will be denied entry.
On which day in November do the rules come into force?
The Biden administration has yet to specify when the new rules will go into effect in November.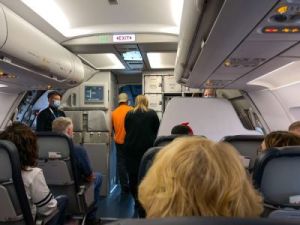 at Sanford International Airport, Florida
What does fully vaccinated mean? Which vaccines will be accepted?
In a statement, a representative for the Centers for Disease Control and Prevention said the agency was still in the "regulatory process," but patients are deemed properly vaccinated two weeks later:
their second Pfizer or Moderna vaccination dosage,
Alternatively, two weeks following a single-dose immunisation, such as the Johnson & Johnson vaccine.
Vaccines recognised by the World Health Organization for emergency use, such as AstraZeneca and Oxford, will also be valid.
How do the new rules affect travelers from countries that weren't on the banned countries list?
The new restriction applies to all non-US nationals, including those from Japan, Singapore, Mexico, and many more nations whose people were permitted to fly to the US despite the pandemic.
While vaccination status does not now impact whether or not these individuals can enter the United States, beginning in November, only fully vaccinated passengers will be permitted.
While visitors from these nations must currently produce a negative coronavirus test performed within three days of boarding a flight, tourists from other countries admitted during the epidemic are expected to be required to provide proof of immunisation beginning in November.
In fact, the policy will apply to all "foreign citizens."
This means that long-term US residents (for example, green card holders) who are not US citizens will be unable to leave the nation and subsequently re-enter it unless they are completely vaccinated.
What about US citizens?
Citizens of the United States are exempt from the immunisation obligation.
However, the new policy requires unvaccinated Americans to provide a negative test result within a day of their return flight and to be retested after landing.
What about children and others who cannot be vaccinated for medical reasons?
Most countries that demand vaccinations for entrance do not vaccinate youngsters because they are too young to receive the dosages.
It is probable that the United States will follow suit, admitting unvaccinated youngsters.
Given the White House's refusal to comment on this issue in detail, the conditional appears mandatory here.
It is also unknown what other exceptions will be made.
What about people from Canada and Mexico? If travelers cross the border by land, do they need to be vaccinated?
Travelers from Canada and Mexico will face the same limitations as those from other countries:
must be completely immunised
offer a coronavirus test result that is negative
For probable availability, include personal information such as a contact and address.
Land border crossings with Canada and Mexico are currently restricted to the great majority of travellers, except those who are absolutely necessary and have a particular permit to pass between the two countries.
This policy will be in force until at least October 21st.
According to Zients, the White House pandemic coordinator, the new foreign visitor policy only applies to anyone boarding an airline.
As a result, if the cause for travel is deemed necessary, an unvaccinated individual may still enter the United States by land.
The US Embassy and Consulates in Canada define "essential" as "work and study, support for important infrastructure, economic services and supply chains, health, emergency medical care, and safety."
Zients declined to comment on the future of ground limitations after October 21, when the present regulation is set to expire, during a news conference on Monday, November 20.
What US entry restrictions will continue in November?
Even before the epidemic, entrance to the United States was difficult for many tourists from all over the world.
However, the travel restriction has had a significant impact on many other nations that share economic and social policies with the United States, including friends and historical allies such as Europe and Canada.
Indeed, tourists from those allied nations have long had easy access to and from the United States.
Furthermore, the new policy, which will go into effect in November, will not change who may enter the United States without a visa, nor will it change the penalty of breaching visa regulations, such as remaining in the country for longer than authorised.
It does, however, significantly restrict who can enter the United States.
In Africa, for example, only 4% of the population is fully vaccinated.
In many regions of Latin America, fewer than one-third of inhabitants are properly vaccinated.
in Asia
as well as the Middle East
In some circumstances, people choose not to get vaccinated; in others, they simply do not have access to vaccinations.
These persons will no longer be able to come to the United States for whatever reason.