---

Traveling with a laptop: can you take your PC on a plane?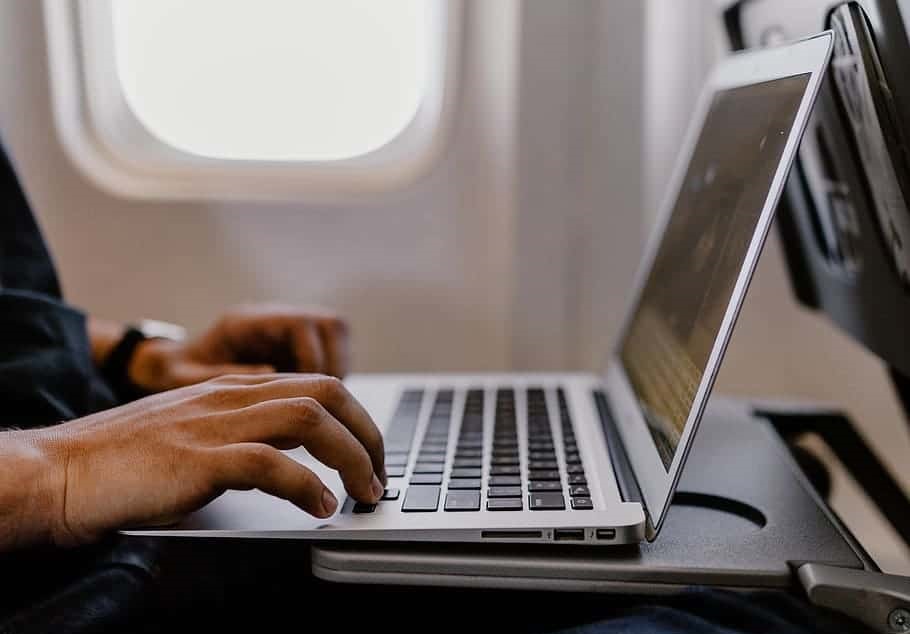 If you're preparing for your next vacation and aren't sure if you can bring your computer, this article will help you find out what you can bring in your hand baggage on a plane.
Frequent flyers are used to packing and confidently load their hand bags for the flight. However, whether you are travelling for the first time or have never travelled for an extended period of time, it is natural to have some reservations about what you can and cannot carry on an aircraft.
The laptop is frequently at the core of these concerns, since more and more individuals are required to bring it with them to work, even when travelling. Other electronic gadgets, such as tablets or e-books, as well as their attachments, such as headphones and chargers, raise similar concerns.
Can I take my PC on an airplane? Rules and precautions
In a nutshell, the answer is yes. In truth, with a few caveats that we shall discuss later, it is perfectly legal to travel with your computer in hand luggage when flying.
If you must travel with your laptop for any reason, we recommend that you take the following precautions:
Keep your device charged: At the airport, electronic devices may be subject to spot inspections during security procedures. In fact, employees may request that you switch on the computer to ensure that it is not an explosive device. If this is unable to switch on owing to a lack of charge, more testing may be necessary.
Check the list of prohibited items frequently: in fact, several laptop models have been prohibited on flights to or from the United States since June 2019. Due to a fault that causes the battery to overheat and potentially catch fire, these are the 15-inch MacBook Pros sold between September 2015 and February 2017. The following airlines and flights either completely or partially restrict carriage:

Flights to and from the United States: neither in the hold nor in carry-on;
TUI Group Airlines, Air Transat, Singapore Airlines, and Thai Airways: neither in the hold nor in hand luggage.
Other flights within the European Union: carriage is permissible as long as the gadget is turned off;
All 15-inch MacBook Pros (including ones manufactured on separate dates) are restricted on Qantas and Virgin Australia, both in the hold and in hand baggage.

Bring chargers and adapters: they are not forbidden items on airlines, but are necessary components for using your laptop, especially if you are travelling to the United States. Remember that the sockets are not the same as those used in Europe.
Check the airline's luggage allowance: it varies from company to business. Some airlines permit the carriage of two pieces of hand luggage: a purse or laptop bag and a trolley. Others, on the other hand, simply permit the transportation of hand baggage. Furthermore, the metrics frequently differ from one organisation to the next. You must stow the computer in your bag if you just have carry-on luggage.
Prepare for security checks: you will most likely be asked to take the computer out of your backpack or carry-on bag. As most airports require electronic devices bigger than a cell phone to be segregated from the rest of your luggage during security checks, make sure your computer is easily accessible.
Make sure your computer is appropriately secured throughout transportation: even if you carry your hand baggage with you, little shocks and turbulence might harm your gadget. We recommend utilising a laptop bag if the airline permits two cabin baggage. If not, put it in a protective fabric case before putting it in the cart.
Always obey the instructions of the flight attendants: even though the ENAC hand baggage regulation allows you to bring your computer on the plane, its transportation is still governed by laws. In reality, the captain or the aircraft crew can request that electronic gadgets be switched off at any moment. While you may almost always use your mobile phone in aeroplane mode, some airlines restrict you to turn off and stow your computer during takeoff and landing.
Check the availability of an internet connection on your flight: it will be impossible to connect to the internet using the data on your tablet or mobile phone during the trip. However, some firms provide the option of accessing Wi-Fi on board. This service is occasionally free, occasionally charged, and occasionally entirely missing. If you need to bring your computer on the airline in your hand luggage to work, we recommend informing yourself ahead of time about the availability of this option on board.
Usage aeroplane mode: PC use is permitted for the majority of the trip. You must, however, maintain your computer on aeroplane mode. If your device does not have that mode, check sure all current bluetooth connections are disconnected. This is also true for tablets and mobile phones.
What can you bring in your hand luggage besides your computer?
Electronic items permitted to fly to the USA
If you enjoy technology and want to bring additional gadgets on the journey in addition to your laptop, or if you don't want to bring your computer because it is too large, know that other electronic things are permitted on the plane. These are some examples:
Tablets and mobile phones: these goods are definitely authorised in flight and are especially advised if you are flying to the United States and wish to view movies or listen to music. You should use them in aeroplane mode, just like your computer, and switch them off when requested. Keep in mind that the tablet must be kept separate from the luggage during security inspections.
ebook reader: If you enjoy reading and are unsure what to bring to America on a journey, we recommend packing an ebook reader in your hand baggage (Kindle and similar). Books and periodicals, in particular, are heavy and can significantly increase the weight of hand baggage. By reading in electronic format, you may carry as many books and periodicals as you like with you while saving space.
Power banks (portable memory for computers): Although these products can be transported in hand luggage, they are not authorised if checked baggage is checked. In the cabin, each passenger may bring up to two power banks with a maximum capacity of 100 Wh. Authorization from the airline is required for power banks with capacities ranging from 100 to 160 Wh. Higher capacity power banks are prohibited from being carried on an aircraft.
If you are asked to check in your hand luggage, remove the power bank and any other lithium battery products from the suitcase before giving it over to the crew.
Electronic devices prohibited in flight to the USA
On flights to the United States or the United Kingdom, there is a unique category of electronic gadgets that cannot be transported in hand baggage. This list is the outcome of the Electronic Ban, which was implemented in 2017 to regulate the use of tablets and PCs on flights from the following countries:
Turkey
Egypt
Jordan
Kuwait
Lebanon
Tunisia
Saudi Arabia
Qatar
United Arab Emirates
Tablets and PCs, in any case, are included in what can be taken on the plane, even flights departing from these nations. All you have to do is place these electronic items in your checked luggage.
In order to assist its clients, several firms affected by this new legislation have already taken efforts to raise the weight permitted for checked luggage. In any event, we recommend that you weigh your luggage before arriving at the airport.
Keep in mind that the Electronic Ban applies to all aircraft departing from these countries, even if you are merely stopping for a layover or if the United States or the United Kingdom are not your final destination.
What to put in hand luggage ? Advantages and disadvantages of bringing the computer to America
Just because you may bring laptops and other electronic gadgets on a plane doesn't mean you have to pack them in your carry-on bag while visiting the United States. As we shall see, carrying your laptop with you might be beneficial, but there are certain precautions you should take.
Advantages of bringing your computer with you to the USA
Work from anywhere: If you don't want to miss anything that happens in the office while you're gone, or if you need to work while travelling, we recommend that you carry your PC with you. You actually don't have a choice.
Watch your favourite movies and listen to your favourite music: trips to the United States are famously long, and it's easy to become bored. Fortunately, the laptop is one of the items that may be brought into the United States. Download movies, TV shows, and music before you go, and you won't be bored in the air.
You won't have to worry about running out of memory: if you're visiting the United States for pleasure, chances are you'll want to take some photos. You may avoid running out of memory by carrying your computer with you and downloading images from your camera or cell phone to your PC.
You will have access to crucial and valuable information for your trip: it is now feasible to perform anything that a computer would do using a smartphone. It is indisputable, however, that reading on a laptop screen is far more pleasant than reading on a mobile phone screen. With your PC, you may read up on attractions and points of interest in your target city, download maps, and purchase tickets and museum admission.
Disadvantages of carrying laptop in hand luggage
Weight and size: As previously stated, not all airlines allow travellers to bring two pieces of hand baggage. If this is the case, your computer may take up valuable space and weight within your carry-on luggage. If you don't intend to use it, or if you don't absolutely need it, bringing a tablet or ebook reader may be preferable.
Safety of your belongings: You may have to disconnect from your computer during the journey. In fact, there may not be enough space in the overhead locker next to your seat, and you may have to get up to use the restroom. Even when you get at the hotel, you must place the computer in the safe.
You should also pack an adaptor because power outlets differ between the United States and Europe. Aside from the extra size, keep in mind that not all adapters are compatible with PC chargers.
Computers in hand luggage and prohibited objects on the plane: travel with peace of mind
You have nothing to worry about if you need to bring your laptop on the airline. As we've seen, not only can it be carried in hand luggage, but it can also be used in flight. However, remember to always follow the flight attendants' recommendations.
In fact, they will notify you if you are unable to use the computer, such as during takeoff or landing. Similarly, using the PC and other electronic devices in aeroplane mode is recommended.
There is, without a doubt, a huge list of forbidden things on board aeroplanes, but this is primarily made up of dangerous stuff that none of us would ever consider bringing on a trip. The sole exception, as previously said, are liquids. Their transportation is strictly restricted, and airport officials strictly enforce these regulations.
We recommend that you review the list of forbidden goods in flight before departing, especially if you are carrying food, liquids, cigarettes, alcohol, or medications. All of the information may be found in this page about what to carry to the United States.
Simply follow the basic principles in this post to travel with your laptop without worrying about your luggage.