---

What does it take to go to America?
All international visitors to the United States are thoroughly screened by the US government. Organizing a vacation to the United States demands considerable care. You will need a passport and a visa if you are not from the European Union or the Schengen region. This post is for you if you are planning your first vacation to the United States. Here you can discover important information on travelling to America as well as airport security processes.
Travel documents to go to America
European residents are accustomed to moving freely within the European Union's 27 member states with merely an identity card. The Schengen zone is, indeed, incredibly handy. Going to the United States, on the other hand, is a different story. In truth, European nationals must present a number of documents in order to go to America. Let's take a look at what it takes to get there.
Passport to the USA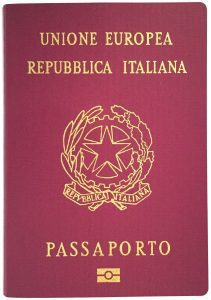 The Italian electronic passport
US Customs and Border Protection (CBP) agents will inspect your passport before departure and/or upon arrival in the United States. This force, known in Italian as "Customs and Border Police," is in charge of protecting the United States' borders. The passport is thus the first item on the list of what you need to go to the United States.
The passport must also fulfil the following requirements:
The passport must be digital or biometric. This passport, which has been available since 2006, includes 48 pages and bears the owner's personal information. The paper also has a microchip that can send the information on it in electronic format. This feature streamlines and secures airport employee and CBP authentication activities.
Take note of the passport's expiration date. Previously, US officials demanded a passport valid for at least six months after entering the country. Today, however, your passport must be valid for at least the duration of your vacation to the United States. The US government launched the Six Month Club in 2014. For a number of nations, including Italy, this programme reduces the six-month minimum.
If you're visiting the United States for the first time and don't have a passport, get one as soon as possible. Visit the website dedicated to the United States passport for more information on how to get one.
Visa, I-94W or ESTA: what do you need to go to America?
It is not feasible to enter the United States with simply a passport. With the exception of Canadian citizens, everybody travelling to the United States must bring additional items. One of the initial requirements is an American visa, or at the very least an ESTA permit.
Italy, fortunately, is a member of the Visa Waiver Program. This project includes 39 nations whose people can visit the United States without a visa. In most circumstances, an electronic permission known as ESTA, which stands for Electronic System for Travel Authorization, is sufficient.
You will no longer need to physically visit an American consulate or embassy to get a visa as a result of this programme. Furthermore, because this is an electronic authorisation, you will not require a paper visa in your passport.
The following are the prerequisites for travelling with ESTA authorization:
have a valid biometric passport;
be a citizen of a country participating in the Visa Waiver Program;
travel solely for tourism, business, medical or transit reasons;
stay for a maximum period of 90 days;
travel by plane or ship;
have no criminal record;
have never violated US immigration laws;
have a return ticket.
Validity of the ESTA and precautions
If you intend to travel with an ESTA, keep the following in mind first:
The ESTA is valid for two years and permits you to stay in the nation for up to ninety days.
Please submit your request at least 72 hours prior to the trip.
You will not be permitted to travel using ESTA if you are not a citizen but simply a permanent resident of a Visa Waiver Program nation.
Having a valid ESTA does not ensure entry into the United States. In any event, you will be subjected to an interview with CBP officials.
However, not all travellers are eligible to use ESTA. If you are unsure about what you will need to travel to the United States using ESTA and how to apply for it, we recommend reading about how to acquire visas to travel to America.
I-94W and other visas
Only ESTA is necessary if you enter US territory by air or water. If you are travelling by land, however, you will not need to get an ESTA. Those coming in the United States from Canada or Mexico, for example, must complete the I-94W form.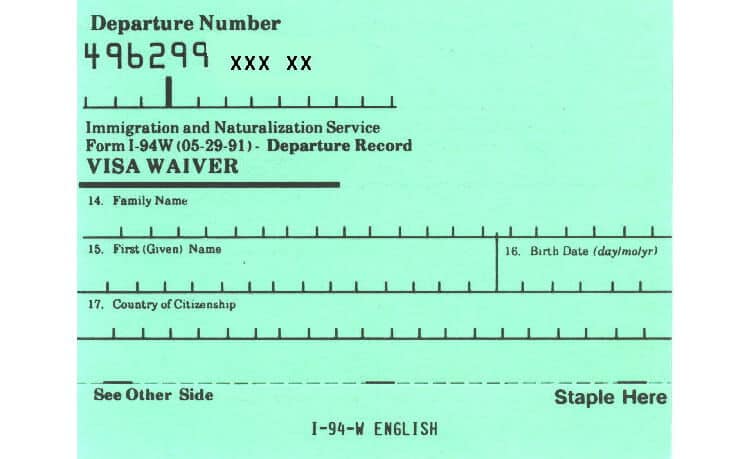 This permit is provided immediately at the border and has the same conditions and advantages as ESTA. If you are unable to apply for an ESTA, you will require another sort of visa. This is true for:
tourists who are not nationals of a Visa Waiver Program member country;
Other than for tourist, business, transportation, or medical purposes;
Travel for leisure or business that lasts longer than 90 days.
If you want more information on the several types of visas available for the United States, see the page on American visas.
Baggage for travel to the USA
Make sure you understand the forbidden articles rules before packing your baggage for your vacation. Take note of the distinctions between hand baggage and checked luggage.
Checked baggage rules:
Most airlines that fly from Italy to the United States include checked luggage in the ticket price. In general, airlines use the following criteria:
In general, hand baggage measurements cannot exceed 158 millimetres in length, height, and depth. Each corporation, though, might set its own standards for what can be imported to America.
Each bag's weight should not be more than 23 kg. In this situation, too, the maximum weight allowed may differ from one firm to the next.
There may be variances in the number of baggage included in the price between business class and economy. In most cases, business class customers are entitled to two complimentary pieces of luggage in the hold. Those in the economy, on the other hand, just one.
On flights between Italy and the United States, companies such as Emirates allow you to check in two bags for free. If you are only allowed one piece of luggage, you can usually check in another for a fee.
As a result, we recommend that you always check the airline's website to determine its baggage allowance.
Finally, if you employ a lock, ensure sure it has been approved by the TSA, the United States' transportation security organisation. Although it is now feasible to electronically inspect the contents of luggage, the TSA may opt to open your suitcase. Padlocks that are TSA authorised are branded " TSA approved " and open using a passe-partout key. As a consequence, authorities will not have to cut or break your lock during an examination.
Hand luggage: what you need to go to America
There are distinct restrictions in the United States for hand baggage as well. Although each organisation may set its own requirements, the following general guidelines apply:
Dimensions maximum of 56 x 36 x 23 cm;
weight approximately 10 kg, although this requirement varies greatly from firm to company;
just one piece permitted;
It is your responsibility to place it in the parcel shelf or beneath the seat in front of your own.
Some things, once again, are not permitted in hand baggage. Check out the whole US carry-on luggage guide for a thorough list and step-by-step instructions.
In addition to a trolley or travel bag, you are normally allowed to carry one more item into the cabin. You will be able to bring a women's handbag, a small backpack, or a computer bag with you. This object must be stored under the seat in front of you.
Other commonly permitted things include:
coat;
umbrella;
stroller;
wheelchair;
camera;
baby seat;
diaper bag and baby food bag.
Again, we urge that you follow the guidelines of the airline with whom you are flying.
Other important documents for your trip to the USA
Other papers, in addition to the visa and passport, are required for travel to America. While some are optional, they may help you during your interview with CBP authorities when you arrive in the United States.
Return ticket: If you travel to the United States for tourism, you must show that you intend to return to Italy. Otherwise, CBP inspectors may refuse you entry into the country. As a result, we recommend that you print a copy of your return ticket.
Reservation for lodging: It may be handy to print a copy of the reservation for the hotel or other lodging where you will be staying during your vacation. Traveling to the United States on an ESTA or tourist visa without this reservation may raise the suspicions of CBP authorities.
Proof of sufficient cash for support: while not required, this document may be handy. You may be required to show agents that you do not intend to work while in the US on a tourist visa. Even in electronic form, an account statement suffices.
Health insurance: This is one of the most crucial requirements for travelling to the United States. Unlike Italy, the United States does not have a national health care system. The expense of American healthcare can be too expensive for people without private insurance. A medication can cost up to $100, while an emergency surgery can cost up to $200,000. As a result, we recommend that you obtain an insurance with a minimum limit of $1 million. Visit the dedicated page highlighted in the link for more information on the American health system and different types of insurance policies.
Document control in the USA
All visitors to the United States are thoroughly vetted by US officials. Upon your arrival, a CBP employee will ensure that you have everything you need to go to America. The agent will go over your paperwork and ask you a few questions.
This brief interview aims to ensure that you do not intend to immigrate. When you are pleased, the agent will take your fingerprints, stamp your passport, and photograph you.
Frequently asked questions asked by CBP agents
It is hard to foresee what questions the CBP agent will ask you with confidence. However, these are the most common:
The objective of the journey is to answer this question honestly and completely. However, keep in mind that the only permissible motives under ESTA are tourism, medical reasons, and business travel.
Duration of the journey: In this situation, border officials must guarantee that your stay does not exceed the visa's maximum duration. This duration cannot exceed 90 days in the event of ESTA. It could also be beneficial to bring your return ticket on this occasion.
CBP inspectors anticipate that tourists will have pre-booked lodging for their vacation. They may next inquire as to the location of your hotel, Airbnb, or apartment.
It is not unusual for border officers to inquire about your occupation. This is a method of ensuring that visitors have links to their home country and desire to return. In reality, a jobless person would have a better chance of finding work in the United States.
something to announce? Finally, practically all passport control interviews conclude with this standard question. You may be required to pay customs fees if you have commodities or products to declare.
SSSS abbreviation on my ticket: what does it mean?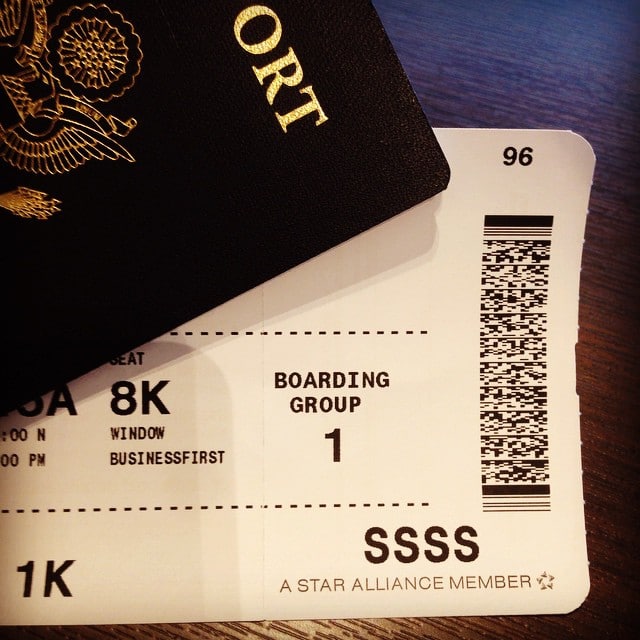 SSSS on your boarding pass
Some passengers' tickets may have SSSS printed on them. The term is an abbreviation for Secondary Security Screening Selection, which translates to "Selection for Secondary Security Control" in Italian.
Anyone possessing this emblem on their ticket will be subjected to extensive screening before entering US territory. These are some examples:
more thorough metal detector inspections
tests to ensure the absence of explosive materials;
extensive interview
Manual examination of hand baggage
Officially, the choice is at random. However, it appears that there are characteristics that raise the possibility of a subsequent check. Many of these are related to preventing terrorism and security risks.
The following variables increase the likelihood of an SSSS check:
purchase a last-minute ticket;
purchase a cash ticket;
a one-way ticket without a visa to back it up;
be a citizen of or originate from one of the nations having a high terrorism danger;
a name linked with a terrorist
Most of the time, these simple inspections are resolved swiftly and without incident. However, if you spot this abbreviation on your ticket, we recommend that you arrive at the airport early. These steps may take some time, and you may end up missing your trip.
Final Thoughts: Going to America is easy if you know how
The United States takes security measures very seriously. As a result, the list of requirements for travelling to America might appear fairly broad. Simply follow the guidelines established by the United States government.
The ESTA clearance is unquestionably one of the most significant documents for travelling to America. If you are an Italian citizen travelling for tourism, be sure to seek it at least 72 hours before your trip. You will be able to prepare and go in peace if you follow our directions.