---

Brooklyn, what to do and what to see in the trendiest district of New York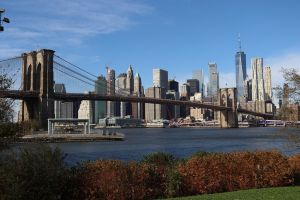 Brooklyn has recently become one of New York's most popular neighborhoods. This administrative region is well-known for its nightlife, famous bridge, and superb food. This post is for you if you are planning a vacation to New York. We will determine which points of interest should not be missed on your schedule and where you may sample the famed borough's delicacies.
Where is Brooklyn located?
Brooklyn is one of New York's five boroughs, often known as administrative districts. Although it is not the city's largest geographically, it is its most populated district. In actuality, its population surpasses 2.5 million people, accounting for over a quarter of the city's total population of 8.3 million.
If Brooklyn were a city, it would be the third most populous in the United States, after only Los Angeles and Chicago. Indeed, until the end of the nineteenth century, the area was a municipality before being merged into the city of New York.
How to reach the borough of Brooklyn?
A look at the Brooklyn map shows that the area stretches between Manhattan and the borough of Queens. As a result, the neighbourhood is located in New York City's southeast.
There are numerous ways to get there from Manhattan:
By subway: From the Museum of Natural History stop (81st Street), take the C line to Euclid Av (Throop Avs). This line operates every 12 minutes and costs $2.75 for a 20-minute journey.
If you dislike public transportation, Uber, Taxi, or Lyft may be the best option for you. But keep in mind that New York's streets may be fairly congested. Driving from Times Square to Williamsburg might take up to 45 minutes. The cost of a ride is between $35 and $40.
Walking to its attractions is not suggested unless you are staying in the vicinity. Walking from Times Square Brooklyn might take up to 2 hours and 30 minutes.
What to see in Brooklyn: attractions not to be missed
This district is packed with must-see attractions, and if you want to see everything the district has to offer, you may need more than a day. As a result, we've identified all of the must-see attractions on your itinerary.
Brooklyn Bridge
The well-known Brooklyn Bridge is one of the symbols that have helped to make this area and the city renowned. Lower Manhattan (lower Manhattan) and Brooklyn are linked by the bridge.
It was formerly the world's longest suspension bridge, with 150,000 people walking it on its opening day in 1883 alone. Its Gothic-style pillars, likewise, were once the biggest in the Western Hemisphere.
Today, you may cross the bridge for free and enjoy a beautiful view of the city. Access is provided by any mode of transportation, including automobile, foot, bike, and motorcycle.
Consider how long the Brooklyn Bridge is if you wish to go over it and snap photographs. The bridge is 2.1 kilometres (1.3 miles) long. As a result, driving over it takes only a few minutes. We recommend exploring it on foot if you want to snap photographs and appreciate the scenery.
Barclays Center or Brooklyn Nets Stadium
The Barclays Center, located at 620 Atlantic Avenue, first opened its doors on September 21, 2012. The name Brooklyn Nets Stadium comes from the arena of the Brooklyn Nets, the neighbourhood basketball club.
Attending a Nets game during the season is unquestionably the greatest way to see Brooklyn Nets Stadium. The championship playoffs typically begin in April, with the finals taking place between May and June.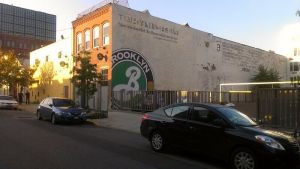 Brooklyn Brewery
This Brooklyn boutique brewery, located at 79 North 11th Street, is the brainchild of Steve Hindy and Tom Potter. The Brooklyn Brewery first opened its doors to the public in 1990, having launched in 1988.
In 1996, the brewery's history collides with that of the New York mafia. Steve Hindy is approached by several mobsters who want to steal some of the brewery's profits. Fortunately, the crooks decide to cease bothering Hindy after their first meeting.
The reason for this decline in interest is unknown. Hindy himself speculates that he may have relied on his previous experience as a journalist. Alternatively, the criminals may have realised that they had overestimated the business's potential.
Starting at $18, the brewery provides afternoon tours of the facilities, which include a chance to taste different brews. To visit the brewery, you must be at least 21 years old.
Neighborhoods of Brooklyn: what they are and which ones to visit
Brooklyn, as New York's most populous borough, is naturally divided into neighborhoods. Each of these has its own history and attractions to visit.
Greenpoint
Greenpoint is Brooklyn's northernmost neighborhood. When you visit, you will notice how its shops and buildings contrast with Manhattan's luxurious skyscrapers. Greenpoint Brooklyn is ideal for those who enjoy trendy environments with a unique twist.
WHERE TO EAT IN GREENPOINT?
This residential area is home to one of the city's major Polish communities. We propose that you stop in one of the numerous traditional restaurants throughout your stay. Here are our recommendations:
Karczma (136 Greenpoint Ave, Brooklyn, NY 11222): This neighbourhood institution provides traditional Polish food. We recommend making a reservation if you want to eat wonderful pierogi, spicy meat goulash, or kielbasa. Don't forget to sample one of the various Polish beers on offer.
If you're seeking something sweet, nothing beats the traditional New York fried donuts at Peter Pan Donut and Pastry Shop (727 Manhattan Avenue, Greenpoint, Brooklyn, New York, 11222). Peter Pan serves traditional and creative flavours and is regarded as one of the best in the city.
Williamsburg
Williamsburg, located just south of Greenpoint, has long been associated with alternative clubs and bohemian culture. However, the area has lately gained fame as a result of the Netflix series Unorthodox.
The story of Esty, an Orthodox Jew from the neighborhood's Satmar community, inspired many to consider Williamsburg to be New York's Jewish neighborhood. In fact, this area is well-known for its nightlife, trendy clubs, and vintage shops.
WHERE TO EAT IN WILLIAMSBURG?
Here are some itinerary ideas for you:
Smorgasburg (90 Kent Ave, Williamsburg, NY, 11211): This open-air market is your best choice for good cuisine without the pretence. Open every day, you may order ahead of time online and enjoy artisan meals along the East River.
Gottlieb's Restaurant and Deli (352 Roebling Street, Brooklyn, NY 11211): If you're searching for a Kosher eatery, this traditional deli is a great option. Menashe Gottlieb, the proprietor, continues the family tradition by serving outstanding pastrami sandwiches, kugel, and matzoh soup.
Bushwick
Bushwick The colourful murals on Troutman Street and the energy of its Latino community have helped New York, which borders Williamsburg, acquire notoriety. If you're seeking for taquerias and South American delights, here is the place to go. There are various vintage shops and stylish boutiques to be found once again. Bushwick is also known for its nightlife and tasty pizza joints.
WHERE TO EAT IN BUSHWICK?
If you're in the neighbourhood for lunch or supper, don't miss these spots:
Roberta's (261 Moore St., Brooklyn, NY 11206): If you miss Italian pizza, Roberta's serves a delectable Neapolitan pizza baked in a wood oven. This eatery has quickly become a neighbourhood staple.
Chica Cafetin & Cocktails (198 Randolph Street, Brooklyn, NY 11237): This vibrant establishment serves traditional Nicaraguan food. Try the smoked coconut short ribs and the quesillo, a traditional caramel dessert.
Red Hook
Red Hook, New York New York, located in the southern part of Brooklyn, overlooks the water and has a decidedly industrial aesthetic. The old warehouses and factories have been converted into museums in this area, which was recently redeveloped.
The most well-known is undoubtedly the Waterfront Museum and Showboat Barge, which allows you to relive the neighborhood's history by guiding you through ancient boats and wooden barges.
WHERE TO EAT IN RED HOOK?
It's no surprise that Red Hook is famed for its seafood, given its proximity to the coast. Here are some dining recommendations in this area:
Brooklyn Crab (24 Reed St., Brooklyn, NY 11231): This multi-story bar and restaurant overlooks the water. While enjoying a drink, you may savour fish and seafood dishes in an informal setting.
The Good Fork (391 Van Brunt St., Brooklyn, NY 11232): This restaurant is an intriguing fusion of American and Korean food. In fact, the chef creates both traditional Asian meals such ravioli and Peking duck as well as New Orleans-style shrimp.
DUMBO New York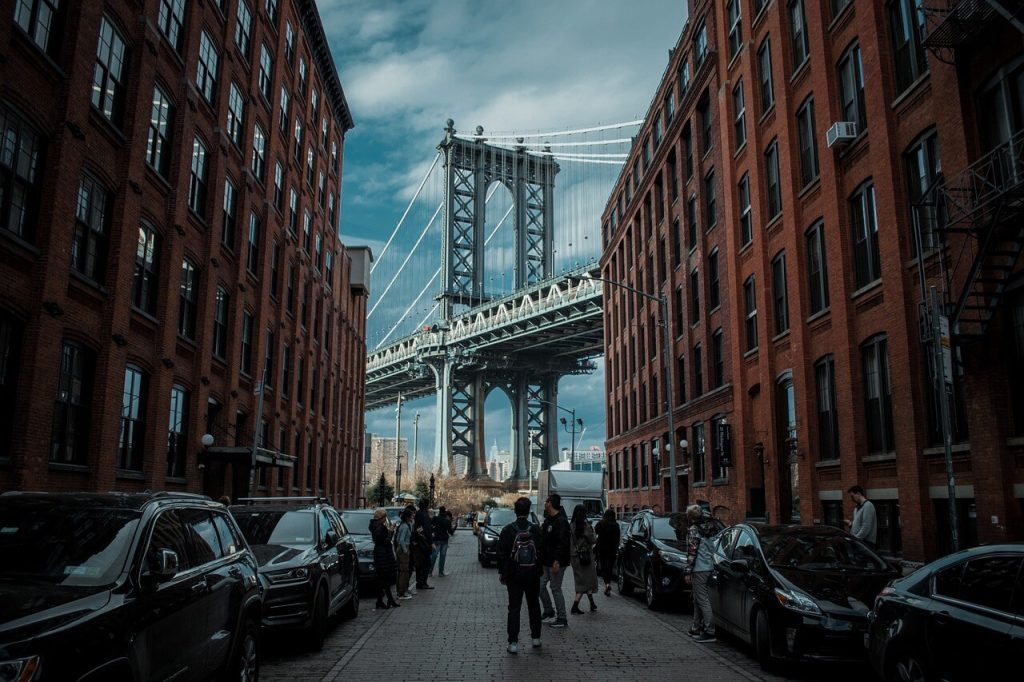 DUMBO is one of Brooklyn's most well-known and pricey districts. The neighborhood's name is an abbreviation for Down Under the Manhattan Bridge Overpass (In Italian: Sotto al Cavalcavia del Ponte di Manhattan).
The distinctive red brick buildings that are often associated with the entire district can be found right here. Don't pass up the chance to take provocative photos of the Brooklyn Bridge.
WHAT TO SEE IN DUMBO?
DUMBO is home to some of New York's most inventive companies, as well as high-end shops and art galleries. This area in Brooklyn has the highest concentration of points of interest and attractions. We particularly remind you:
Brooklyn Bridge Park, a park close to the renowned bridge from where you may enjoy spectacular views of the city skyline;
Brooklyn Flea is the city's flea market. It is open every Sunday from October to April and is well worth a visit.
Klompching Gallery, a contemporary art gallery specialised in photography that has played an important part in the neighborhood's regeneration.
WHERE TO EAT IN DUMBO?
As one of the city's trendiest neighborhoods, expect to find some of the best places to eat in Brooklyn.
The Osprey bird ( 60 Furman St, Brooklyn, NY 1120 ). This restaurant, located on the first floor of the Brooklyn Bridge Hotel, is suited for a sophisticated breakfast, lunch, or supper. The site provides a breathtaking view of the East River and Brooklyn Bridge Park.
The River Restaurant ( 1 Water St, Brooklyn, NY 1120 ). This Michelin-starred restaurant overlooks the city skyline and is ideal for a romantic supper. Among the must-order dishes are the steak tartare and the roasted rabbit.
Brooklyn Heights
This is one of the most culturally diverse neighbourhoods in Brooklyn. In reality, it is distinguished for its tranquil environment, numerous churches and schools, and literary landmarks.
Brooklyn Heights Promenade is undoubtedly one of the neighborhood's biggest draws. The Promenade is a pedestrian walkway with stunning views of Lower Manhattan. It is unquestionably the ideal location for a few moments of respite from the chaos of New York.
WHAT SEE
Aside from the Promenade, don't miss the following points of interest:
Plymouth Church of the Pilgrims: This historic church has hosted talks by Martin Luther King and Mark Twain. Tours are only available by appointment.
Brooklyn Historical Society: This old library is now a museum honouring and celebrating the 400-year history of the area.
WHERE TO EAT IN BROOKLYN HEIGHTS
This neighbourhood, like the others, has a few gastronomic surprises to offer:
Henry's End (44 Henry Street, Brooklyn, NY 11201): This atmospheric restaurant has been open since 1973. The famous tuna covered with mustard seeds and the fillet with black pepper are must-orders.
Colonies (127 Atlantic Ave, Brooklyn, NY 11201) is noted for its unique American fare. All of the components utilised are manufactured in an ecologically responsible manner.
Brighton Beach in NYC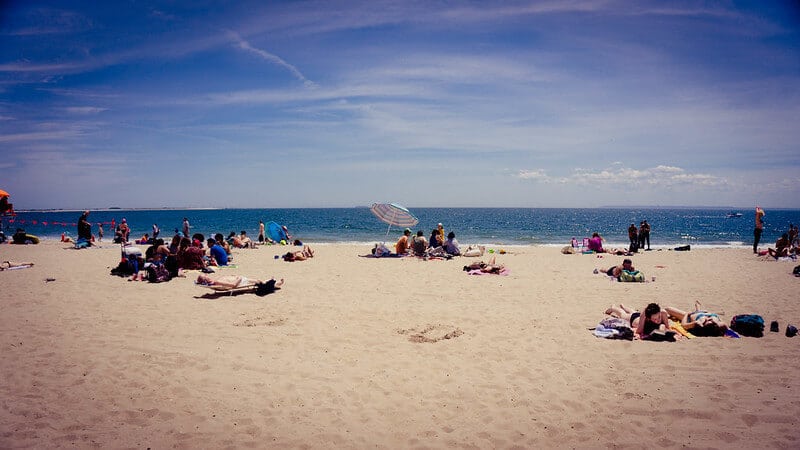 Brighton Beach is home to a sizable Russian and former Soviet Union population. Not unexpectedly, it is also known as Little Odessa. This seaside area is less congested than neighbouring Coney Island, but just as attractive.
Where to eat in Brighton Beach
Given the neighborhood's Eastern European influences, we recommend you try some local specialties if you decide to eat there:
Café @ Your Mother in Law: (3071 Brighton 4th St. Brooklyn, NY 11235): This restaurant's food features dishes from Russia's Korean ethnic minority. Many dishes are comparable to those found in Uzbek cuisine.
Tatiana (3152 Brighton 6th St, Brooklyn, NY 11235): Tatiana has two alternatives for you if you wish to experience some Russian delicacies. Tatiana Restaurant serves Russian gourmet cuisine, whilst Tatiana Grill serves more casual, Westernized fare.
Other neighborhoods to visit in Brooklyn
We've reviewed some of the borough's most distinctive neighbourhoods in this article for you. However, depending on the weather, even these neighbourhoods may be worth a visit.
Downtown Brooklyn
Downtown Brooklyn is the most contemporary area of the borough and, in many ways, mimics Manhattan. Indeed, it is immediately noticeable for its buildings and skyline. It also has several university campuses and Michelin-starred restaurants. The Fulton Street Mall outdoor mall is a great place to go shopping.
Sunset Park New York
Sunset Park is a peaceful residential area ideal for grabbing a quick lunch or having a picnic with friends. The area was developed by Finnish immigration and today has Asian and Latino residents.
Flatbush
This area is situated in the heart of Brooklyn. Flatbush, founded by Dutch immigrants, is considered one of Brooklyn's quietest neighbourhoods. This is the location to go if you want to find cheap clubs, shopping, and outdoor activities.
Neighborhoods to avoid in Brooklyn
In general, Brooklyn is a safe area, and there will be nothing to worry about during your stay. However, like with any city, there are particular areas to avoid. Even while Brooklyn is not a hazardous neighbourhood, we recommend avoiding the following regions of the borough:
Bedford-Stuyvesent;
Brownsville;
Vinegar Mountain;
Flatbush's eastern section.
Brooklyn neighborhood and heart of New York with a thousand identities
It is nearly tough to define this borough with just one adjective. As we've seen, Brooklyn has a variety of characters, and each neighbourhood has its own unique narrative to tell. After all, no vacation to New York is complete unless you visit Brooklyn. If you take our advise, you will have an outstanding trip experience!