---

Top 10 Best Hotels in San Francisco, California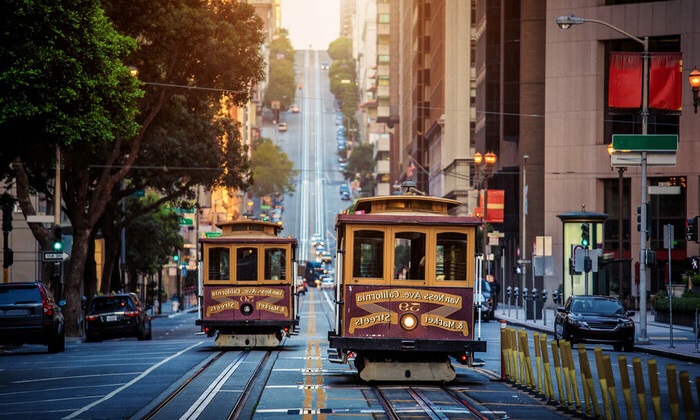 San Francisco, often known as the Bay City, is regarded as one of the most beautiful cities in the world. With so many lovely locations in this city, the hotel you choose to stay in will have a significant impact on your vacation experience. Here is a list of the top ten hotels in San Francisco!
1. Palace Hotel, A Luxury Collection Hotel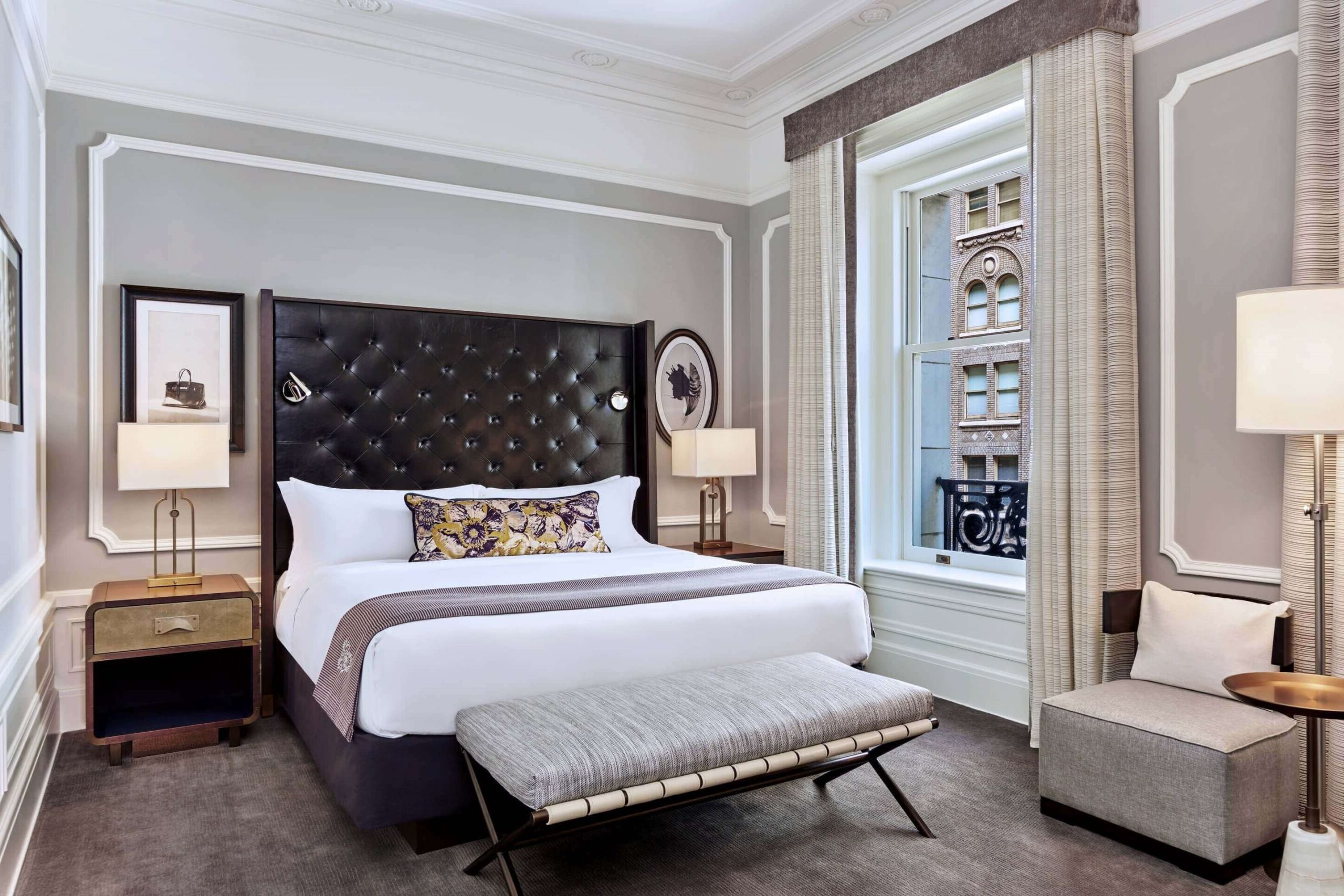 This hotel has a long history dating back to the 1906 earthquake. The basement lobby has some of the quake's surviving leftovers, so visitors may visit the museum without leaving the hotel. This beautiful hotel is located in downtown San Francisco, only steps from Chinatown, making it easy to get to Union Square and other popular sights.
The Palace hotel has classically inspired, high-ceilinged rooms that have been tastefully designed for comfort. The resort boasts 600+ stylishly appointed rooms, each with a delightfully clever layout that keeps the original 1909 elements while adding modern indulgences such as dark woods, rich linens, and hefty, tufted leather headboards.
The gleaming Garden Court, where diners and cocktail-goers congregate, is the hotel's focal point. There's a breakfast buffet option as well as the classic weekend midday tea. Not to mention the Pied Piper, which serves lobster mac 'n' cheese with black truffles. For the record, this is a fantastic 4.5-star hotel with rates ranging from $332 to $400.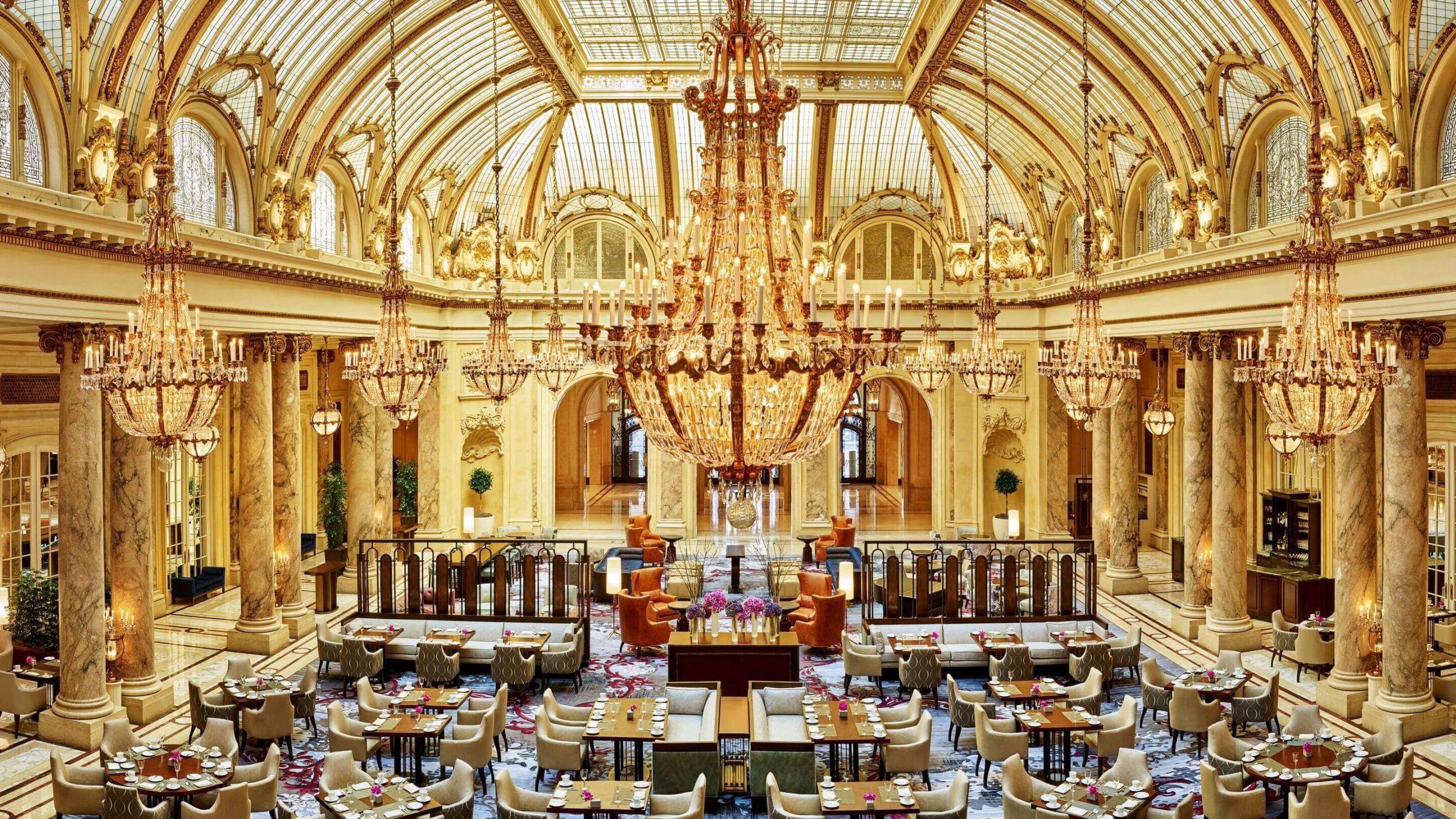 Pros
The concierge service, business center, and heated indoor pool with sky-lit ceiling are among the various attractions.
The antique interiors of the hotel, notably in the Garden Court, captivate guests.
Cons
A stay here is expensive.
TRAVELING TO THE UNITED STATES?
---
Do You Have U.S. ESTA VISA Travel Authorization? If You Have ESTA Application, Check if it is Still Valid!
2. Four Seasons Hotel San Francisco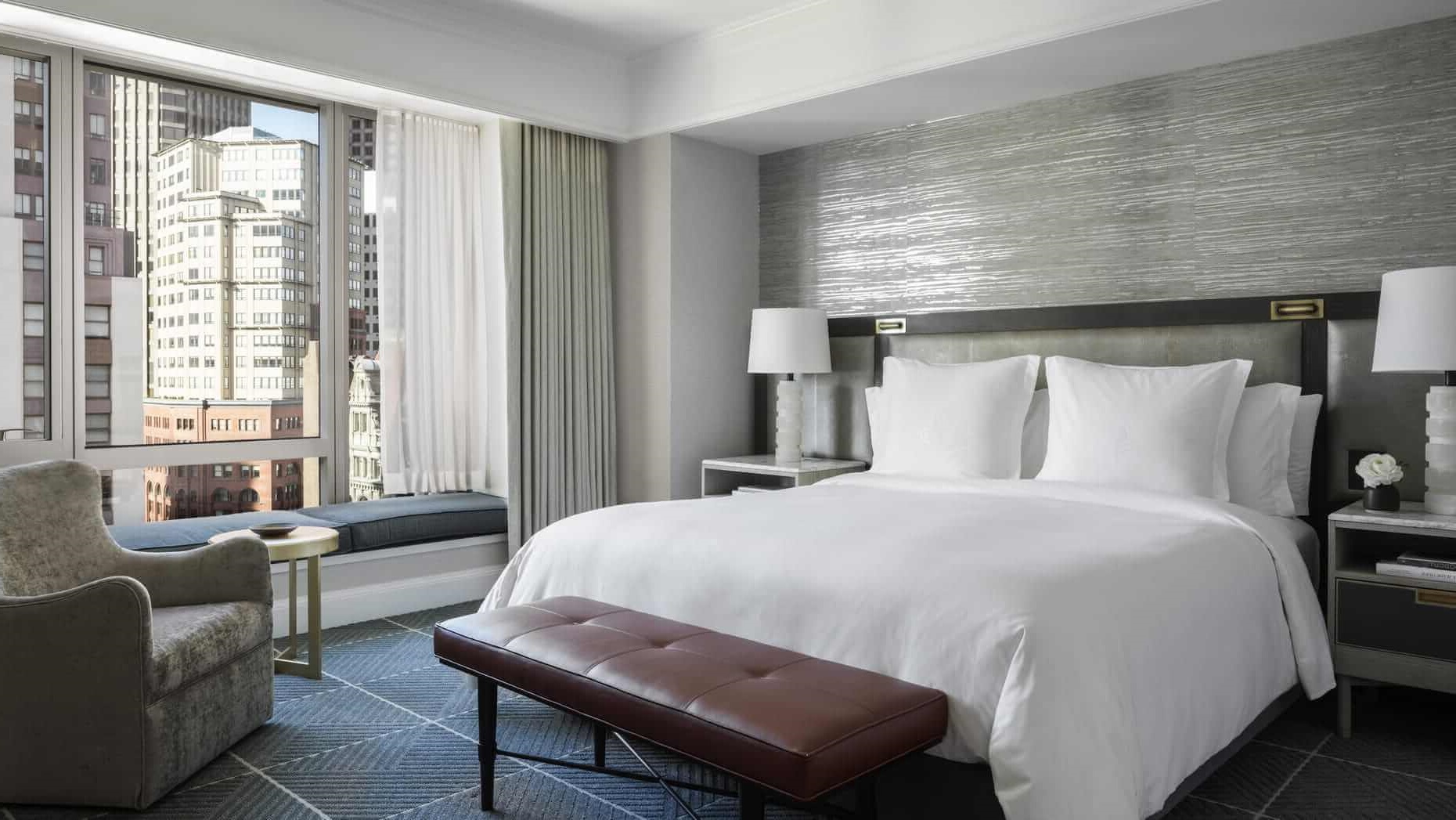 The Four Seasons Hotel San Francisco is one of the best hotels in San Francisco, located on Market Street near the Yerba Buena Center for the Arts and the Contemporary Jewish Museum. It is also two blocks from the SFMoMA. This upscale hotel occupies floors 5 to 17 of the 42-story building, providing the refinement that comes with being above street level. The communal-style lobby is surrounded by contemporary sculptures, and blue and grey décor with gold elements can be seen throughout the hotel.
In either of the 155 guest rooms, guests will enjoy the pinnacle of modern luxury, with cushioned window chairs for soaking in city vistas and a wingback chair in cloud-patterned fabric. Walk-in showers and a separate tub are available in the white marble bathrooms.
MKT Restaurant, located on the fifth level, features ethically sourced steak and seafood. Equinox Sports Club (a private health club featuring a fitness facility and an indoor 25-yard pool) is one area where customers can move back and forth without restriction. A full-size basketball court and a spa with facials, massages, and body treatments are also available.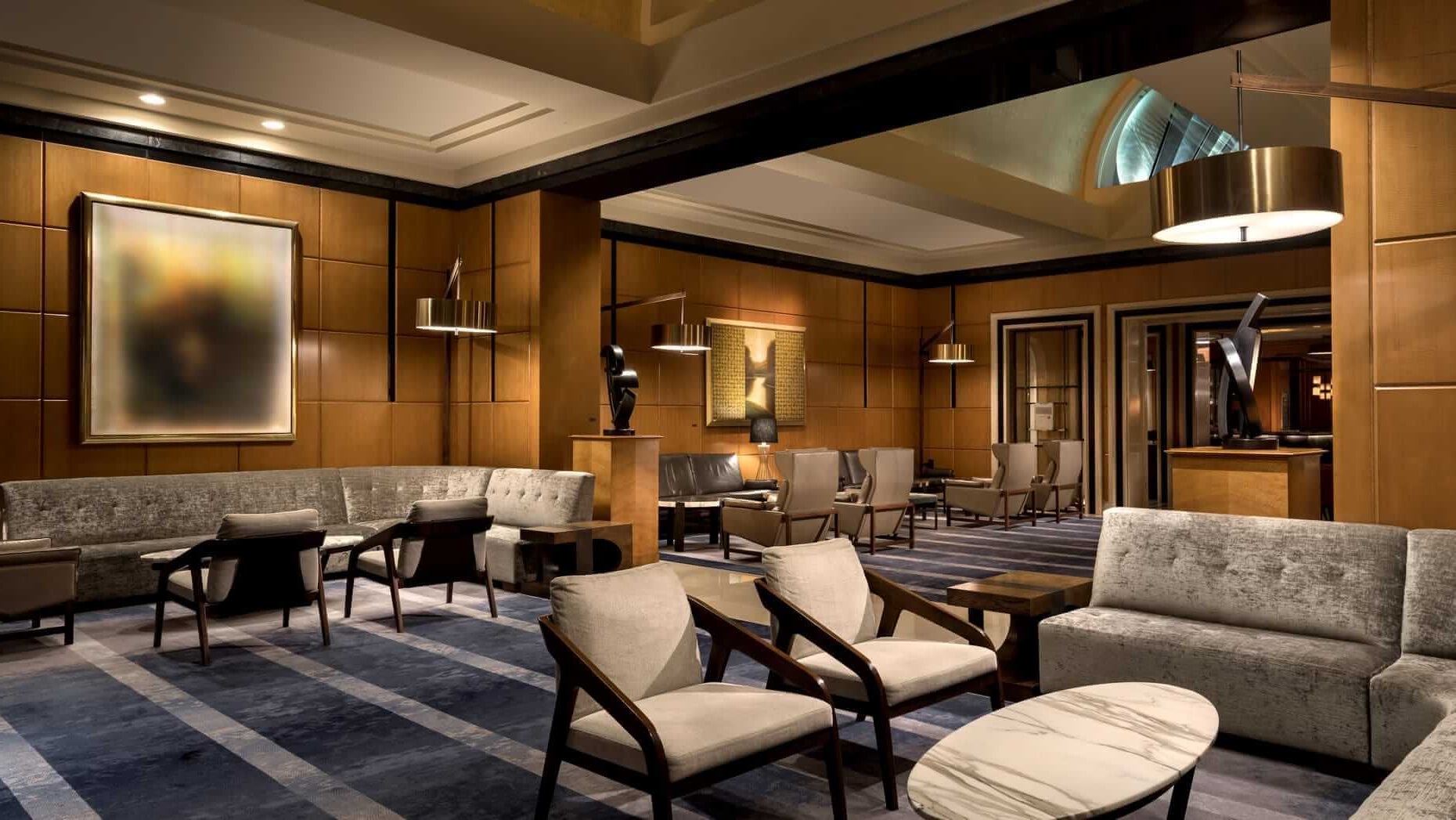 Pros
Rooms that are large and have floor-to-ceiling windows
The service is astute and competent.
Cons
Some visitors complained about the expensive parking costs when they received their bill at the conclusion of their stay.
3. Taj Campton Place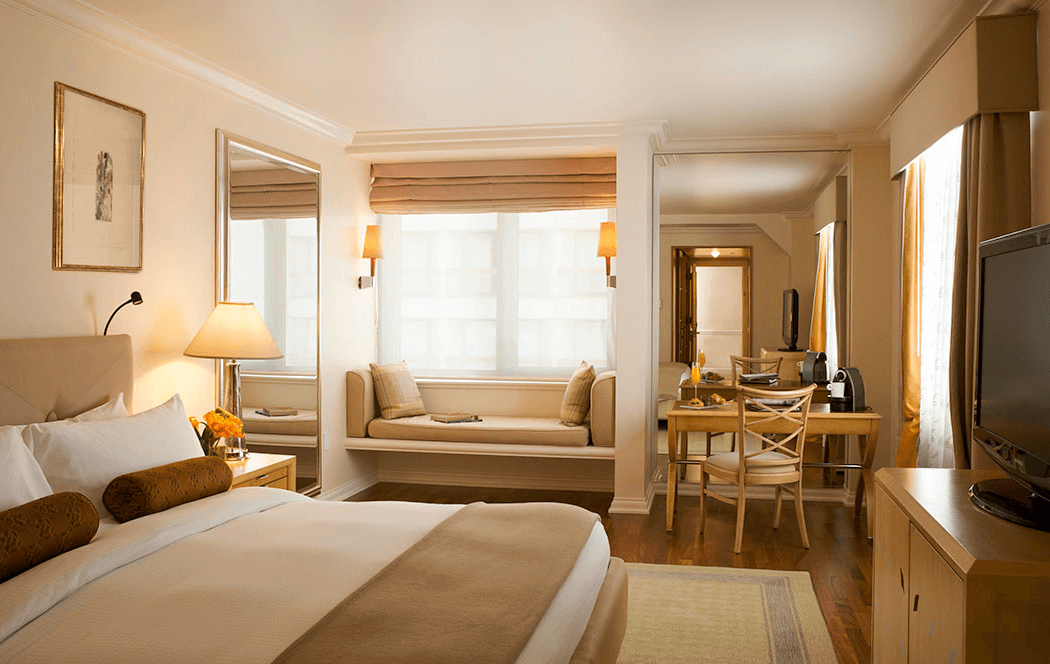 Taj Campton Place, one of the greatest San Francisco Hotels on bustling Union Square, is only a block from the Apple Store, two blocks from the Chinatown Gate, and near to art studios, museums, and opulent retailers. Its traditional European-style décor seeks to provide an attractive and pleasant stay for both business and leisure tourists.
The hotel looks to be rather near, with 17 stories and 110 guest rooms, and the majority of the clients happens to be independent travelers. Taj rooms are unquestionably modest in comparison to other hotel rooms in the area. They compensate by providing amenities like as Nespresso coffee machines and a pillow menu.
The Campton Place Restaurant, The Taj's in-house diner, serves a Cali-Indian menu with mild spicey overtones. This restaurant has been awarded two Michelin stars for 2019. Next door is a new relaxed bar and cafe.
Another highlight of Taj is its 24-hour exercise center, which is located past the 9th-floor roof. This is a fantastic less expensive 5-star hotel with rates ranging from $285 to $300.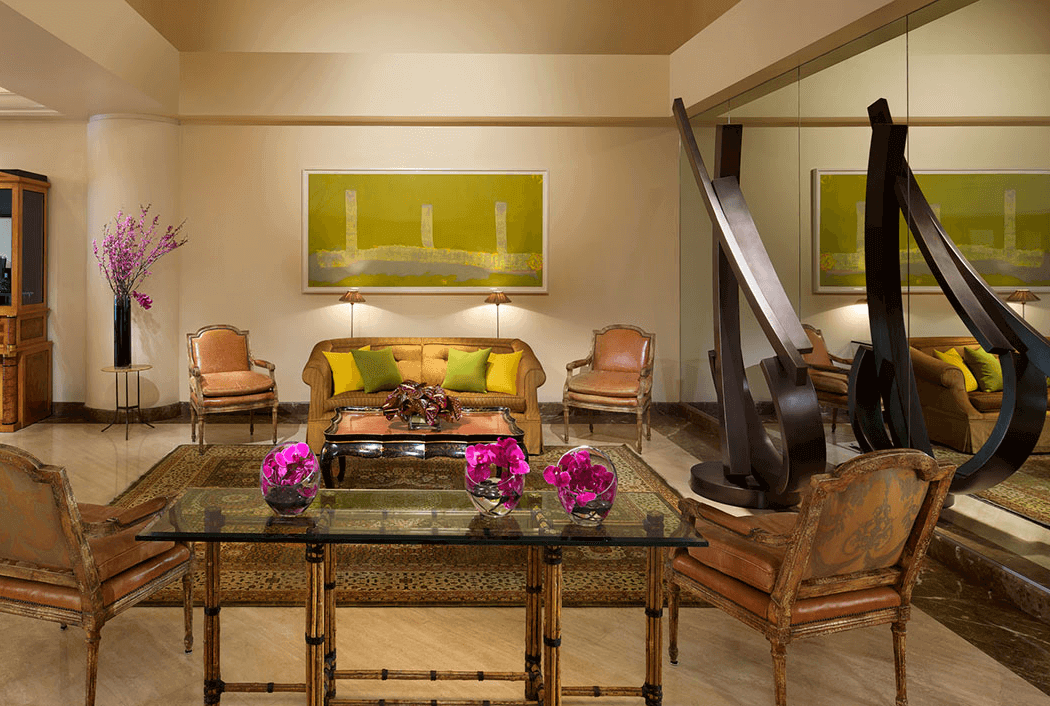 Pros
There is a Michelin-starred restaurant on the property.
Complimentary house car service, in-room laundry, and espresso machines
Cons
Some claim the rooms are a little antiquated.
4. Fairmont San Francisco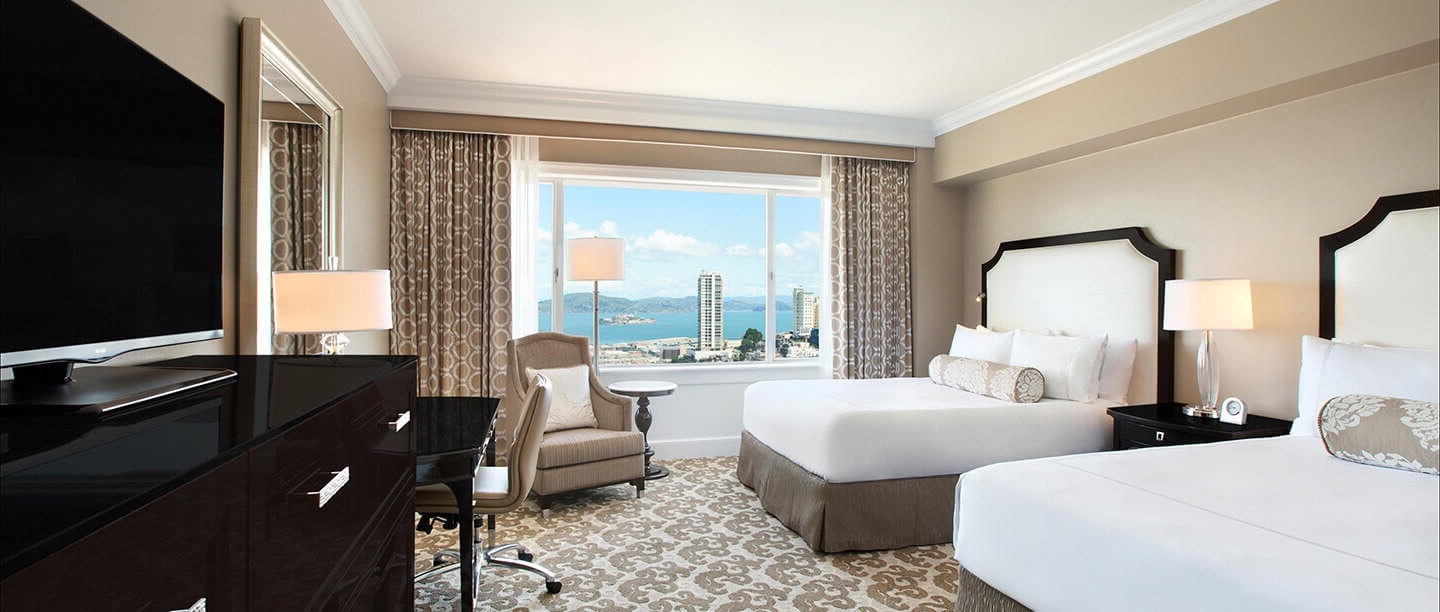 This world-class historic hotel in San Francisco won a place on Nob Hill, inspiring majestic views of the city and harbor. The Fairmont San Francisco is located in the middle of the city, just a short cable car ride from the lively Downtown. It is still as magnificent as it was when it was built in 1906.
This hotel's interiors are lavish, with a huge lobby and ornate ceilings. It also has 606 spacious guest rooms and a spectacular capacity of 55,000 square feet. Its apartments include elegant furnishings that are both traditional and modern. There are high-end amenities such as Frette bed linens and extended mattresses available here.
The hotel's fantastic restaurants provide unique menus: Tonga Room & Hurricane Bar focuses on family-style dinners, while Laurel Court Restaurant & Bar focuses on seasonable coastal food. There's also a private garden terrace, a cutting-edge health center, and a tiki bar known for its floating band.
This results in a stunning 4.5-star hotel with a price range of $341 to $390.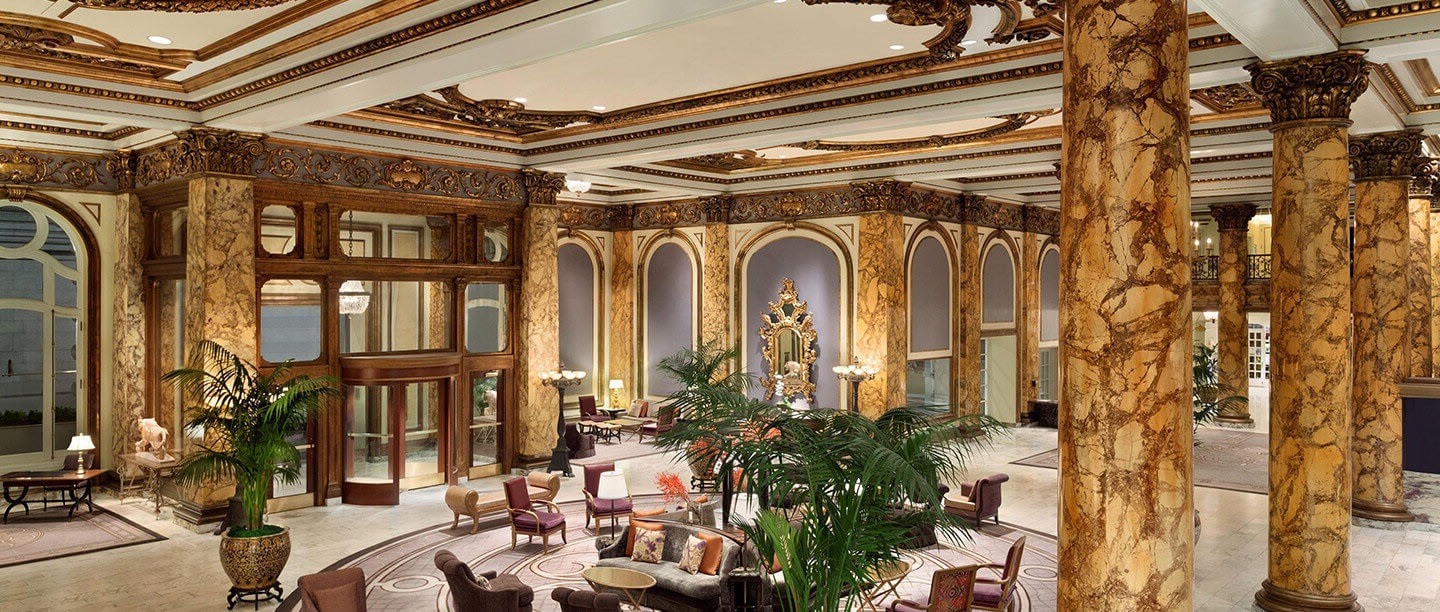 Pros
There's a bright rooftop garden and a funky tiki bar.
The cable car comes to a halt near the hotel's entryway.
Cons
This hotel levies an exorbitant daily destination fee.
5. The St Regis San Francisco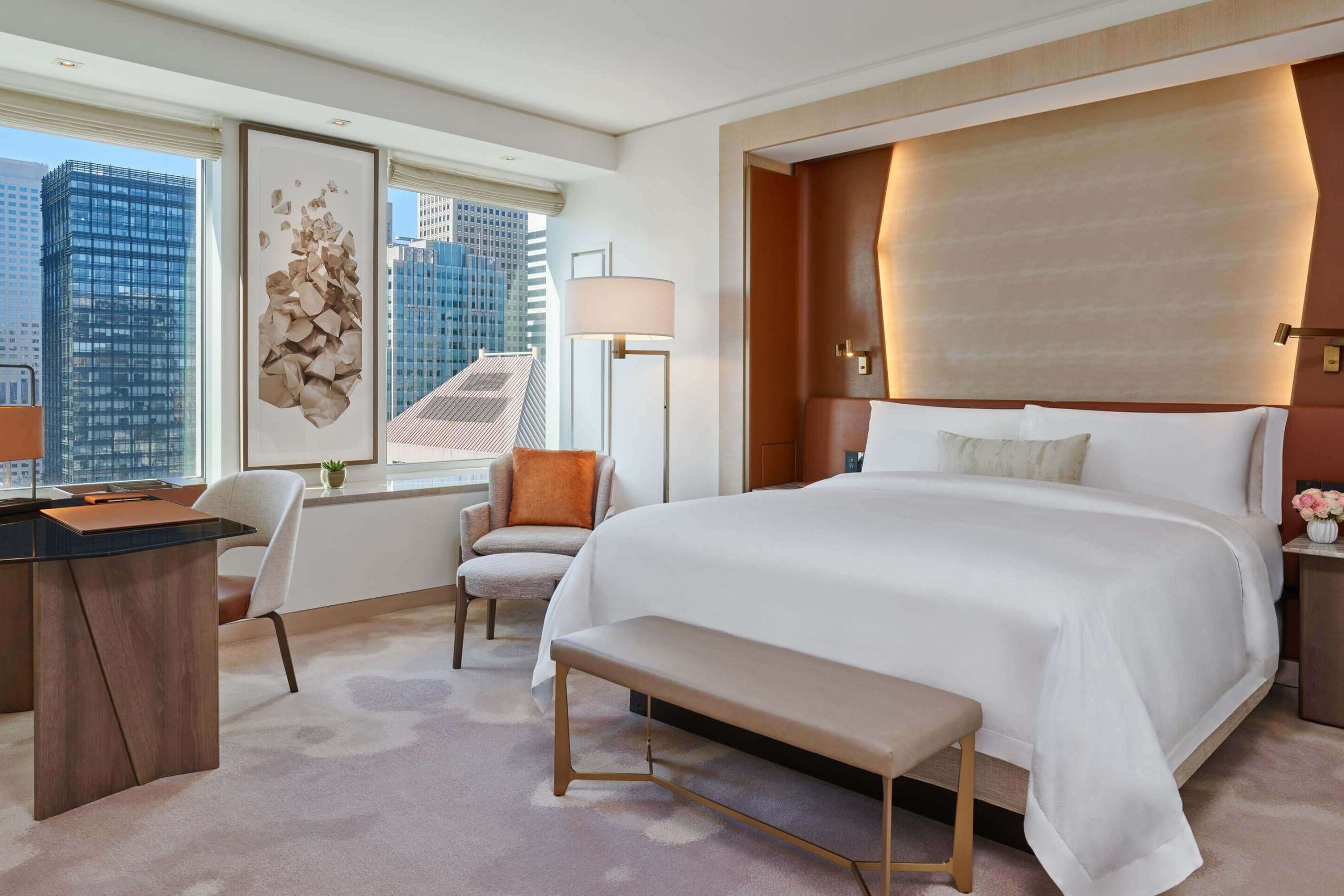 Discover this Forbes hotel, one of the finest Hotels in San Francisco – St. Regis San Francisco – which occupies a 40-story South of Market tower near the Museum of Modern Art near the financial area, keeping hotel guests nearby to attractions such as Oracle Park and Yerba Buena Center for the Arts.
Each of the 260 big, light-filled, basic but opulent rooms features cashmere bedding, mattresses with rich leather headboards meant to resemble a sports car interior, huge bathrooms with leather walls, deep soaking tubs, and rainforest showers, and views of downtown San Francisco.
There is only one restaurant serving contemporary California cuisine, simply named Grill. There's the lobby bar, where San Franciscans gather to unwind with cocktails and live jazz before heading to Grill for dinner.
A large luxury spa (the two-level Remède Spa) with its own 50-foot saltwater lap pool is available. The hotel gym is enormous (5,700 square feet) and provides spectacular city views. When in San Francisco, savvy business travelers and NBA players seldom pass up the opportunity to stay at the St. Regis. Another 5-star hotel, but this one costs between $475 and $800.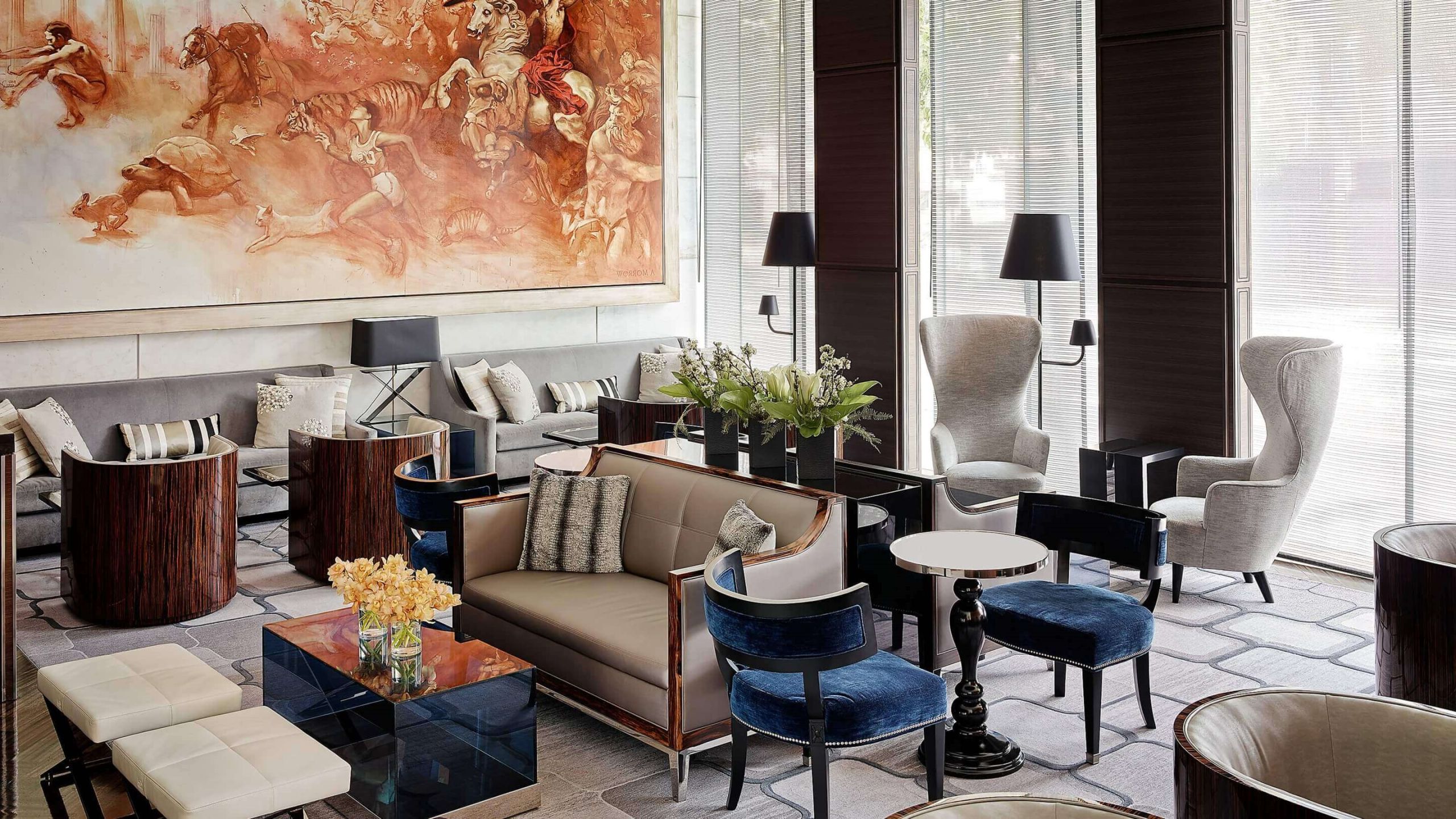 Pros
Provides customized service, luxurious facilities, and elegant housing.
Guests praise the exceptional client service.
Cons
The room rates here are fantastic.
TRAVELING TO THE UNITED STATES?
---
Do You Have U.S. ESTA VISA Travel Authorization? If You Have ESTA Application, Check if it is Still Valid!
6. Hotel Kabuki, a Joie de Vivre Hotel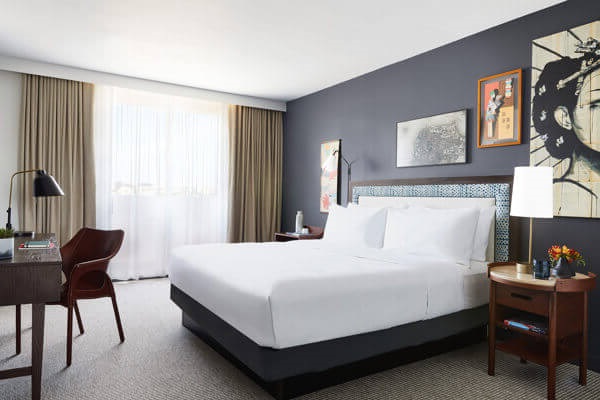 This cozy hotel in Japantown is next to the Japan Center Malls, your one-stop shop for ramen or boutique shopping, and one of the loveliest hotels in San Francisco. Its chic 225 rooms have ancient and modern Japanese art, as well as orchids, sharp pop art, and cloth-crafted headboards. Potted plants coexist with geometric cane-back chairs and brightly colored throw cushions in the doorway.
Nari is a Thai restaurant that delivers rich and risqué Thai cuisine. There's also a hip lobby bar nearby. The hotel renovated the gym to 4,000 square feet with large windows and can handle numerous yoga sessions. Nonetheless, the neighborhood includes a plethora of ramen eateries, sushi joints, and karaoke bars for even more cultural exchange. This is a good 3.5-star hotel with rates ranging from $290 to $350.

Pros
It is close to the east and west malls and is conveniently positioned near a number of excellent eateries.
Cons
7. Hotel Drisco Pacific Heights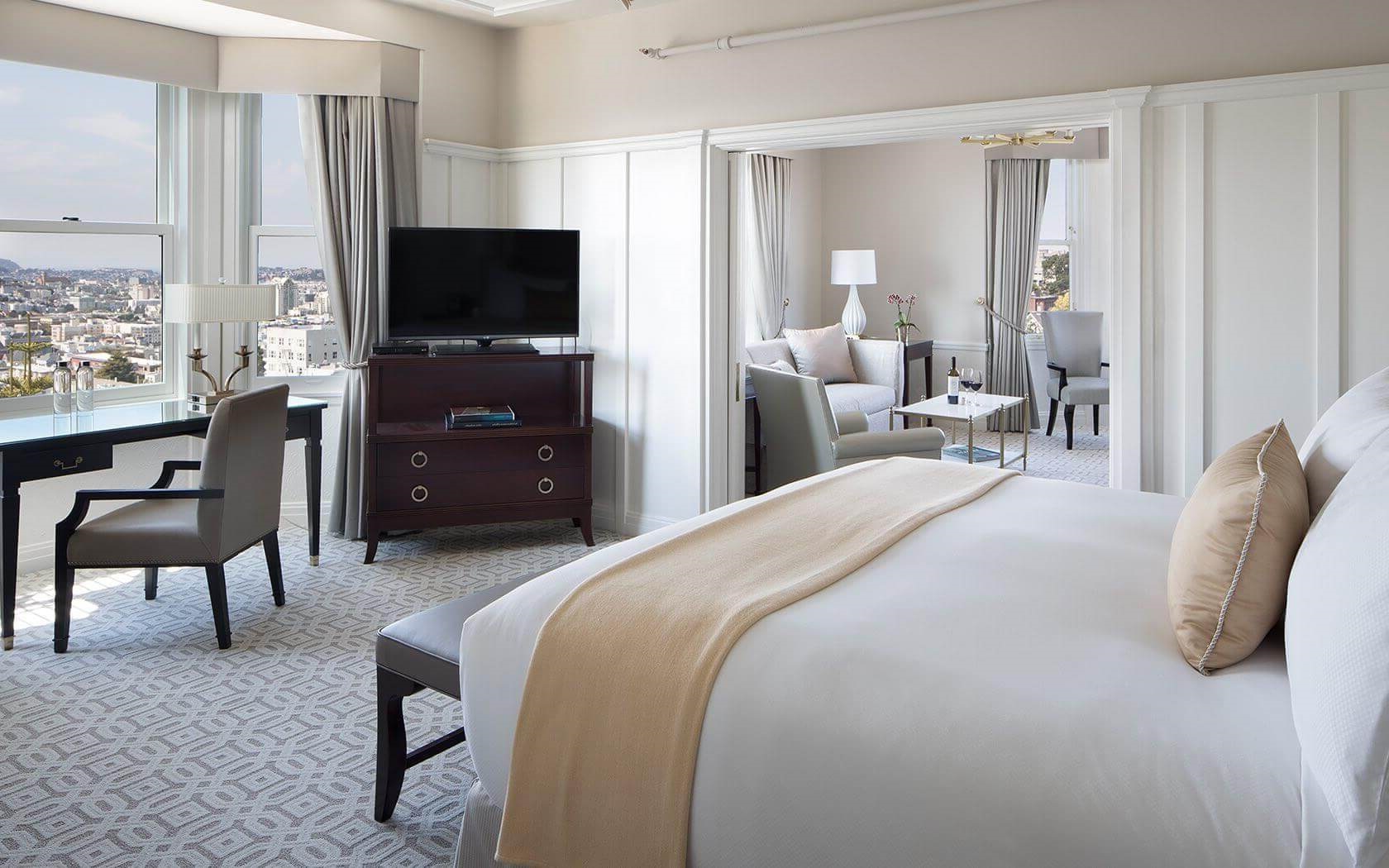 This Edwardian hilltop refuge, barely two blocks east of the Presidio and surrounded by the grand mansions of Pacific Heights, draws guests into the San Francisco high life.
This hotel is heavily affected by its wealthy surroundings, as seen by the magnificent lobby woodwork and the staff's gold waistcoats. The inside is adorned with remarkable furniture (wood quality), plush/gold textiles/fittings, and huge guest rooms with beautiful city views, making the rooms elegant and modern.
There is an in-house cafe for breakfast and afternoon wine receptions, as well as a health facility with cardio equipment, body fit balls, free weights, and yoga mats on the basement floor. This hotel is in the 4.5-star grade and costs between $700 and $900.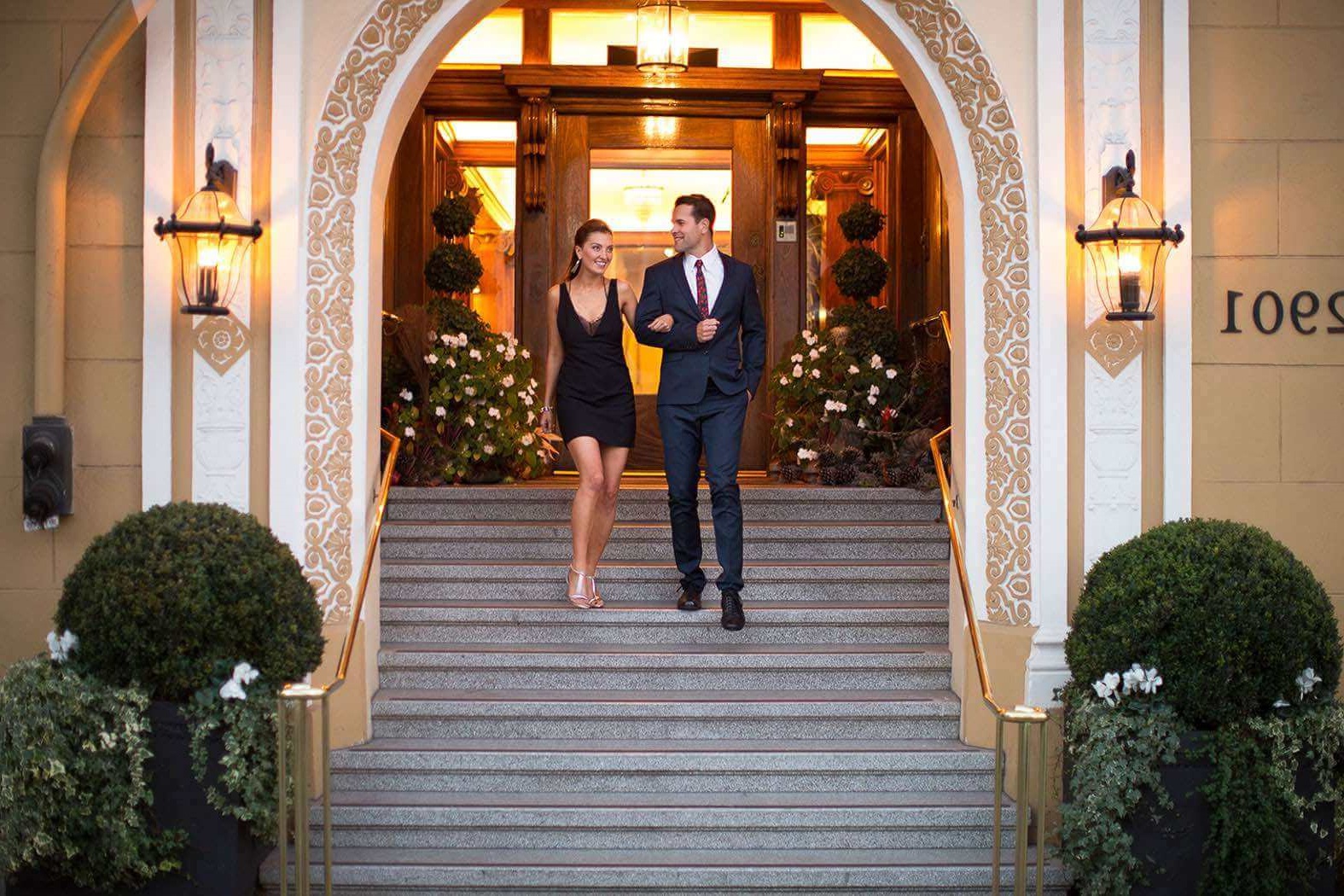 Pros
Drisco's complimentary town-car service is available.
Cons
There is no on-site restaurant, and the dining room does not offer lunch or supper.
8. San Francisco Proper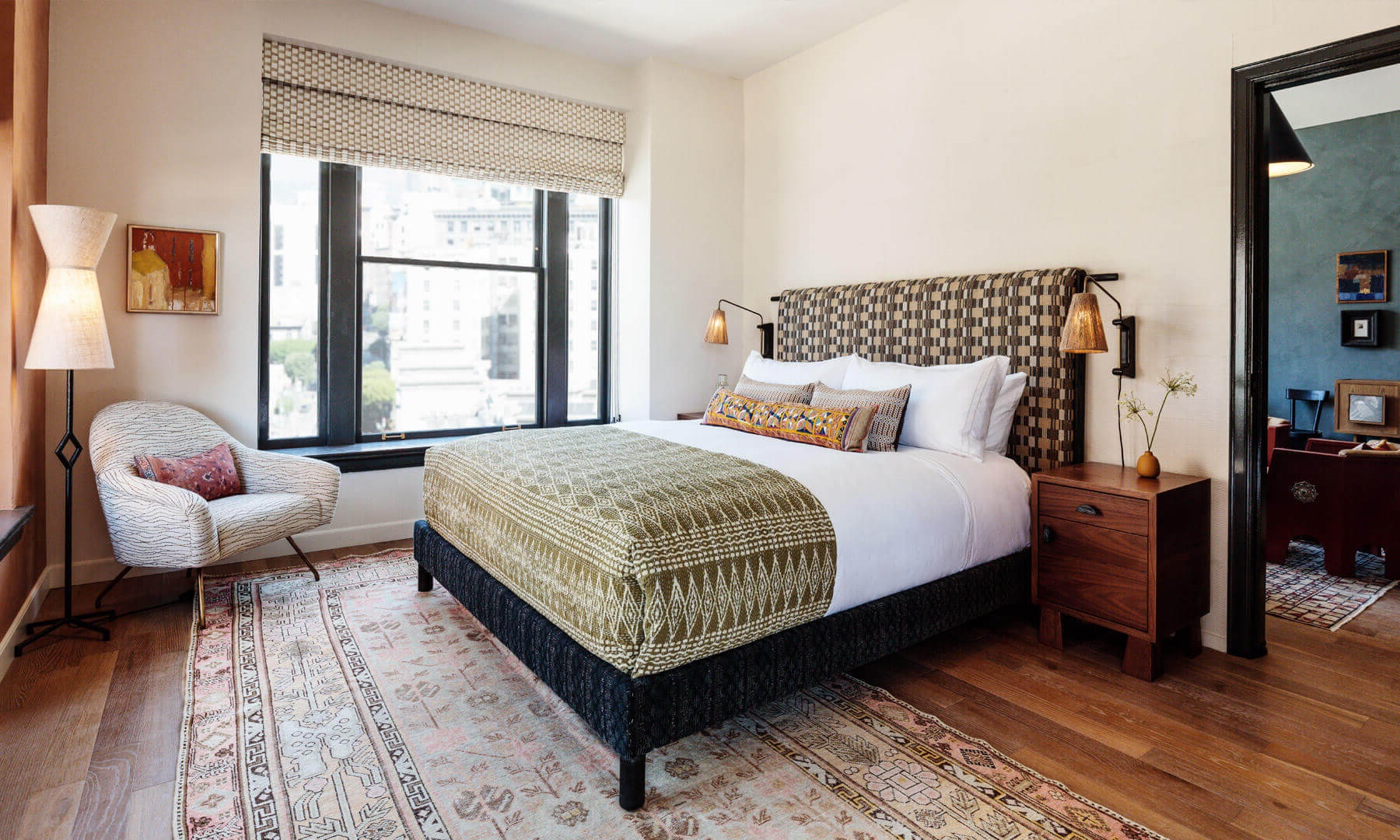 The Proper is one of San Francisco's most elegant and best hotels, as well as one of its most modern. It boasts a vintage, square-ish-shaped edifice with eye-catching interiors fit for a fashion shoot. The hotel is rather showy, making it ideal for business visitors who need to get to mid-market meetings. Alcatraz cruises and the Ferry Building farmer's market are both located two miles from the hotel.
The Proper is a mash-up of traditional and modern aesthetics, with clashing patterns, bright linens, and zany wallpaper dominating every area. Each of the hotel's 131 rooms has huge windows and contemporary bathrooms with walk-in showers.
Villon, The Proper's single buzzy, salon-style lobby restaurant, serves seasonal American cuisine for breakfast, lunch, and supper, while the hot rooftop bar – one of only a handful in SF – attracts the contemporary and active crowd. Not only that, but a small basement gymnasium makes good use of the available space. This is a well-deserved 4-star hotel, with rates ranging from $340 to $400.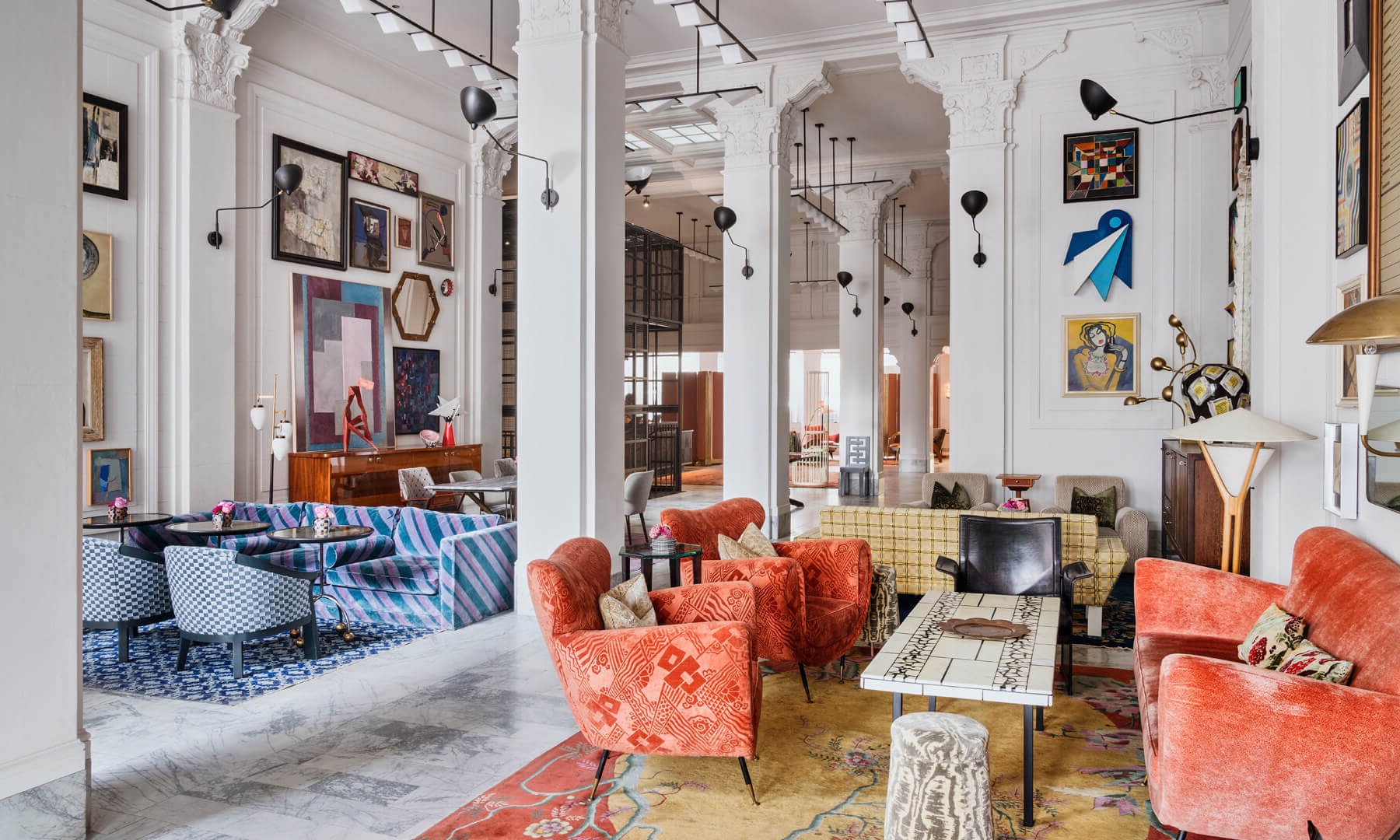 Pros
Excellent little motel with good amenities.
Cons
It's on the outskirts of the tenderloin, and there are homeless people on every street and corner.
9. The Ritz-Carlton San Francisco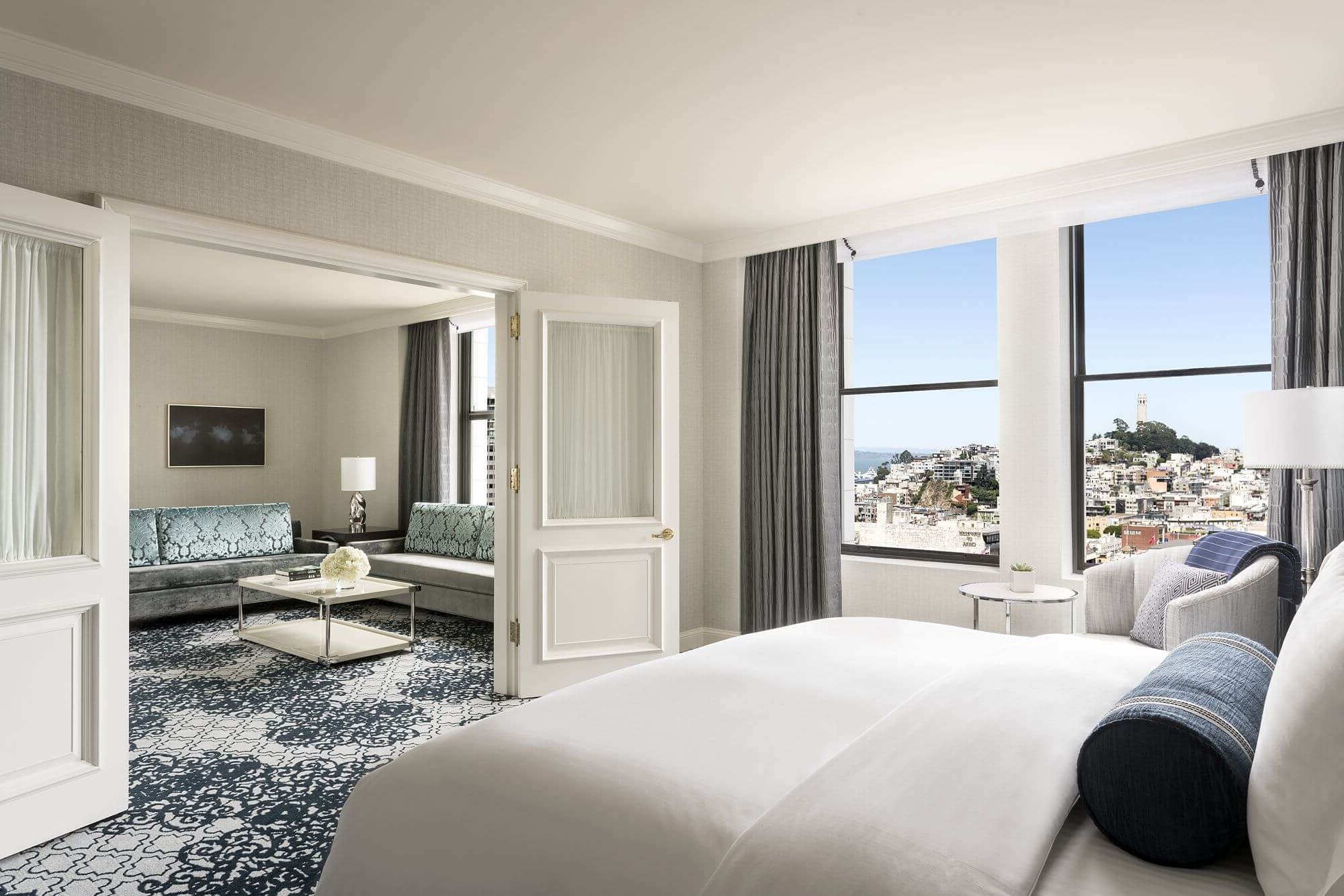 This grand landmark hotel, recognized as one of the greatest in the world, is bordered by rich Nob Hill and features rooms with views of adjacent Chinatown pagodas and Financial District skyscrapers. The 17-column, nine-story neoclassical structure and its wide, manicured red-brick courtyard, with decorative fountains and sculpted railings, provide respite from the hectic city outside.
Each of the hotel's 336 rooms, which are decorated in blue and white with couture Frette linens and sheets, has luxury feather mattresses and down comforters. The hotel's namesake cuisine, Parallel 37, combines California freshness with Asian touches.
Guests may use the indoor pool, sauna, and fitness center. This 5-star hotel charges between $530 and $600 each night.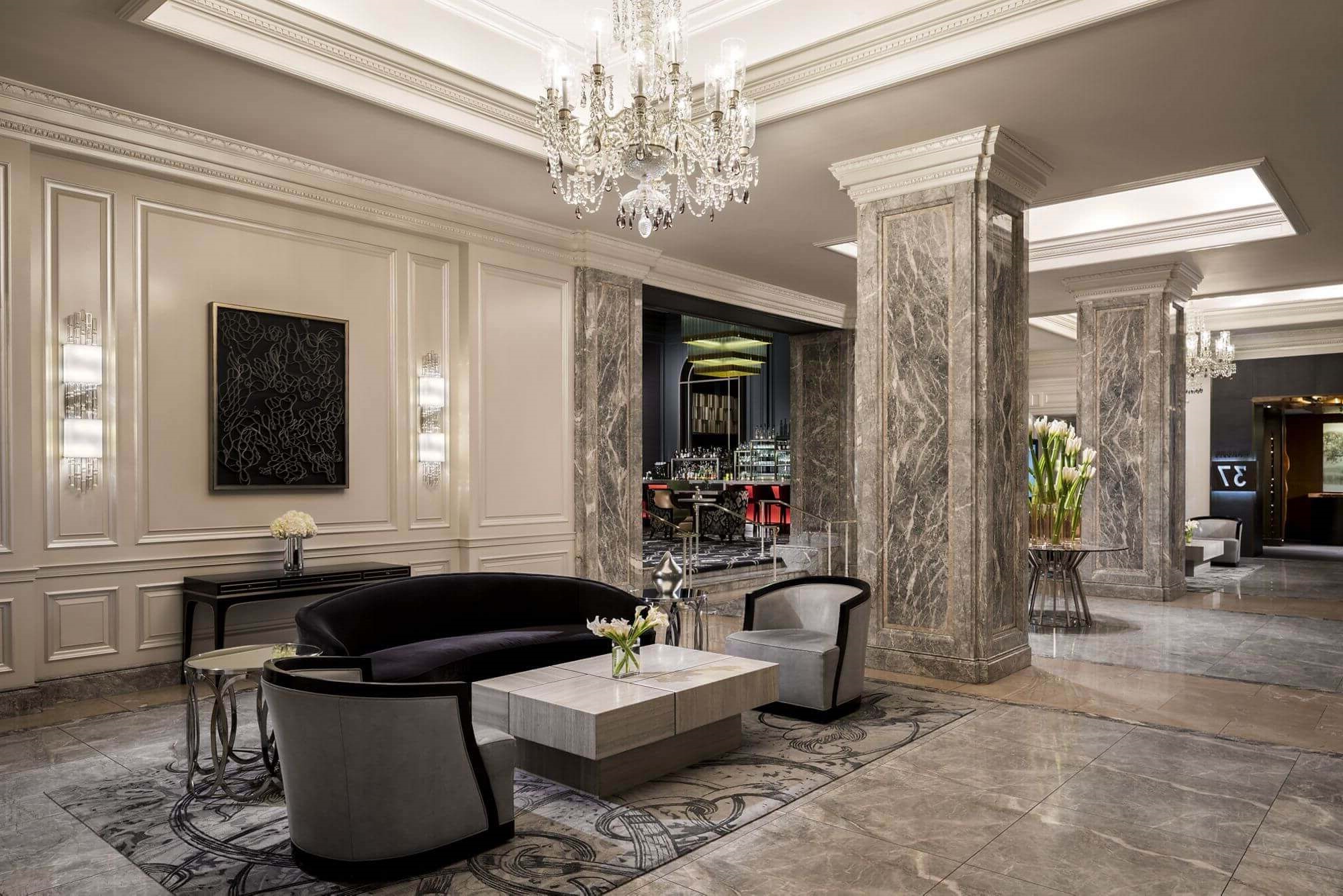 Pros
Recent visitors praised exceptional client service.
Cons
10. Hotel Emblem San Francisco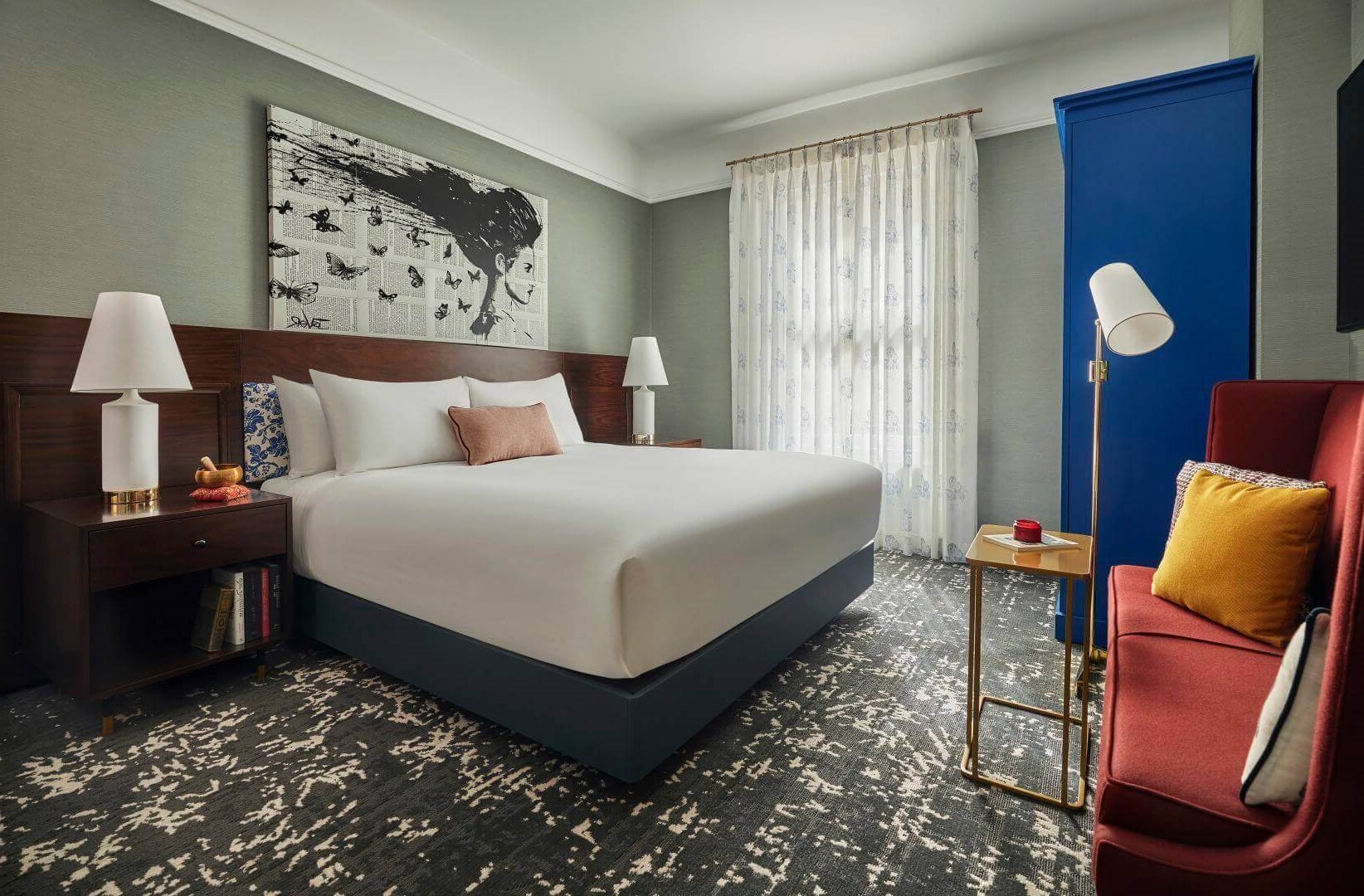 Hotel Emblem is a 96-room boutique hotel with an intimate hipster vibe in downtown San Francisco, near Union Square and the Theater District. Guests will enjoy an excellent theatrical experience while also finding good places to dine, drink, and shop.
Colors and patterns mingle to create an ambiance that is both peaceful and exciting in the different and modern guest rooms. Each room has floral-fabric headboards and a "inspiration board" with picture strips and scrawled messages. The gentle sage green walls with rich velvet furniture items are sophisticated complements to the European-inspired wood decorations.
Obscenity Bar & Lounge is the hotel's designated venue for live jazz and slam poetry. This hotel is rated four stars and costs between $530 and $600.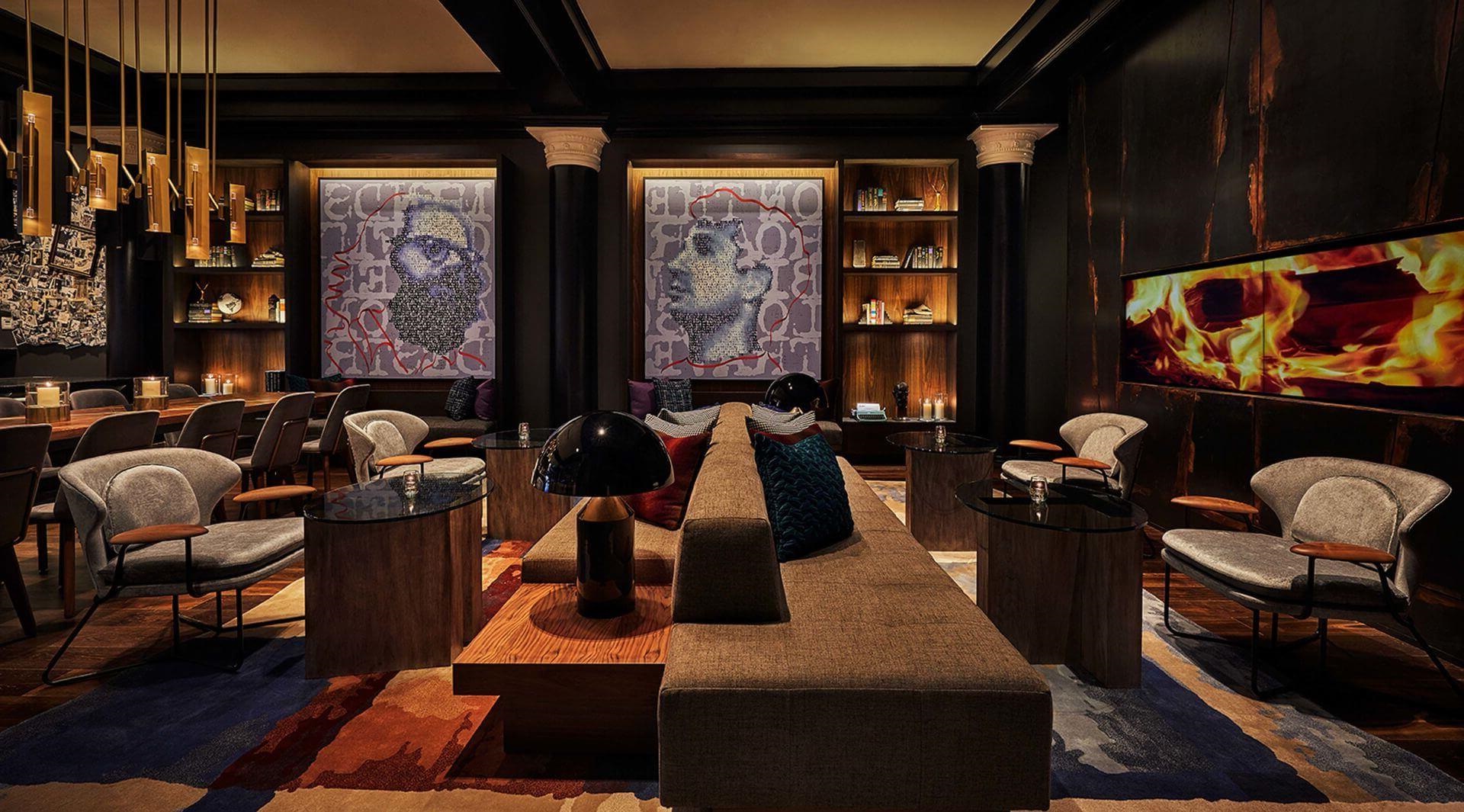 Pros
The hotel is conveniently located near Union Square and Chinatown.
Cons
Some visitors feel the accommodations are smaller than anticipated.
FAQ About San Francisco Hotels
TRAVELING TO THE UNITED STATES?
---
Do You Have U.S. ESTA VISA Travel Authorization? If You Have ESTA Application, Check if it is Still Valid!
Conclusion
The question of where to stay is the most prevalent of all the crucial decisions to make while planning a holiday. This creative, bohemian, and breathtakingly gorgeous California city will claim to offer every hotel with comfy mattresses, great sheets and linens, and all the necessities. You can learn a little bit about the greatest hotels so you can make the best selections.