---

Top 10 Best Hotels in New York City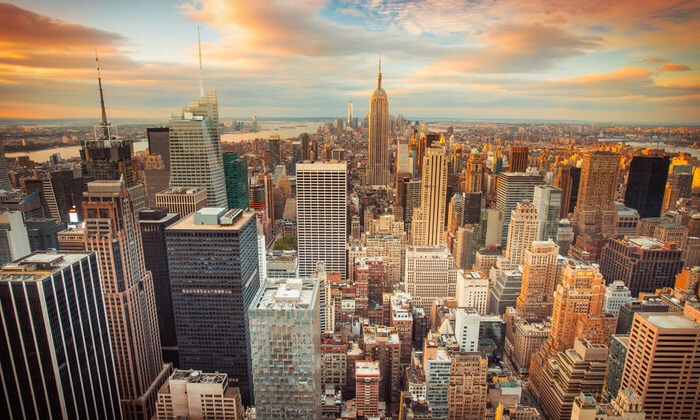 New York City is without a doubt one of the most intriguing cities in the world, featuring several of the top attractions in the United States. It is the ultimate well-traveled place that exemplifies metropolitan living. Whether you want top-shelf grandeur or fashionable shops, or you want to see some of the world's most famous museum collections, the best hotels in New York City provide something for everyone.
Here are the top ten greatest hotels in New York City, ranging from historic and personal to luxurious.
1. Baccarat Hotel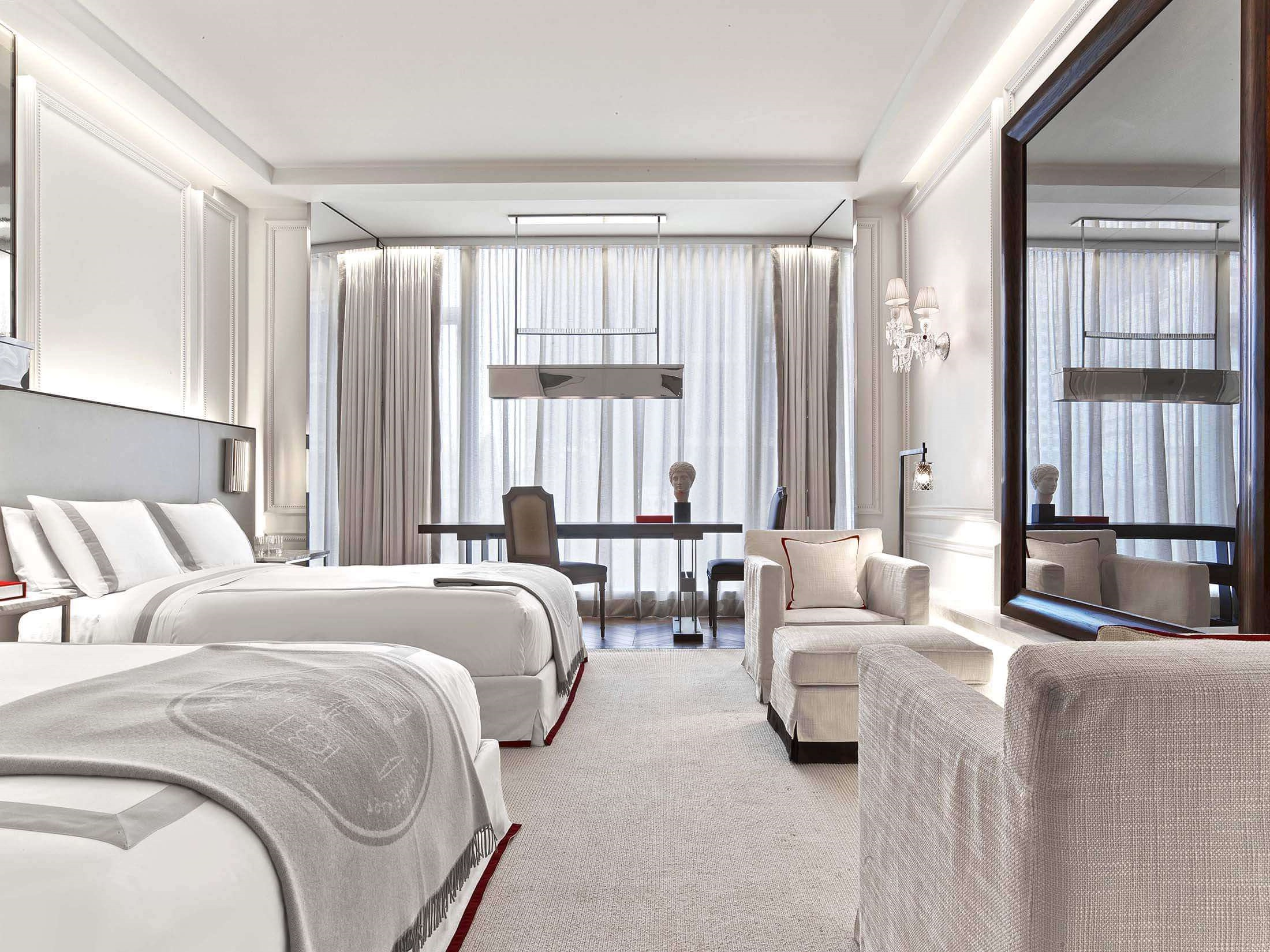 The Baccarat Hotel, which opened in 2015, has a modern, vintage ambiance that is reminiscent of a page from a large European palace. Because it is close to MoMA, Rockefeller Center, and Broadway theatres, it is ideal for those who want to see all of New York's major attractions. The foyer sparkles with exceptional art installations, baccarat-crystal furniture, hidden silk walls, and overall grandeur. Its crisp, clean lines and dark-leaning design highlight the facility's extensive crystal collection (including 15,000 stemware pieces, and 17 chandeliers).
Its 114 rooms range in size from 400 to 1,780 square feet and feature a glass-walled bathtub, calming windows, and an overstuffed hotel minibar. The Grand Salon and Bar are an excellent combination of trendy, elegant, and handy. Personal training sessions are available 24 hours a day in the gym, and spa treatments are available at the hidden La Mer.
With a price range of $1,000 to $2,100, this amazing hotel is one of the top 5-star hotels in New York City.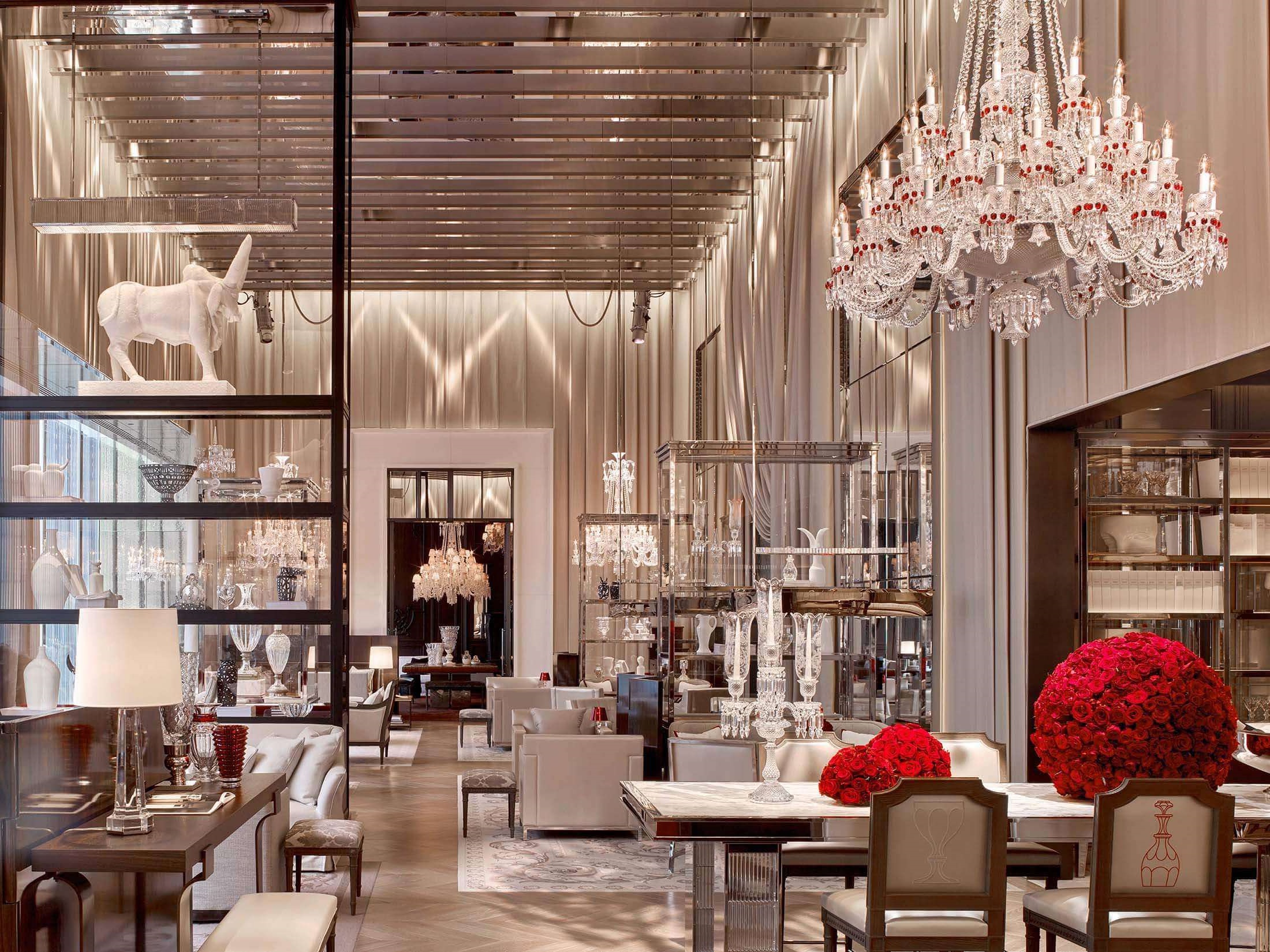 Pros
Centrally located with a swimming pool and a noteworthy spa
Cons
A stay at this hotel will put a dent on your wallet.
TRAVELING TO THE UNITED STATES?
---
Do You Have U.S. ESTA VISA Travel Authorization? If You Have ESTA Application, Check if it is Still Valid!
2. The Carlyle, A Rosewood Hotel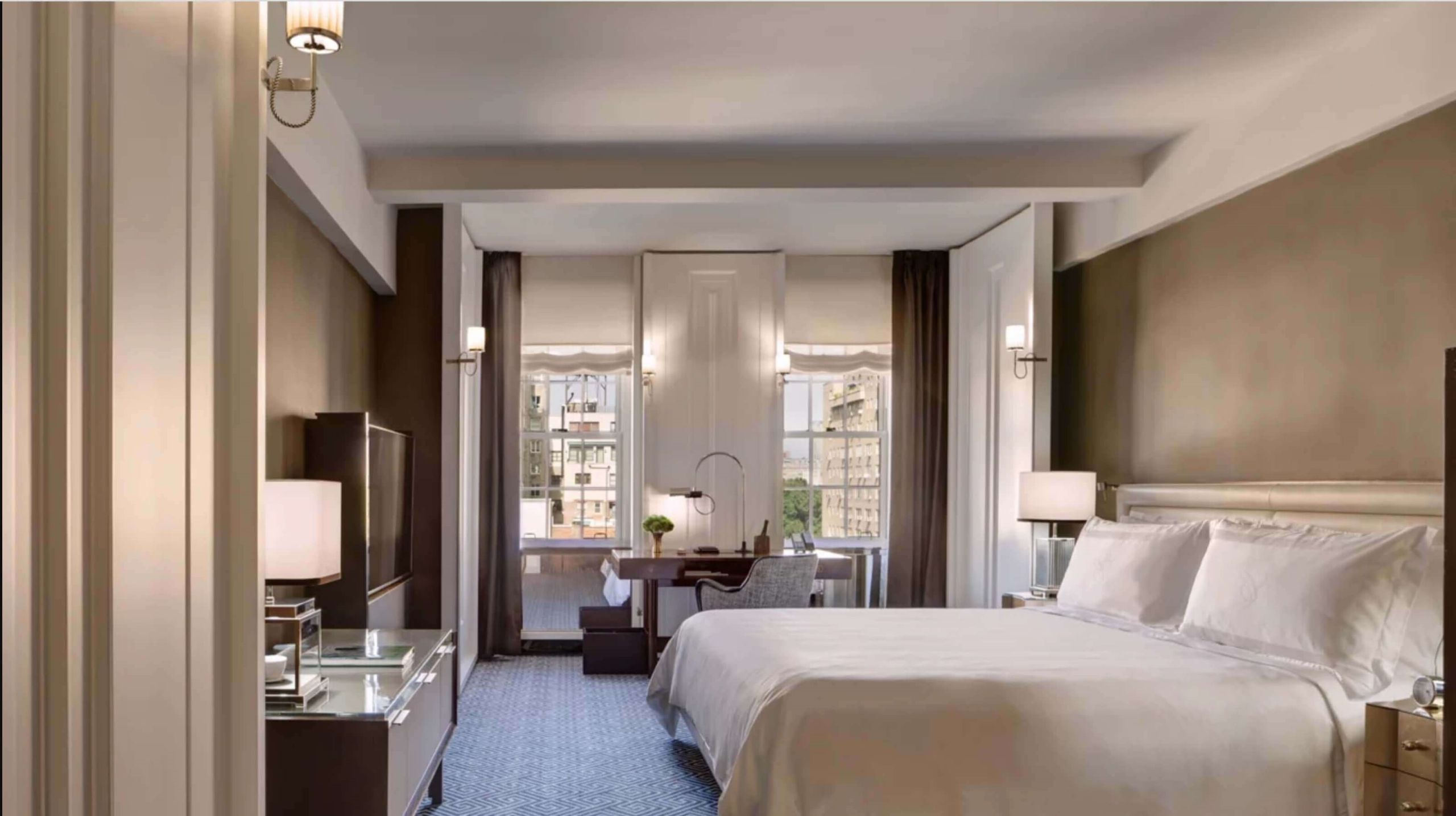 Since its inception in 1930, this has been a timeless classic and a hallmark of refinement in the city. It is only minutes away from the city's most prestigious cultural institutions, including the Metropolitan Museum of Art, The Frick, The Guggenheim, and Central Park.
& entertainment options The hotel is also close to the world-famous Museum Mile and ideally positioned on Madison Avenue, which is surrounded by galleries and fashionable stores.
The Carlyle combines classical grace and contemporary design, from the black-and-white marbled lobby to the elegantly appointed rooms with luxurious furnishings. The interiors were designed by T. Despont and T. Chi.
This hotel has 190 rooms as well as 73 suites with views of the Manhattan skyline. The Carlyle Restaurant and the Bemelmans Bar prepare visitors for passionate dining, while well-known artists provide the New York cabaret experience at Café Carlyle. Guests have access to a variety of amenities and conveniences, including in-house stores. Designer shopping may be organized for local businesses like as Perrin Paris and Vera Wang, as well as things ranging from florists to art galleries.
During her royal tour in the 1980s, Princess Diana stayed here, as did Prince William and his wife Kate Middleton twenty years later. John F. Kennedy stayed at this hotel for so long that it became known as the "New York White House." This is one of the greatest 5-star hotels in New York City, with rates ranging from $1,300 to $1,500.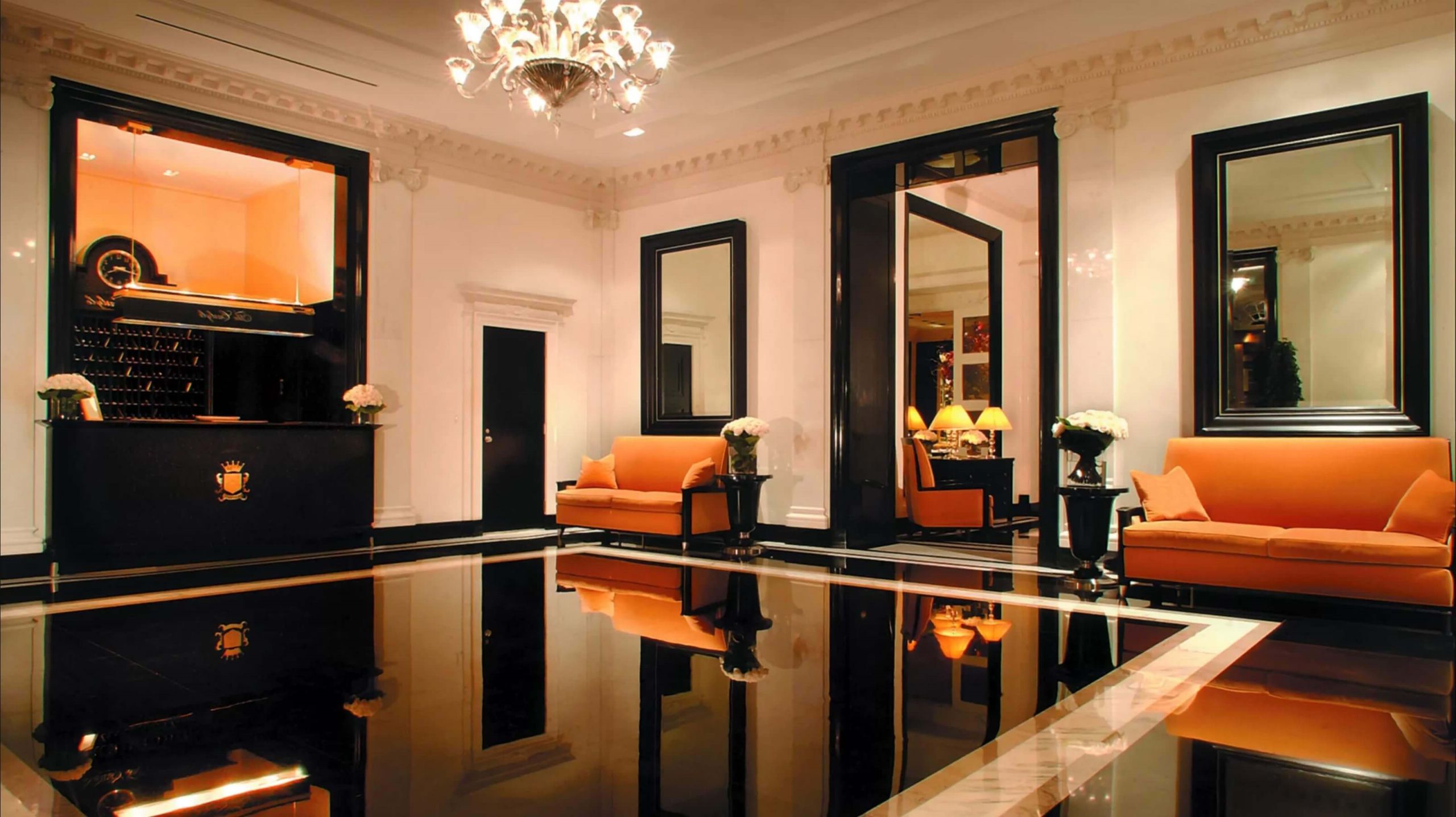 Pros
Rooms that are lavishly equipped, as well as restaurants and bars that are well regarded.
Cons
Notable are the extremely high room prices.
3. The Mark, Upper East Side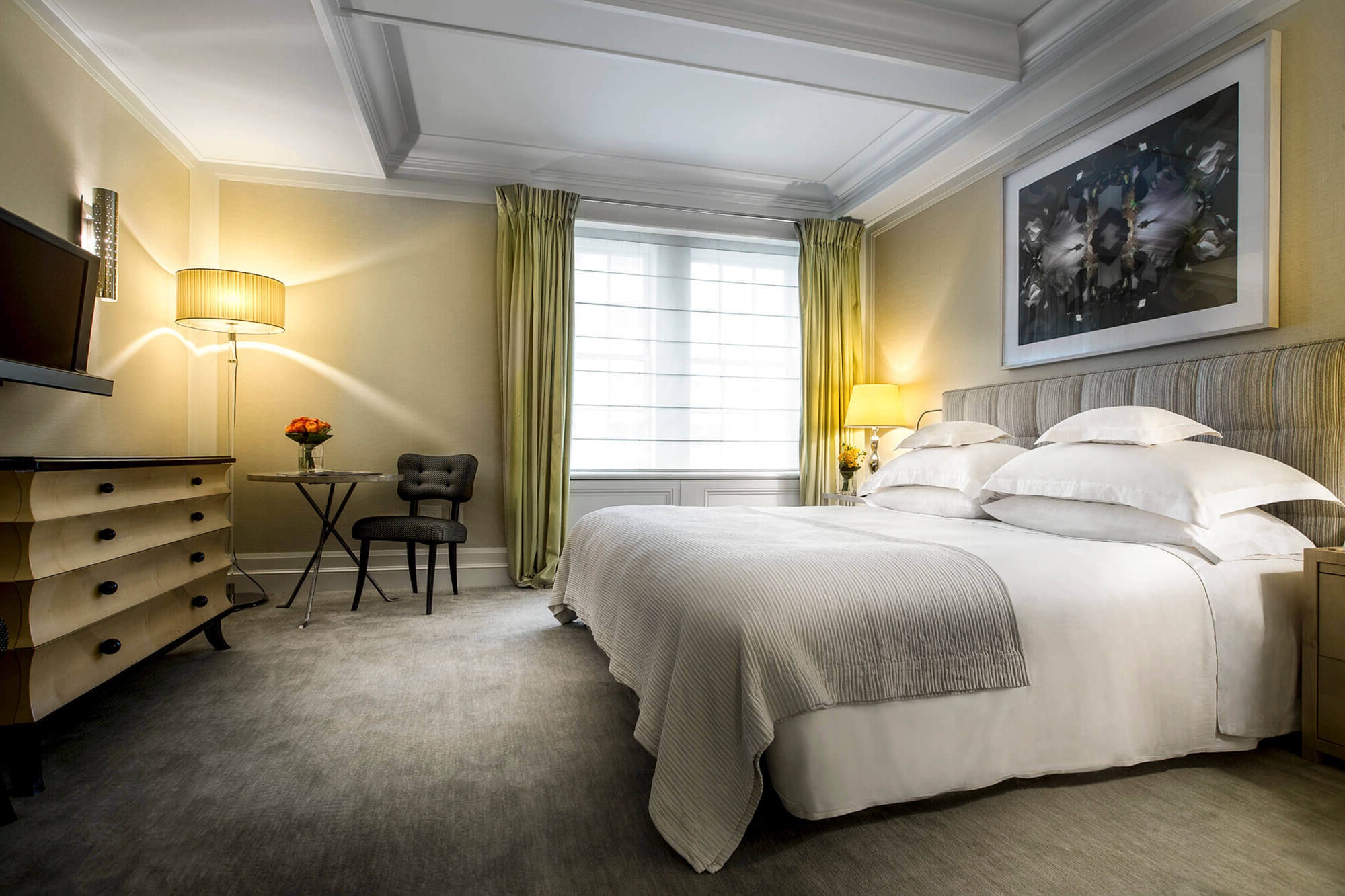 The Mark is housed in a 1927 monument that was rebuilt by renowned designer J. Grange. It is one of the top hotels in Manhattan, New York City, and is located on one of the Upper East Side's most exclusive blocks, in the heart of Manhattan's cultural district. It is similar to The Carlyle in that it is adjacent to influential museums, shops, restaurants, and is a short walk from Central Park. The hotel combines old-world charm and avant-garde design with one-of-a-kind service. It extends beyond its considerable bricks and architecture to create exciting New York experiences, with a blossoming vine cart and free bicycle and pedicab rides.
The lobby is adorned with bold black and white lines, and this colour scheme is carried throughout the hotel, including the pedicab, hotdog cart, and even the unique swimwear. The Mark, the hotel's restaurant by famous chef Jean-Georges Vongerichten, with J. Grange-designed decor that are effortlessly refined in Upper East Side opulence. If you can, have their cheeseburger with black truffle dressing and be blown away.
This hotel provides luscious surprises by Ladurée, a salon by Frédéric Fekkai, and 24/7 access to Bergdorf Goodman for its penthouse guests. This magnificent 5-star hotel costs between $850 and $900.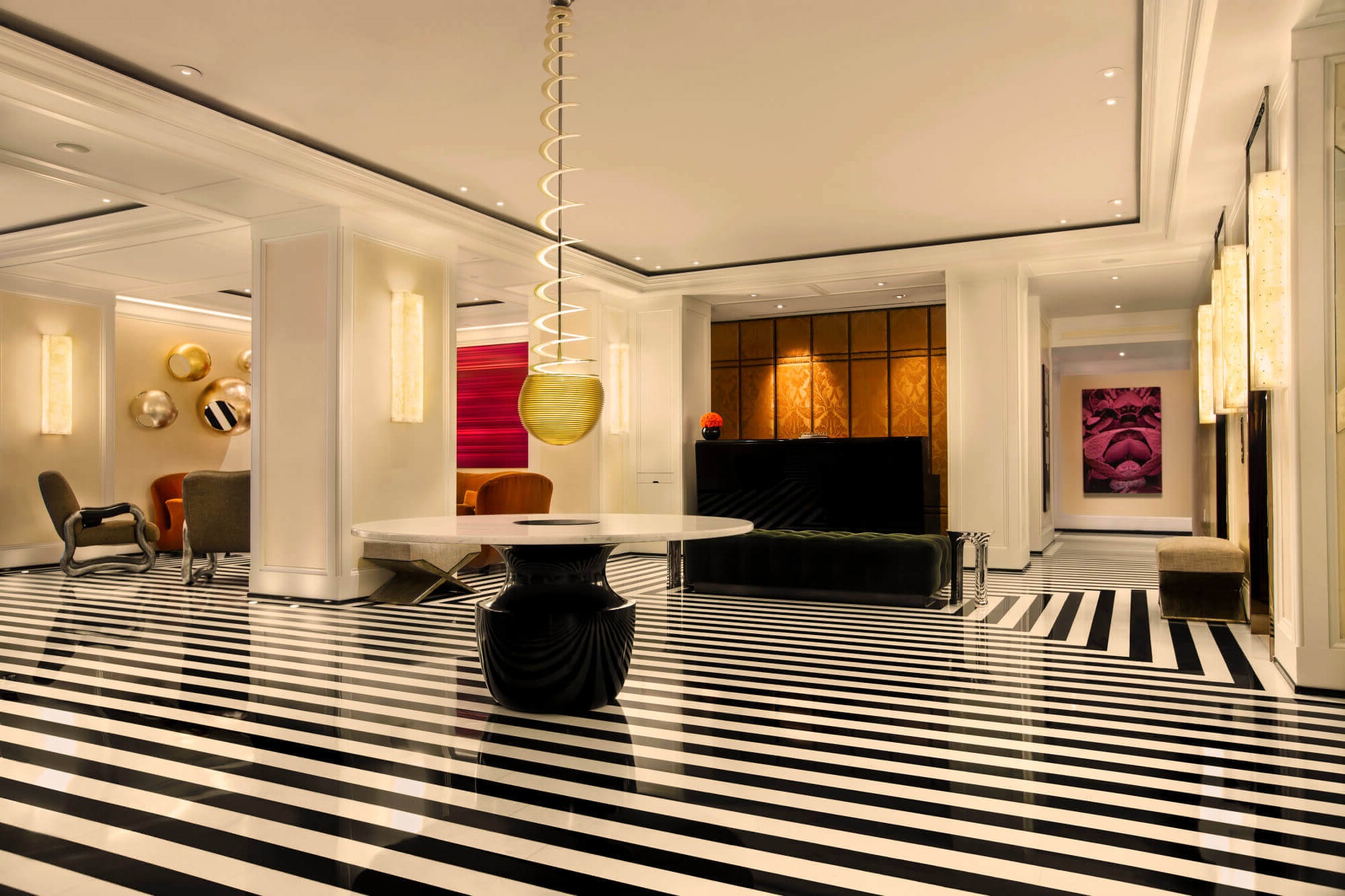 Pros
Excellent motel with several on-site amenities.
Perfect location surrounded by museums, shopping, and restaurants, as well as the splendor of Central Park
Cons
Room costs are exorbitant.
4. The Chatwal, A Luxury Hotel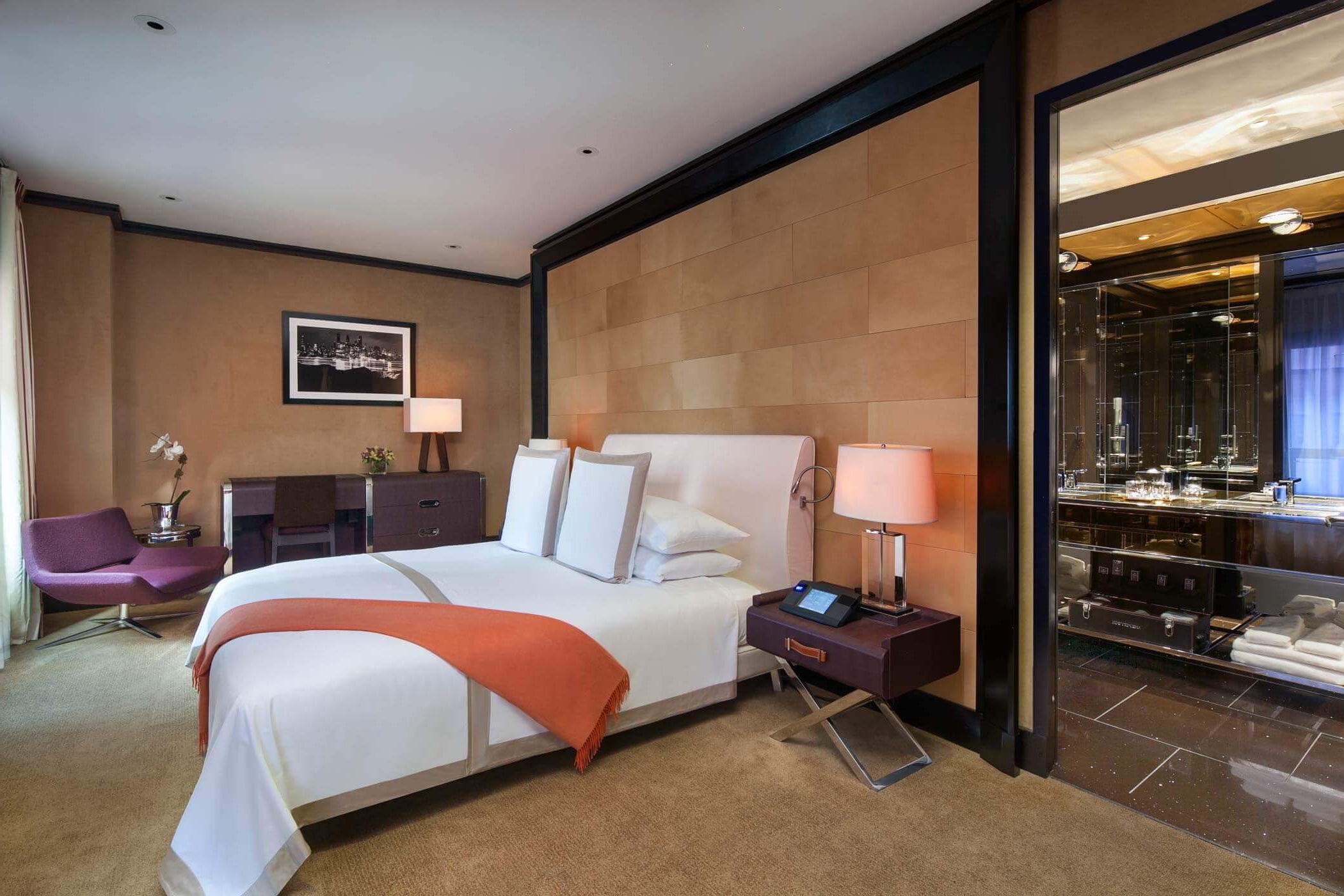 The Chatwal, one of the city's premium set hotels, is a spectacular dive in the heart of Midtown's Theater District. With extensive amenities and customized service, this hotel is well-suited. The Lambs Club & bar, an 80-seater culinary stop with famous chef Zakarian at its establishment, is also present. The initial stone fireplace would be the center element here.
Its 76 rooms are adorned with art deco lines and ocean liner-inspired furnishings, including magnificent steamer clothing and a vanity set in chocolate leather. The bathrooms are adorned with wall-to-wall mirrors and rain showers outfitted with special Asprey amenities. Guests generally unwind in the cosy Bar (Lambs Club), which is tucked away off the foyer, near the subterranean spa with a small gym. This is also one of the greatest 5-star hotels in New York City, with rates ranging from $600 to $610.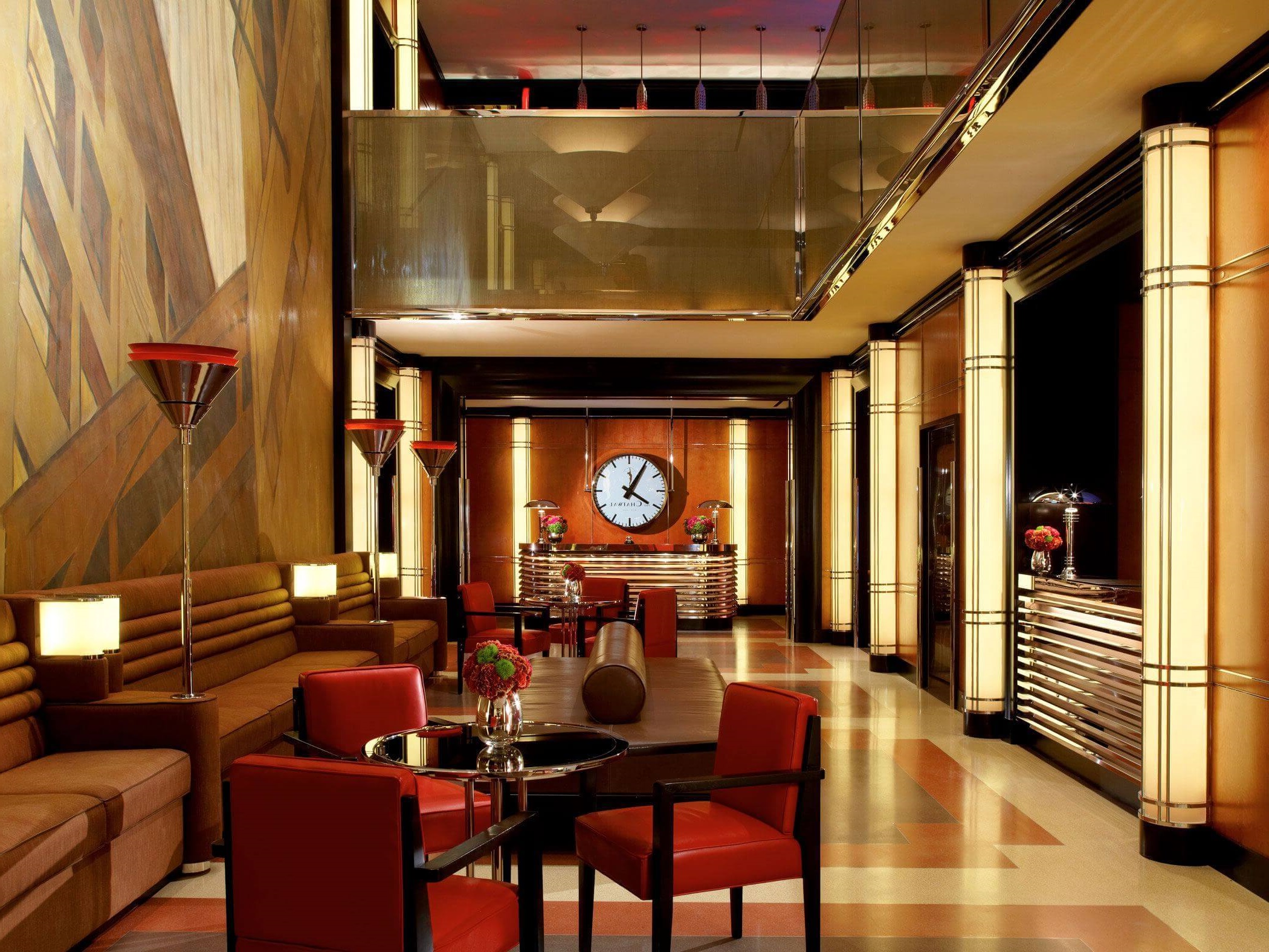 Pros
Modern accommodations, a gourmet restaurant, and an on-site spa
Cons
You must make a reservation to dine at the in-house restaurant.
5. The Greenwich Hotel, Tribeca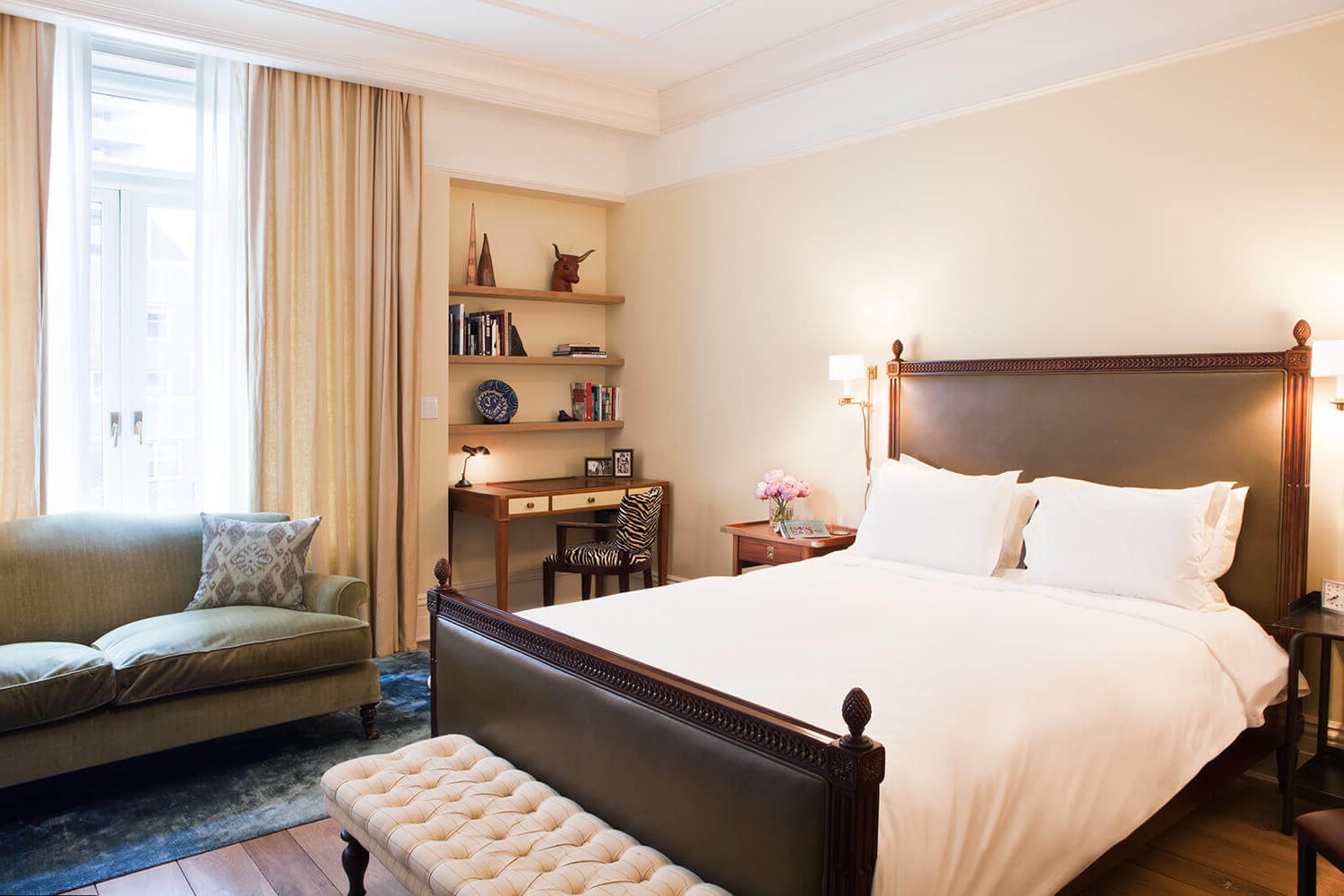 In the trendy Tribeca area, this hotel caters to a high-end Pied-à-Terre. There are no two rooms alike among its 88 rooms and suites, which combine Tibetan carpets, English furniture, and Moroccan floors with old ledgers and flea market antiquities. The design honors great craftsmanship, and much of the woodwork has been salvaged. The private, lantern-lit pool, for example, is housed in a 250-year-old pine farmhouse transported from Kyoto. Locanda Verde, an open-kitchen Italian cafe, serves a humorous take on typical Italian fare.
The tufted leather arrangement and fireplace, shoji-style panelling, and the peaceful terrace complement the wood and exposed brick ceilings. The main attraction is the subterranean pool and Shibui Spa, which is hidden beneath a 250-year-old bamboo and recovered wood ceiling.
Many common areas are restricted to guests exclusively, and one of the restrictions that apply is the No pictures rule. It's no wonder that this hotel attracts A-list celebrities, who will appreciate amenities like the Japanese-style spa and the open-air garden. Locanda Verde, in particular, is appreciated not just by residents but also by visitors.
This marvel is one of the top 5-star hotels in New York City, with rates ranging from $800 to $850.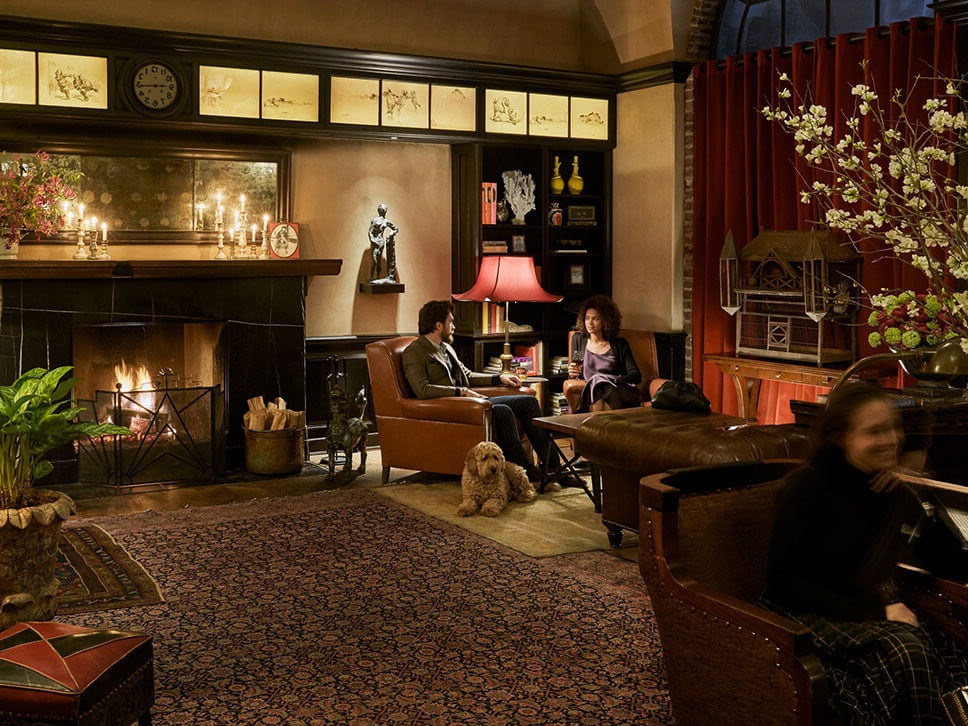 Pros
On-site spa, pool, and restaurant at this exclusive boutique hotel.
Cons
Room costs are exorbitant.
TRAVELING TO THE UNITED STATES?
---
Do You Have U.S. ESTA VISA Travel Authorization? If You Have ESTA Application, Check if it is Still Valid!
6. The St. Regis New York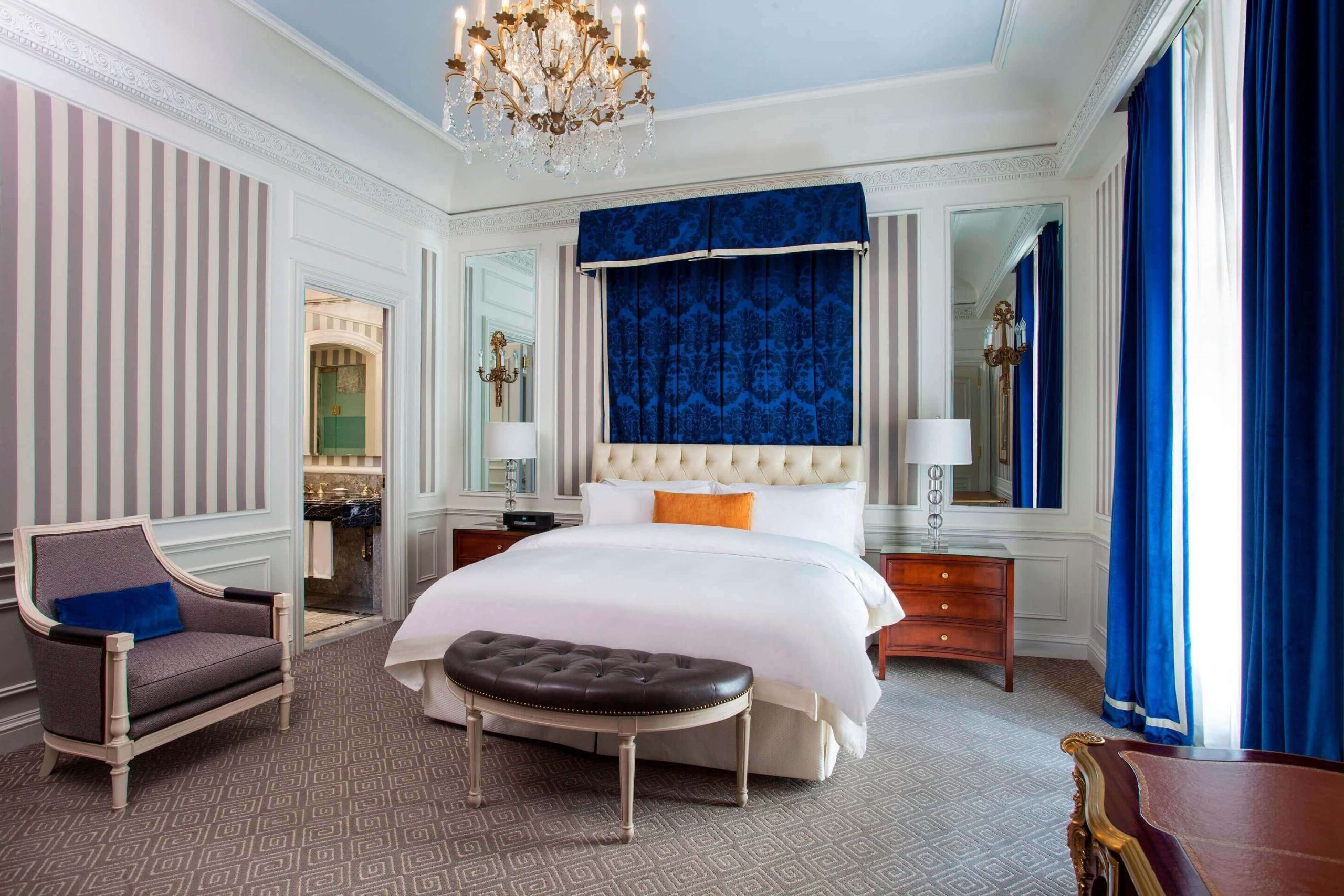 This luxurious, historic Beaux-Arts edifice, standing on one of Manhattan's finest spots, with its magnificent accommodations, the wonderful King Cole Bar, and faultless service, go to certify St Regis New York as genuine. Formerly New York City's tallest structure, the skyscraper, together with its beautiful, scarlet-carpeted doorway, remains a standout in this Midtown Manhattan neighborhood. This places this hotel among the top in Manhattan, New York City.
From the rich-gold tainted lobby to the themed rooms and suites, the hotel exemplifies the city's extravagant glamour-focused mindset. It has awakened to display its great culture while retaining the ageless charm for which it has been recognized. From the elaborately decorated guest rooms and suites to the magnificent common areas, which include a royal rooftop ballroom with panoramic views of Manhattan.
Astor Court, located adjacent to the King Cole Bar and lobby, is an upper-level in-house restaurant that serves breakfast, lunch, and supper on a daily basis, as well as brunch on weekends. All 238 rooms include vast space, beaux-arts décor, and sumptuous linens, as well as the interior and marble layouts that set this masterpiece apart from the bulk of city hotels.
The amenities of St. Regis are likewise first-rate, which is why it is a 5-star hotel with rates ranging from $1,490 to $1,510.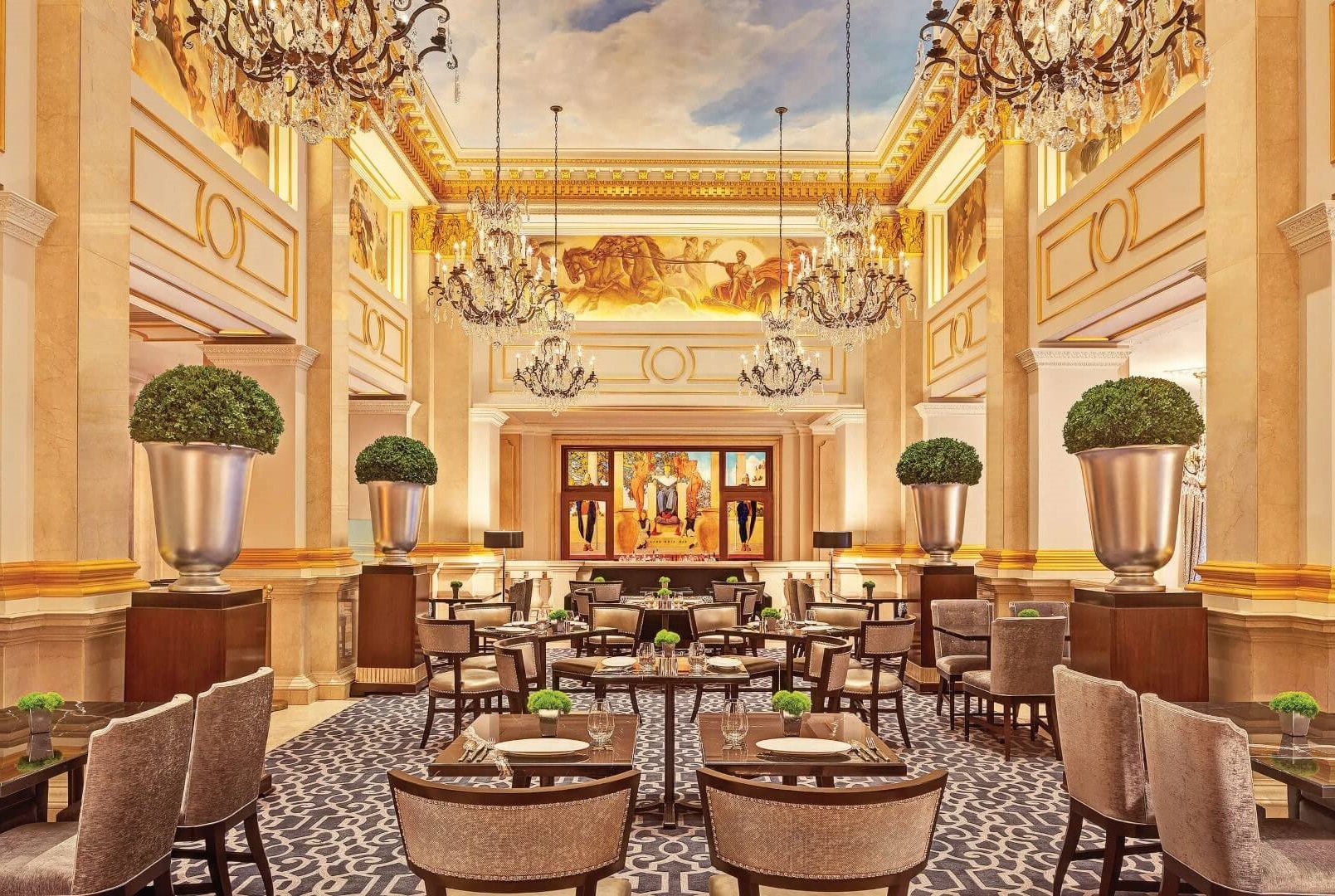 Pros
Iconic luxury hotel with highly regarded employees
Guests can enjoy complimentary Butler Service hospitality in the Bentley House Car.
Cons
Room costs are exorbitant.
7. The Pierre, A Taj Hotel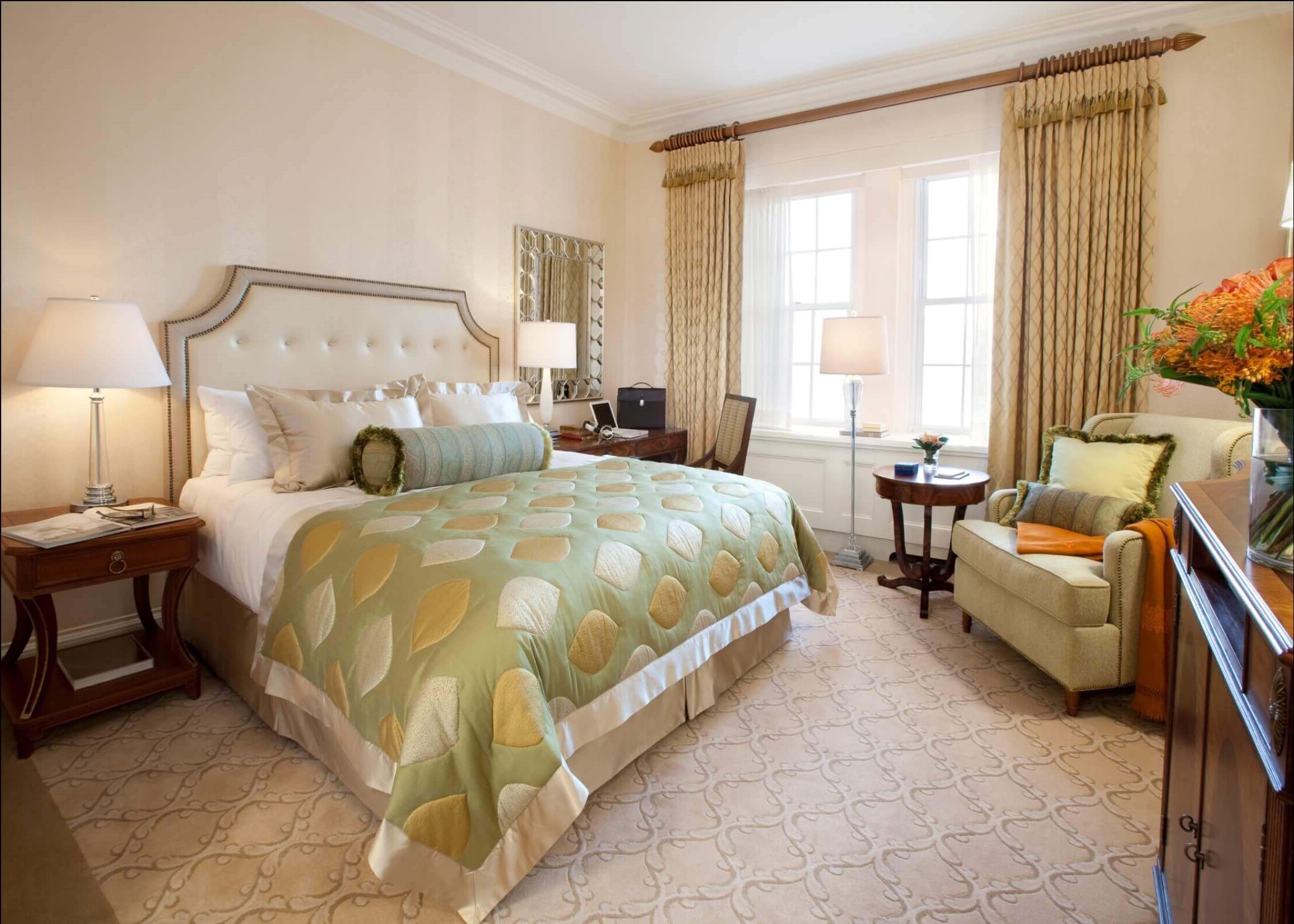 This 41-story Parkside Taj hotel on Central Park's eastern boundary opened in 1930 and has been a luxury landmark for over a century. It is located directly on the southeastern border of Central Park, on Fifth Avenue and 61st Street, and has a superb position in Lenox Hill, with luxury apartment-like guest rooms (a total of 189 rooms, with 49 suites) and suites with wide views of Central Park. The classic New York charm remains undiminished despite the high-priced renovation that renovated Turkish marble baths in the guest rooms and served South Asian artefacts in the lobby.
Although the lobby is not the most stunning or showy, the subtle 1930s architecture is difficult to resist. The hallways, on the other hand, are decorated in cream and gold. Chef Ashfer Biju's in-house restaurant, Perrine, is a hidden treasure with a concentration on simply prepared food, and it is certainly one of the few excellent diners in this region. There's Pierre's famed mid-day tea, where you can anticipate fresh scones and finger sandwiches.
With rates ranging from $895 to $1000, this 5-star hotel is one of the best in New York City. There includes a 24-hour exercise facility, laundry, and automobile services.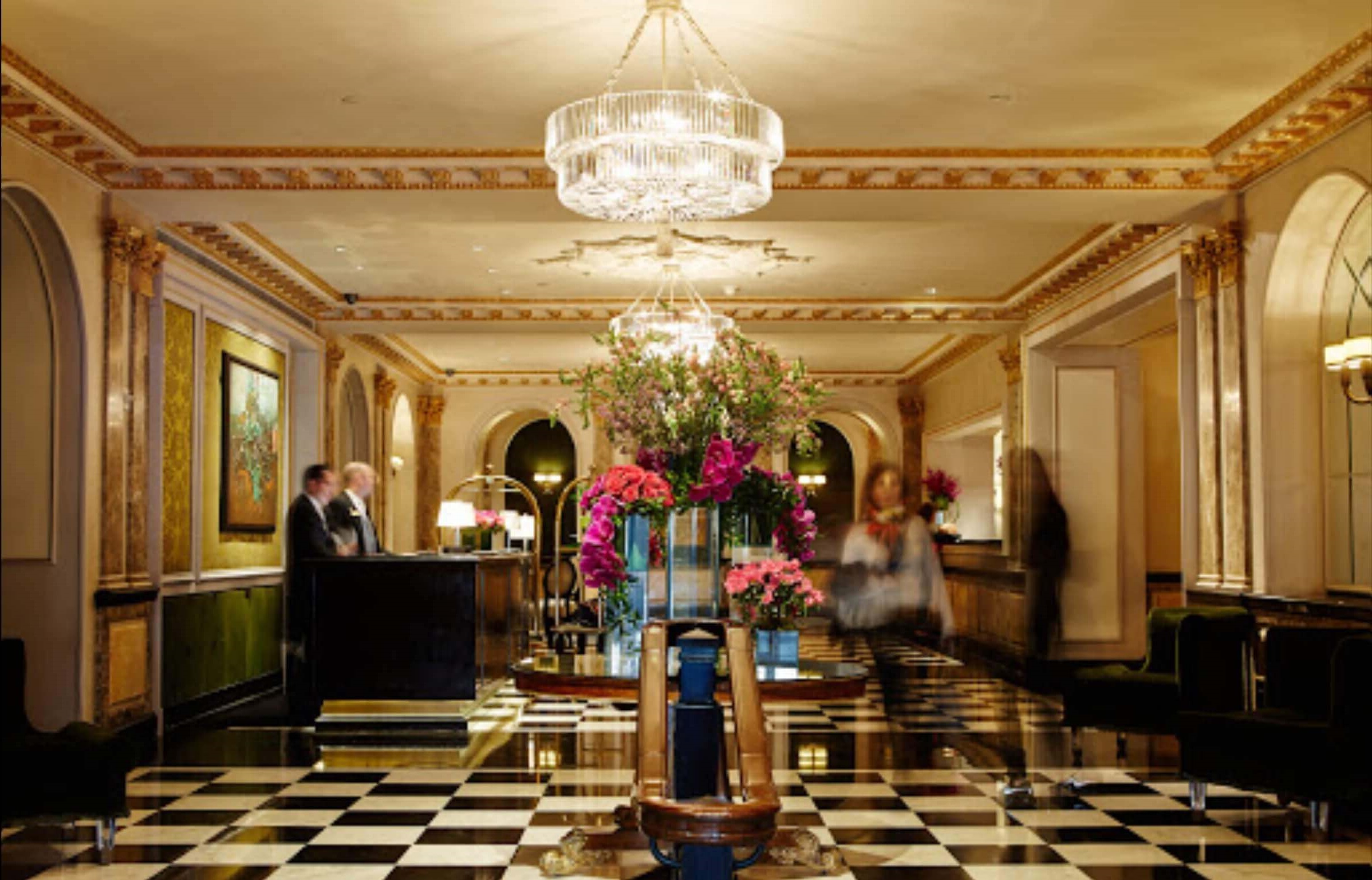 Pros
Iconic luxury hotel with a view of Central Park.
It includes automobile services.
Cons
According to several recent customers, the restaurant is overpriced.
There is no on-site spa at this hotel.
8. The NoMad Hotel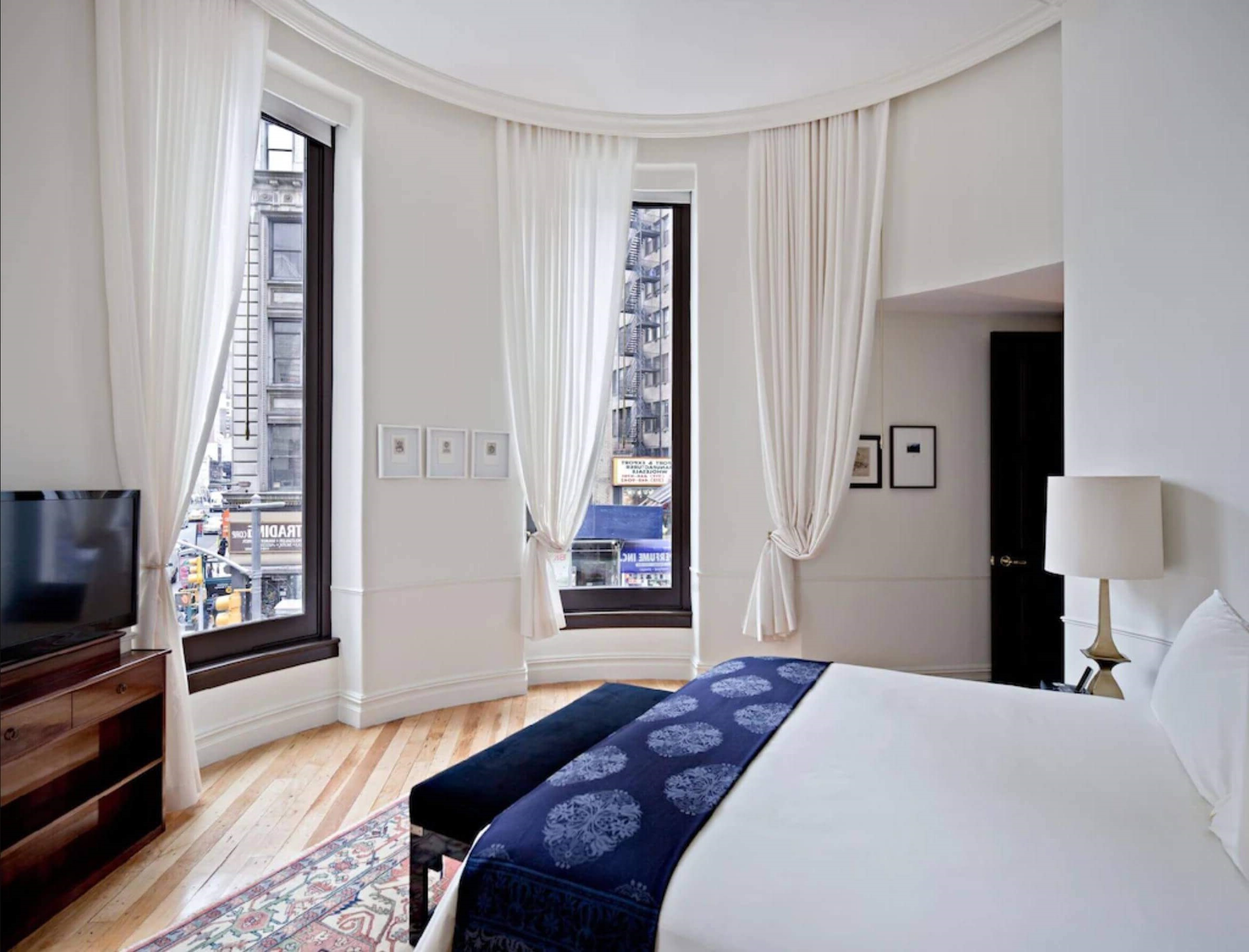 The NoMad Hotel was built in a 1903 exquisite turn-of-the-century Beaux-Arts edifice in the Flatiron District, with furnishings designed by J. Garcia. The NoMad successfully combines modern sensibility with old architecture. It remains one among New York's most up-to-date and talked-about hotels.
The foyer is beautifully decorated with cabernet-red velveteen couches, tan wood, and a library with a humorous spiral staircase. Though tiny, the rooms with a Parisian flare are classically designed with huge beds locked on studded leather headboards, velvet hangings, antique carpets, and clawfoot bathtubs. The bar is well-known in the city for its artisan drinks and cuisine, as is the Michelin-starred restaurant. This 4-star hotel charges between $280 and $350 per night.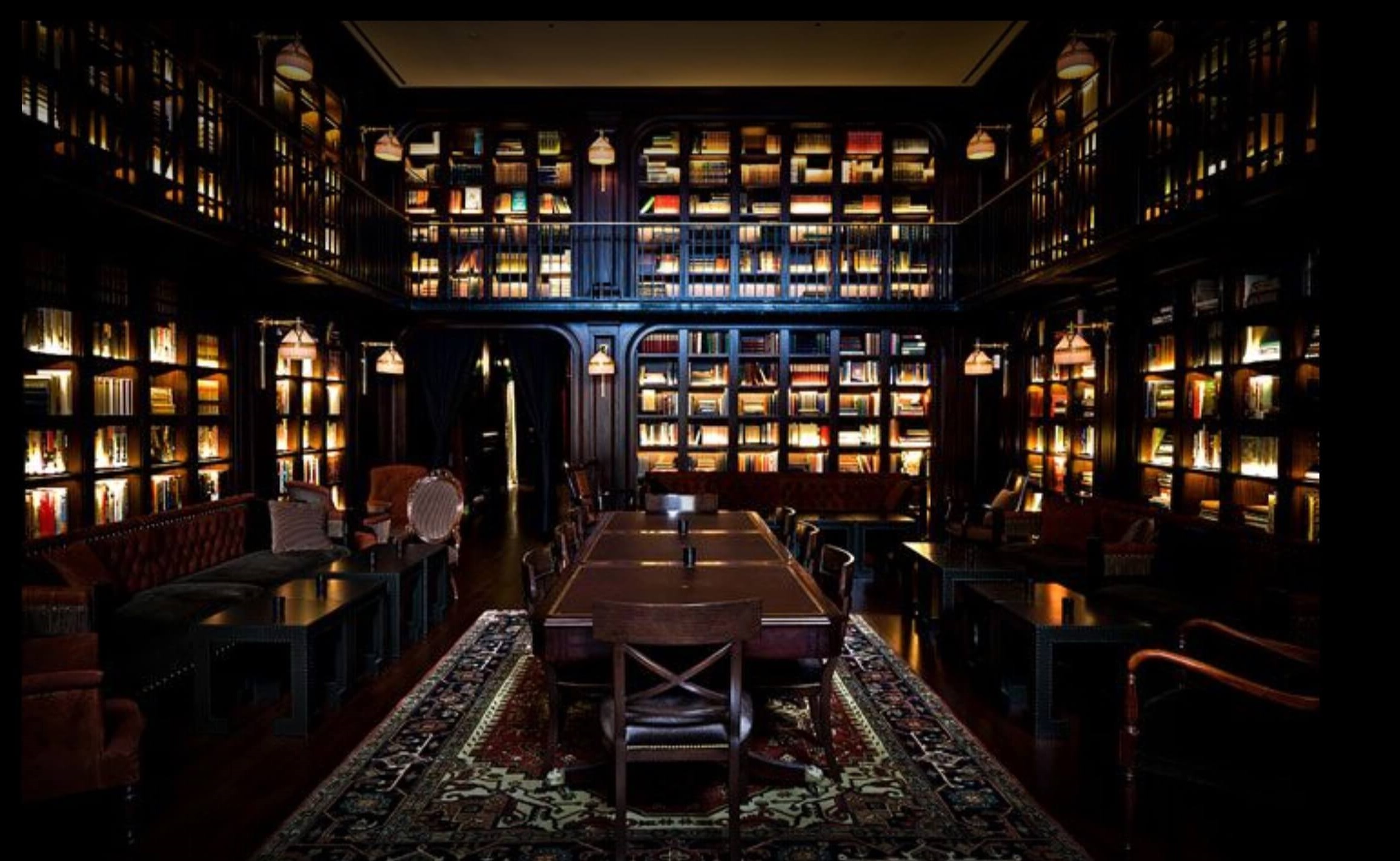 Pros
Rooms of 340 square feet or more
upscale dining establishment
Cons
There are few on-site amenities.
9. The Wythe, Williamsburg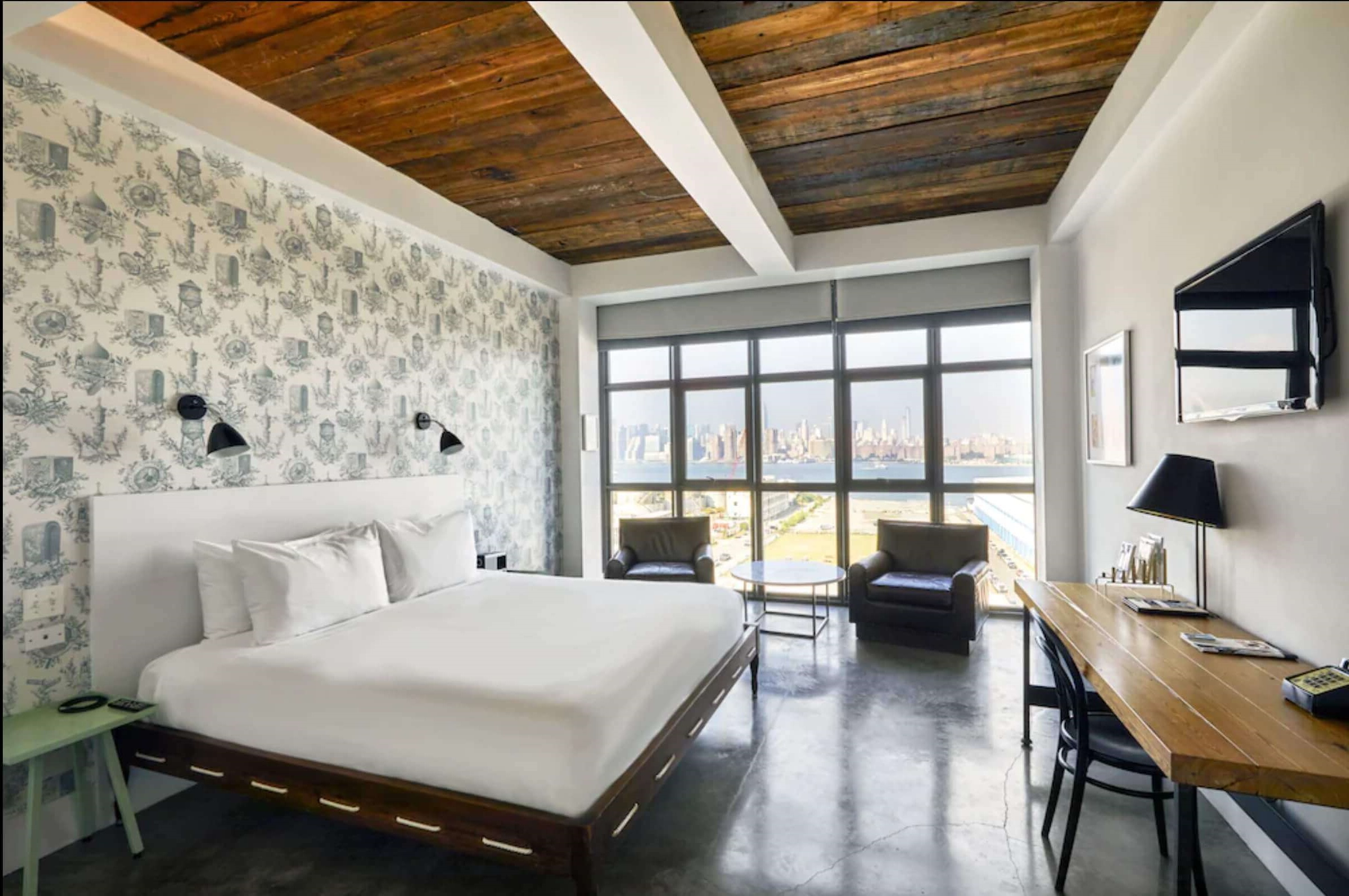 This masterwork is located beyond the bridge in Williamsburg, which may put off most local Manhattanites, yet losing out on the city's skyline vistas from the guest suite would be a mistake. Otherwise, spend the additional time travelling to Brooklyn.
The Wythe, like Brooklyn's community's urban roots, is built in an old factory. Dan Funderburg's handmade toile wallpaper sparkles throughout the rooms, and modern, fascinating art hangs throughout the cabin's main common areas.
This 4-star hotel, with rates ranging from $340 to $360, is one of the greatest hotels in Manhattan, New York City.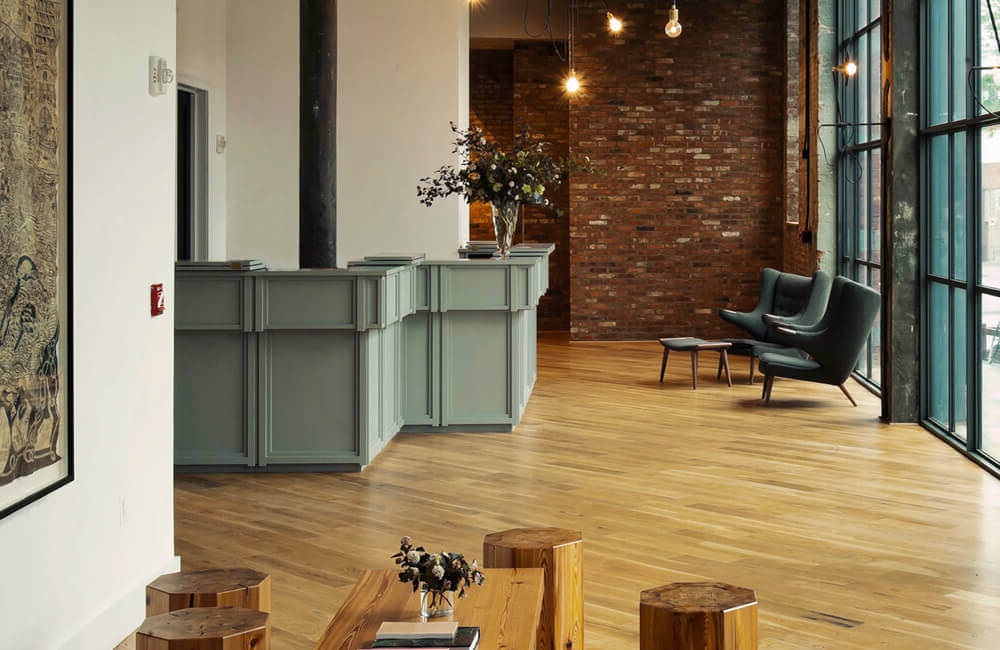 Pros
All rooms provide stunning views of the Manhattan skyline.
Cons
Because the Ides rooftop bar is so popular, lineups can form.
10. The William Vale
The William Vale, located in the heart of Williamsburg, is one of New York's trendiest hotels, spanning over 20 floors of Brooklyn's most trendy new skyscraper. It has a huge pool deck with a rooftop bar. The guest suites are modern in design, with a patio and cinematic Manhattan landscapes.
It features a crisscrossing white coating that may be seen from lower Manhattan. There are 183 modern guest rooms, each with a balcony and many with spectacular views of the East River and the Manhattan cityscape. It has a really nice décor, basic and modern, with wood flooring, glass showers, and succulents on the nightstands.
When the weather is nice, there is an airstream trailer with burgers, chips, and ice cream. There's a massive outdoor pool deck (60-foot rooftop pool), a cool rooftop bar with 360-degree views, and a restaurant run by celebrity chef Andrew Carmellini. The motel also includes a large free parking lot and neighbouring shops.
With rates ranging from $390 to $450, this 4-star hotel is one of the best in New York City.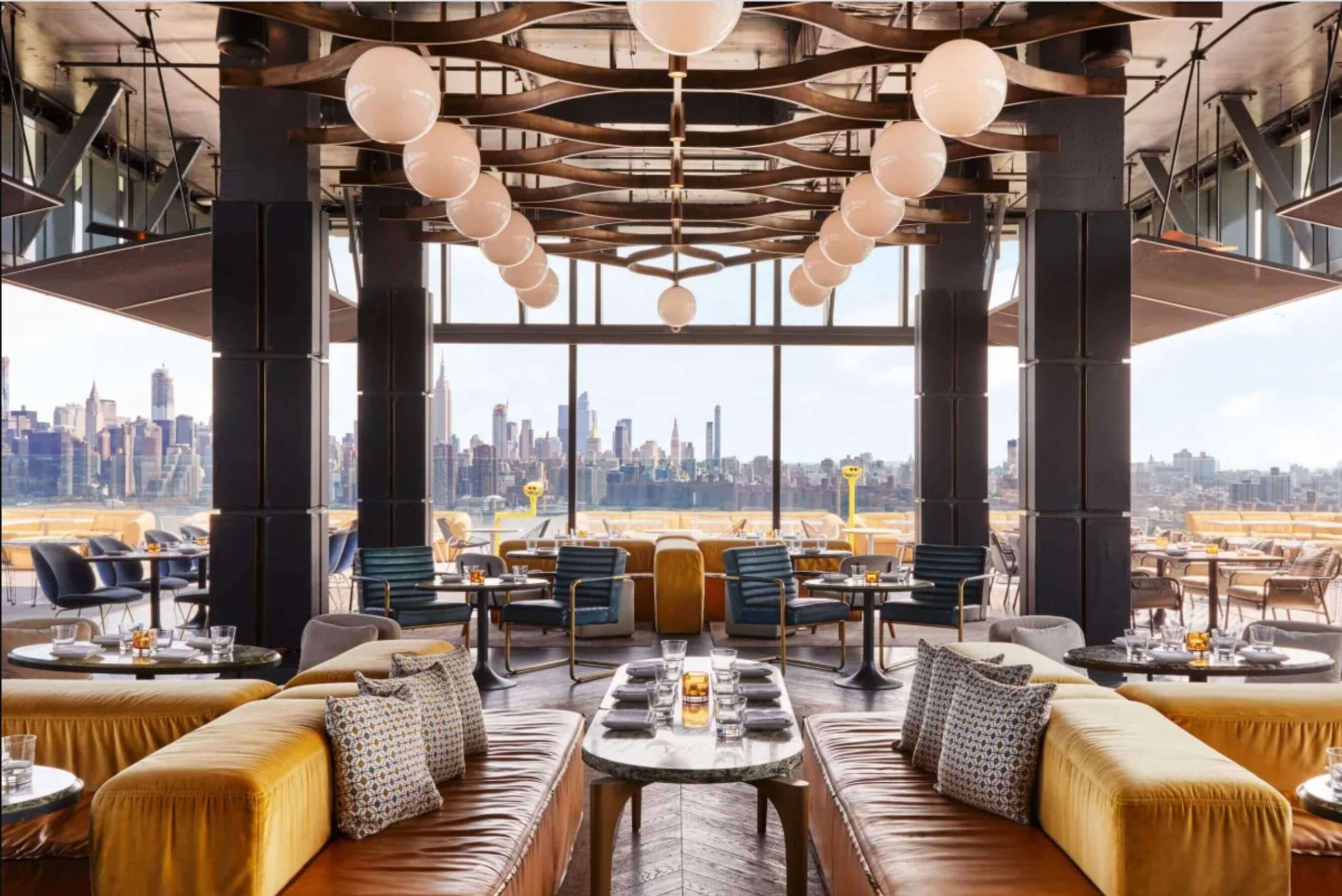 Pros
The rooms, terrace, and pool all provide spectacular views of Manhattan.
Cons
Quite far from New York City's main attractions
FAQ About New York City Hotels
TRAVELING TO THE UNITED STATES?
---
Do You Have U.S. ESTA VISA Travel Authorization? If You Have ESTA Application, Check if it is Still Valid!
Conclusion
It is quite simple to get about New York. With its well-known architecture, vibrant art scene, and renowned museums, this city has emerged as one of the top tourism destinations in the United States. It is home to several very renowned historic hotels, as well as magnificent resorts and boutique hotels. So, have a look at our list of the top ten 5-star hotels in New York City to help you plan your ideal break, whether it's a fun-filled family holiday, a romantic retreat, or a work trip!