---

Top 10 Best Hotels in Chicago, Illinois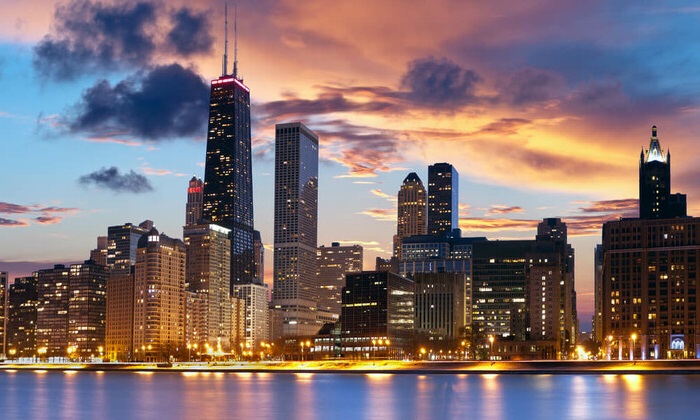 Chicago boasts one of the top hotels in the country, thanks to its architectural marvels, award-winning eating scenes, unique museums, and attractive lakefront views. Not only that, but the city also offers highly recognized hotels that are packed with flavor and facilities. Without further ado, here are our top selections for the best hotels in Chicago to stay at.
1. The Langham, Chicago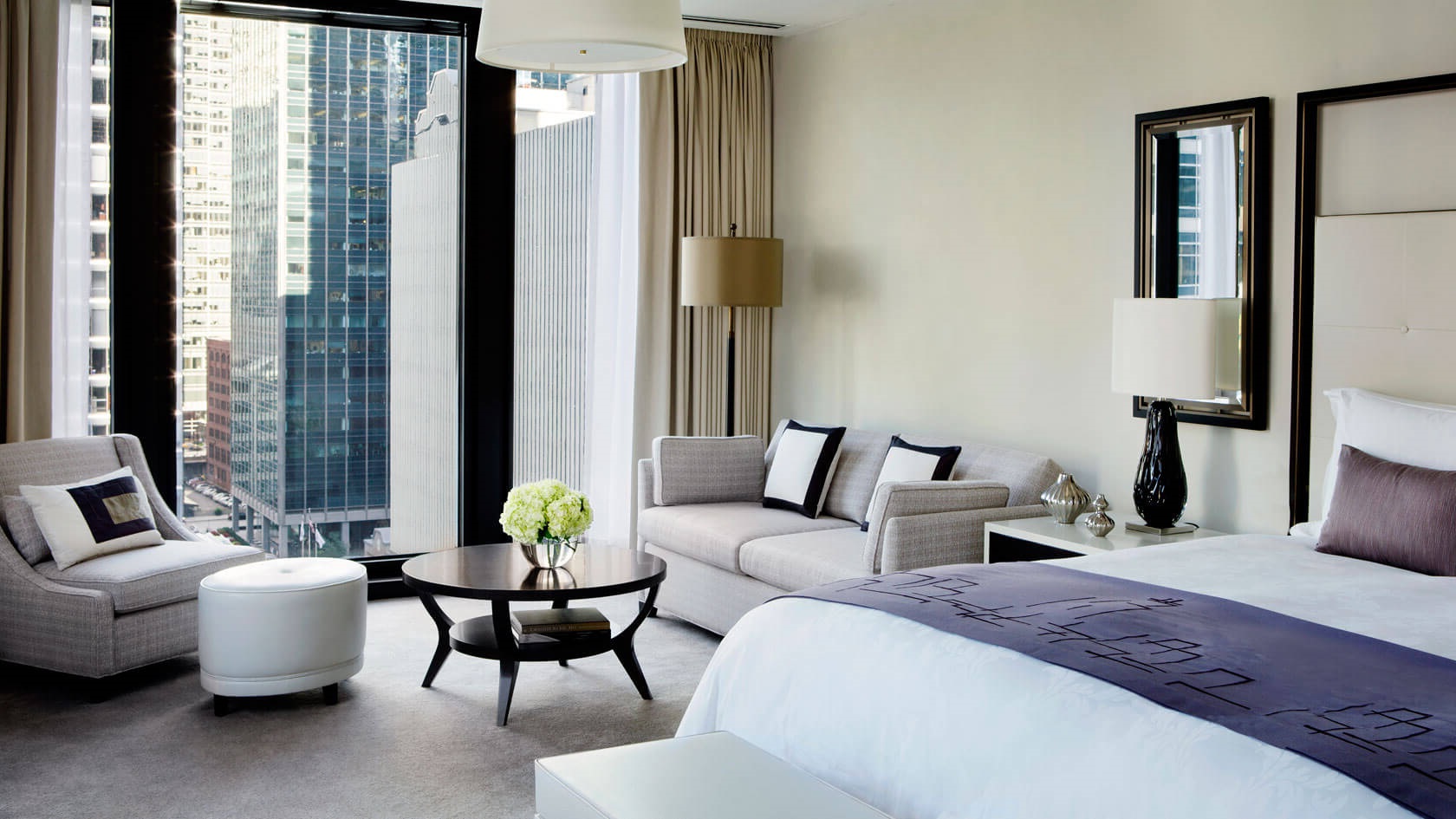 The Langham Chicago is famous for its excellent service and stylish look. Since its inception in 2013, this art-filled hotel has occupied the first 13 stories of the historic 52-story IBM building. It is located above the banks of the Chicago River, just steps from Michigan Avenue, and has one of the greatest riverside views in Chicago, making it one of the best hotels in Chicago with a view.
The Langham is renowned for its 300+ sophisticated and spacious suites. They have wide windows with beautiful city views. Each guest room features neutral-colored contemporary furnishings, dark walnut and lilac accents, soaking baths, and rain showers.
The hotel's elegant in-house diner, Travelled, is discreetly located on the second level. They provide seasonal American meals derived from ranches and farmers around the country. They also provide Spanish, Italian, Greek, and French cuisine.
The hotel contains a fitness club, a 67-foot-long indoor pool with a hydrotherapy Jacuzzi, and Chuan Spa, which offers services like as acupuncture and facials. This five-star hotel, which is close to several of downtown Chicago's best restaurants, is priced between $563 and $669.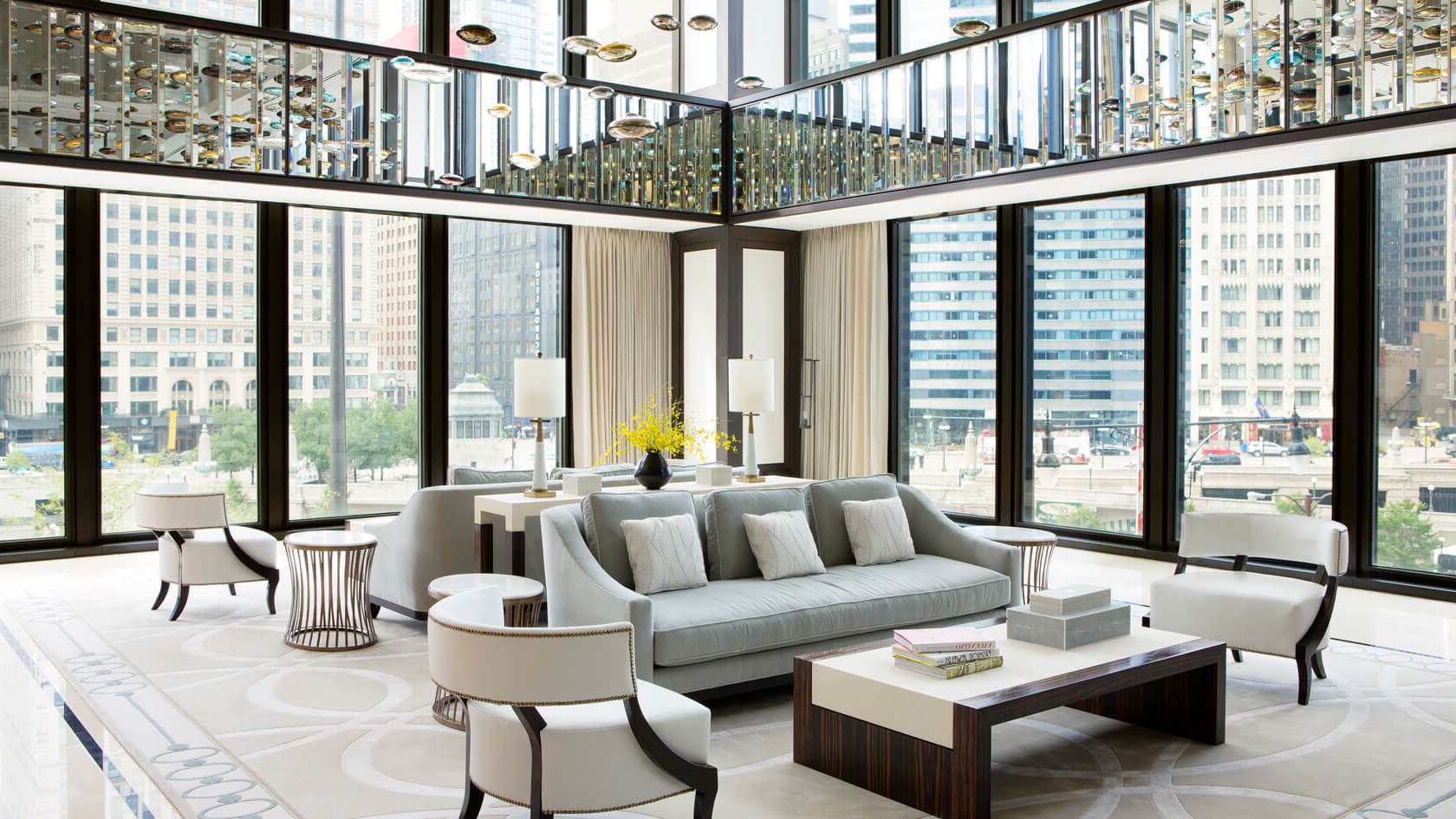 Pros
Staying at this hotel provides a comprehensive experience.
The comfortable mattresses and relaxing spacious baths are frequently praised.
Cons
The spa and in-house restaurant are not inexpensive.
TRAVELING TO THE UNITED STATES?
---
Do You Have U.S. ESTA VISA Travel Authorization? If You Have ESTA Application, Check if it is Still Valid!
2. The Peninsula Chicago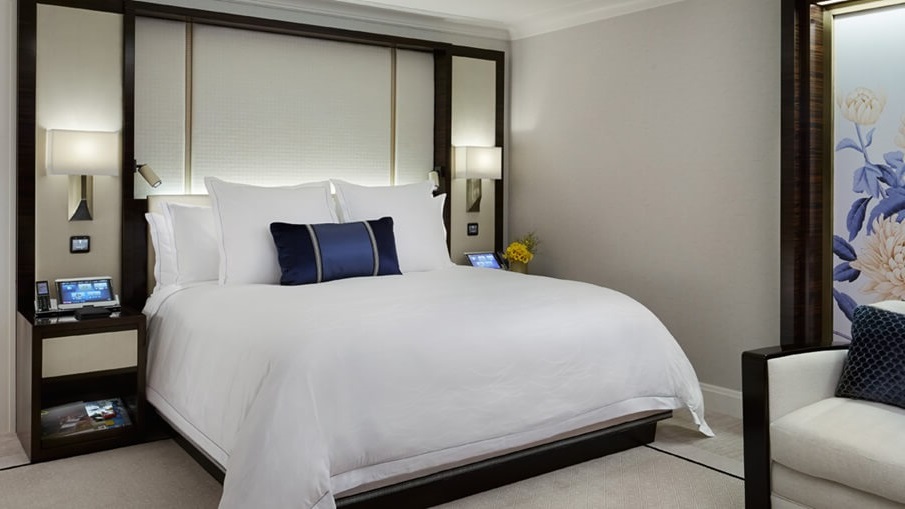 Peninsula Chicago is frequently rated as one of the greatest wellness hotels in Chicago and the United States for its spectacular combination of service and luxury. It combines Hong Kong's urbane prowess with the rugged Midwestern attraction of the metropolis. The Peninsula Chicago's position adjacent to Chicago's Magnificent Mile puts visitors within walking distance of cuisine and retail options.
The Peninsula Chicago's accommodations are larger than normal downtown rooms, featuring a creamy color scheme and exquisite embellishments. The major giveaway, though, are the trendy in-room technical touches. From a bedroom remote command station that regulates the lights and room temperature to a bathroom button that softens the lighting and activates the do-not-disturb sign, there is something for everyone.
The Peninsula's award-winning in-house diner, Shanghai Terrace, features both traditional and contemporary Chinese cuisine. Pierrot Gourmet serves French bistro food in a cafe that also offers outside terrace eating. The exquisite lobby serves all meal times, and weekends are a feast for the chocolate buffet of your fantasies.
This hotel has a half-Olympic-length indoor pool with lots of space for lap swimming, a famous Spa with a range of Asian-inspired treatments, and a fitness facility on the 20th floor. This five-star hotel offers the most friendly personnel, according to numerous tourists. The cost is between $650 and $769.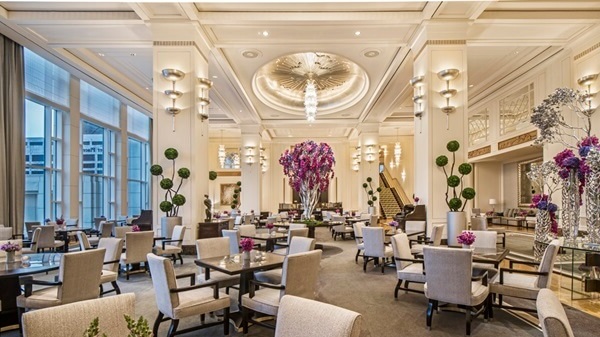 Pros
Excellent service and attention to detail.
Rooms are 530 square feet, making them one of the biggest in town.
One of Chicago's greatest hotels, including a huge spa and fitness facility.
Cons
This premium hotel is pricey.
Because of its popularity, the bar and restaurants have a long waiting list.
3. Chicago Athletic Association Hotel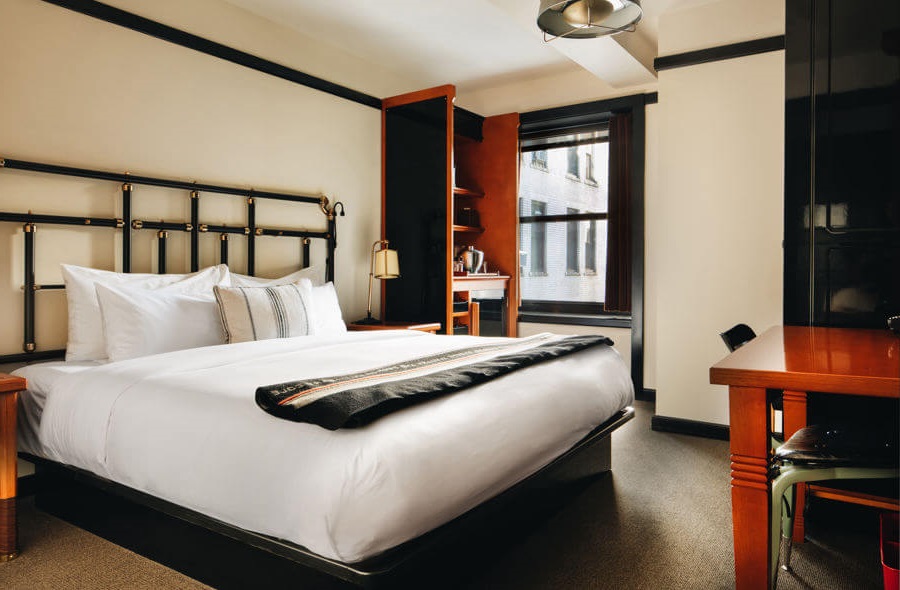 The Chicago Athletic Association hotel goes back to 1893 and was once an elite center for the best athletes and businessmen. The Venetian gothic exterior mixes with the 2000s interiors, complete with formed pebble fireplaces and terrazzo flooring, after being converted to a retro-modern hotel "club" in 2015. The famous lobby has a Harvard meets Hogwarts flair. This hotel is located in the center of Chicago, immediately across from Millennium Park.
The spacious rooms vary in size, with the biggest overlooking Millennium Park. Although tiny, the guest rooms and suites are cleverly designed to optimize space while maintaining simplicity and flair. The historic architectural structure showcases large windows and marble deep soaking tubs in each room.
Cindy's Rooftop is an open-air restaurant that serves large-format drinks. The ground level is home to Shake Shack, a burger and hot dog eatery. There's also the Cherry Circle Room, a fast-casual fantastic restaurant, and the Game Room, which has a relaxed atmosphere. Other amenities include foosball in the gaming area and a 24-hour fitness facility. The pricing range for this 4.5-star boutique hotel is between $259 and $339.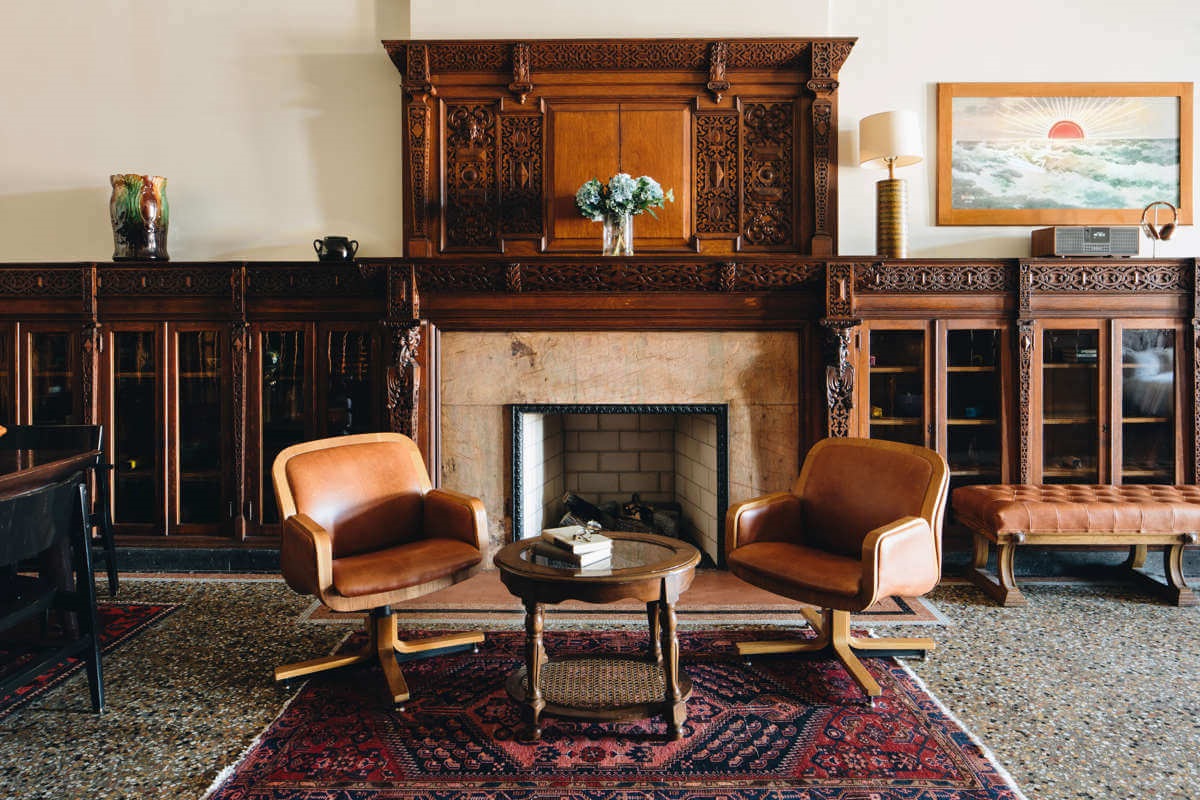 Pros
The ancient gothic charm of this hotel has been retained.
Its location provides spectacular views of the park and lake.
Cons
The ancient structure suggests smaller-sized chambers.
Long lines form due to the popularity of the in-house eateries.
Locals frequent the bars and eateries, implying nighttime crowds.
4. Viceroy Chicago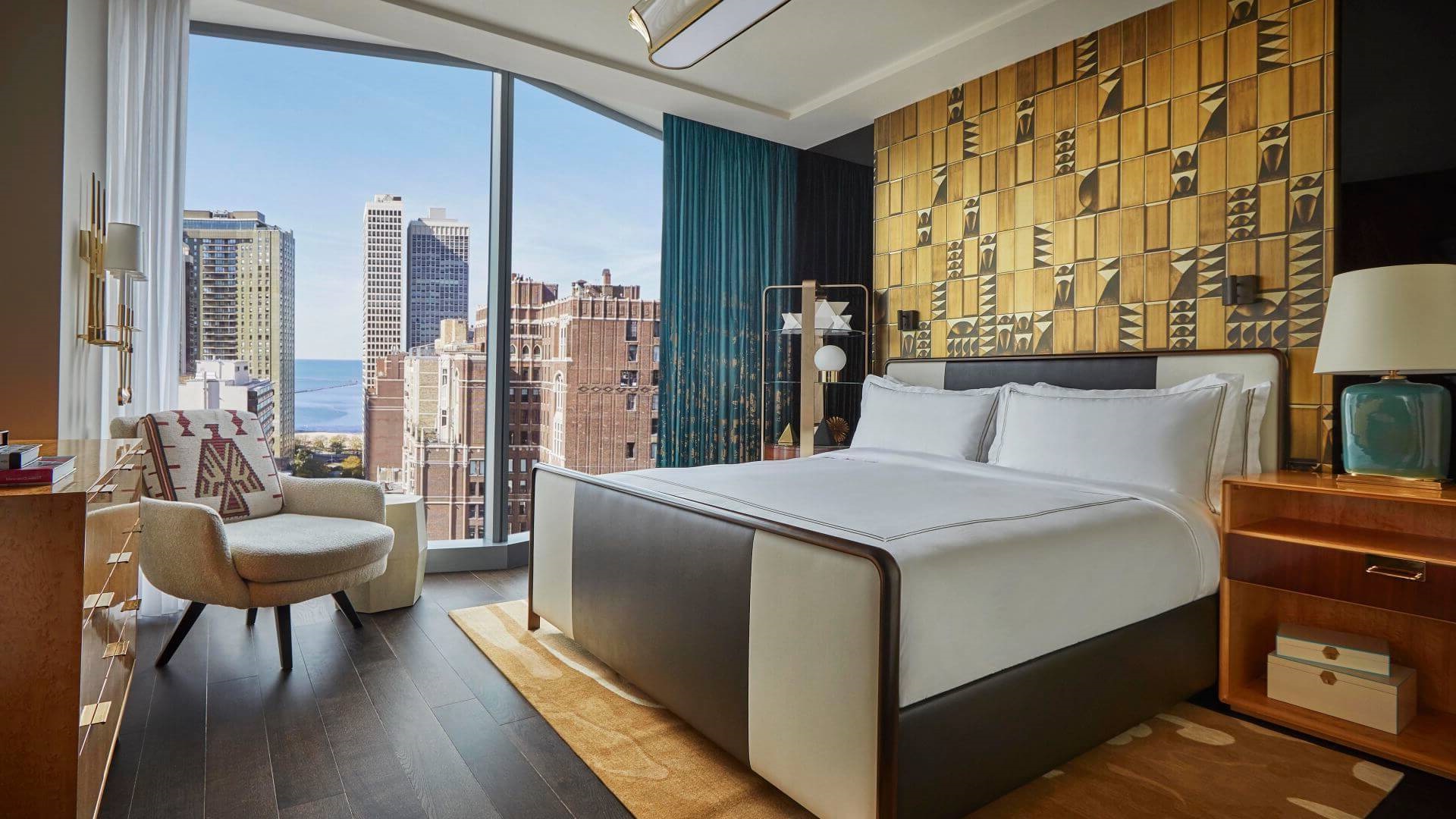 Viceroy Chicago, located in the elite Gold Coast block in a 120-year-old edifice, flawlessly appeals to both old-school indulgence and the 21st-century traveler. The Viceroy excels in representation, from its brilliantly restored 1990s style to its 30-foot lobby wall of quotations. This hotel's location puts visitors in close access to popular retail areas and tourist attractions.
Many of the 180 contemporary rooms include vivid accent walls and furniture, as well as spectacular views of Lake Michigan. The rooms are equipped with a variety of contemporary amenities, including bathrooms with rain showers.
Somerset is a restaurant built to seem like an enticing yacht club, complete with gilt mirrors and a plethora of art deco lighting. Its fresh American cuisine changes on a regular basis, but trademark dishes like smoked beet tartare are essential. Devereaux, the rooftop club, serves specialty drinks while overlooking the stunning Chicago skyline.
Although there is no spa at this Viceroy resort, having access to the hotel's complimentary Tesla vehicle service compensates. This 4.5-star hotel offers tourists a sense of quiet living while still being close to many activities and the beach. It costs anywhere between $325 and $433.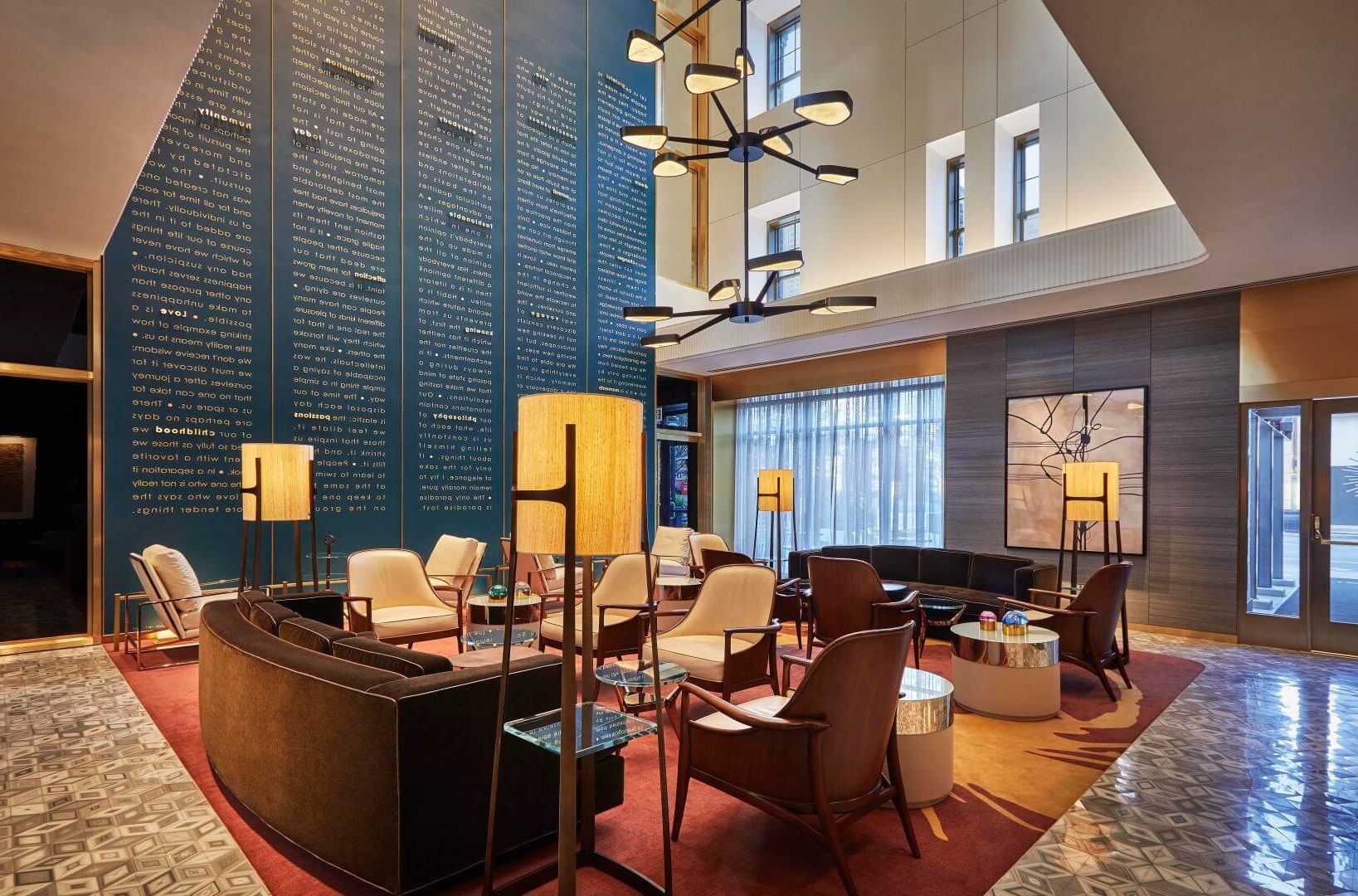 Pros
Rooms with panoramic city views.
Excellent location in one of the city's nicest areas.
Cons
The rooms with lake views may not have a full view.
There is no on-site spa.
5. Virgin Hotels Chicago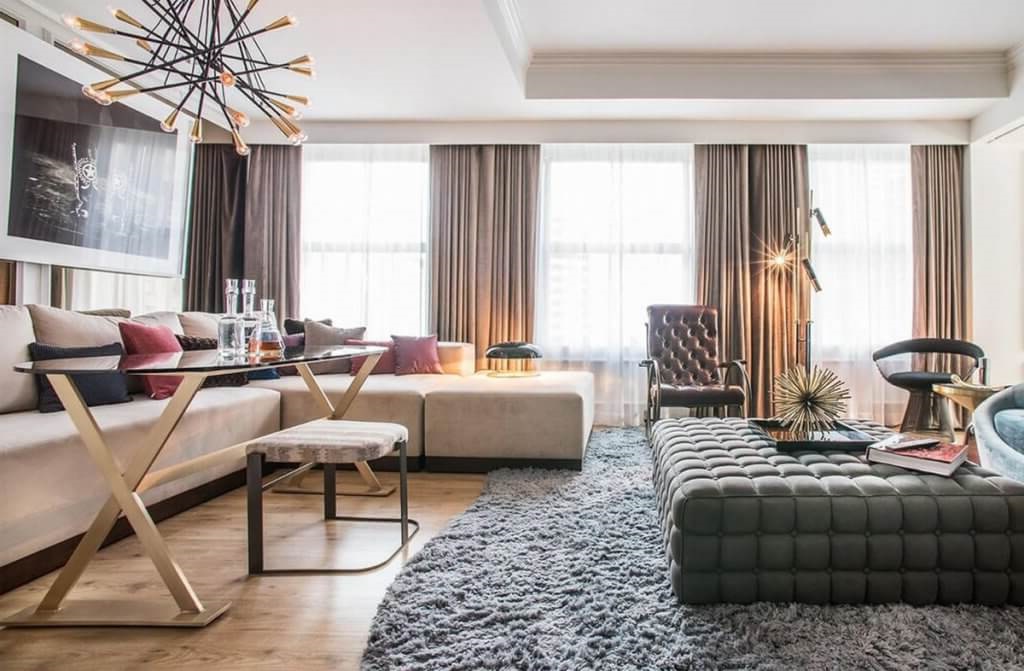 The Virgin Hotels Chicago plays with opposites, with a lively public perspective yet a calm private vista. The pioneering Virgin Hotels launched in Chicago in 2015, built by the Virgin Airline owner. This hotel, one of the greatest hotels in downtown Chicago, is a few blocks from Michigan Avenue and offers an intriguing strategy to new indulgence and pleasure, targeting more young business models and tech-savvy explorers. An app for couriers (such as Door Dash), as well as TV control.
The 26-story hotel's cherry-red color schemed room, or chamber, divides the huge changing space from the sleeping section. As one of the top hotels in Chicago for couples, the ambience is pleasant and gives off a contemporary feeling.
There are no authentic eateries, despite the abundance of dining and drinking alternatives. There's the Commons Club, a cocktail club, and Two Zero Three, a coffee shop during the day and a wine bar at night. Cerise, a rooftop bar with creative drinks and a speakeasy, overlooks great views of the city from its patio.
With the desire for extra amenities, such as a pool or spa, the hotel has a 24-hour fitness center. This 4.5-star hotel charges between $259 and $333 per night.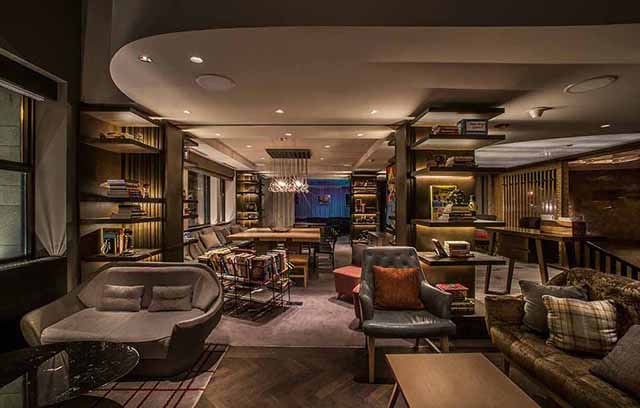 Pros
Amenities and separate dressing rooms are available in the guest rooms.
The lounge's panoramic views of the skyline rooftop are stunning.
Cons
Because the motel is next to the El tracks, it might be loud.
There is no on-site pool or spa.
TRAVELING TO THE UNITED STATES?
---
Do You Have U.S. ESTA VISA Travel Authorization? If You Have ESTA Application, Check if it is Still Valid!
6. Waldorf Astoria Chicago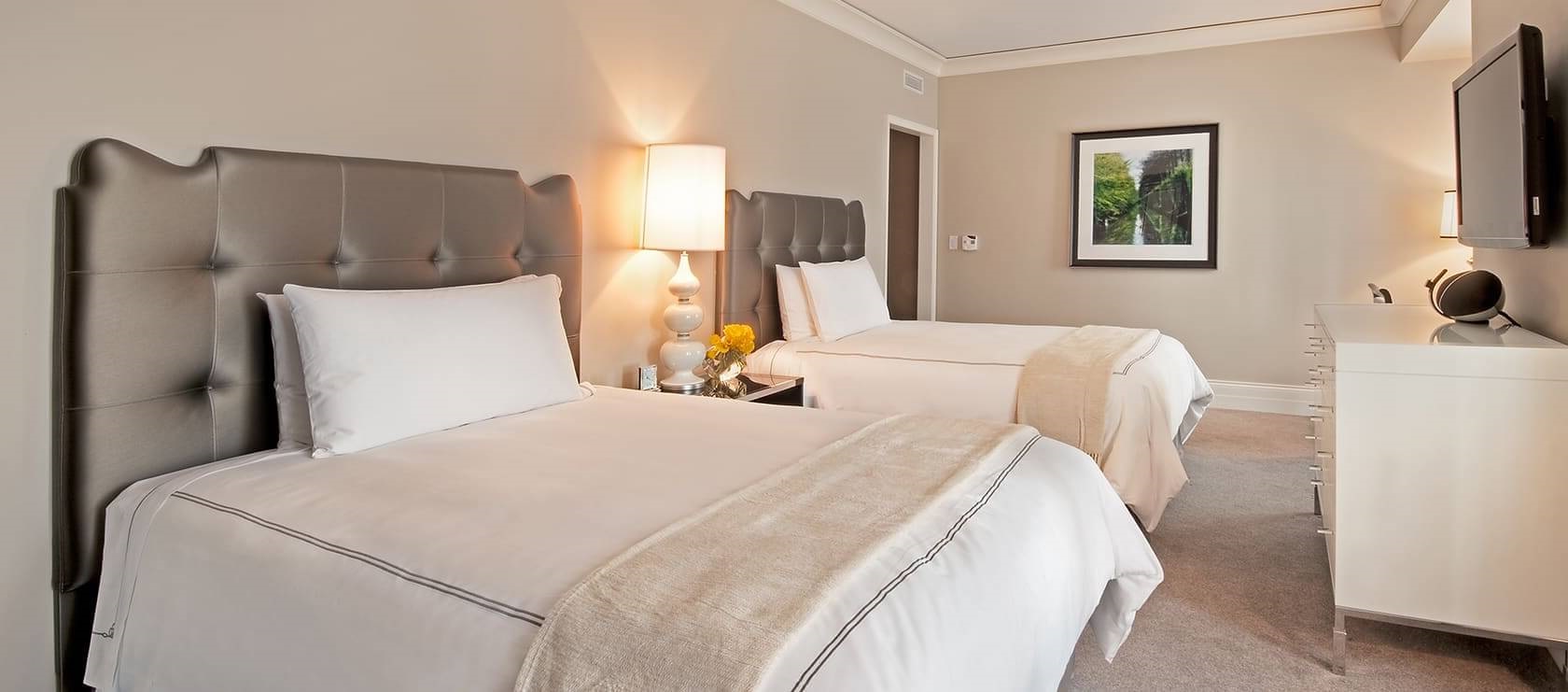 With its classic opulence, the Waldorf Astoria in Chicago's Gold Coast area on East Walton could not be more low-key and stylish. With the hotel's extensive art collection, one may convey the illusion of sashaying around an art show.
The apartments, which include comfortable king-sized beds, are designed in a posh, Parisian style. Some provide unexpected amenities such as in-room fireplaces, separate showers, and tubs, which are more appealing to travelling couples. Michael Mina, a well-known chef, has two on-site diners. Petit Margeaux is a delightful vintage French patisserie serving fast eats such as gourmet sandwiches and fresh pastries. There's The Brasserie, a Parisian café with an exceptional French farm-to-table handmade cuisine that emphasizes the hotel's reputation as one of the top hotels in Chicago for couples.
There is a regular gym and lap pool, as well as a well-known Spa known for its exceptional services. This is a five-star hotel that is a perennial favorite among luxury guests, with rates ranging from $555 to $753.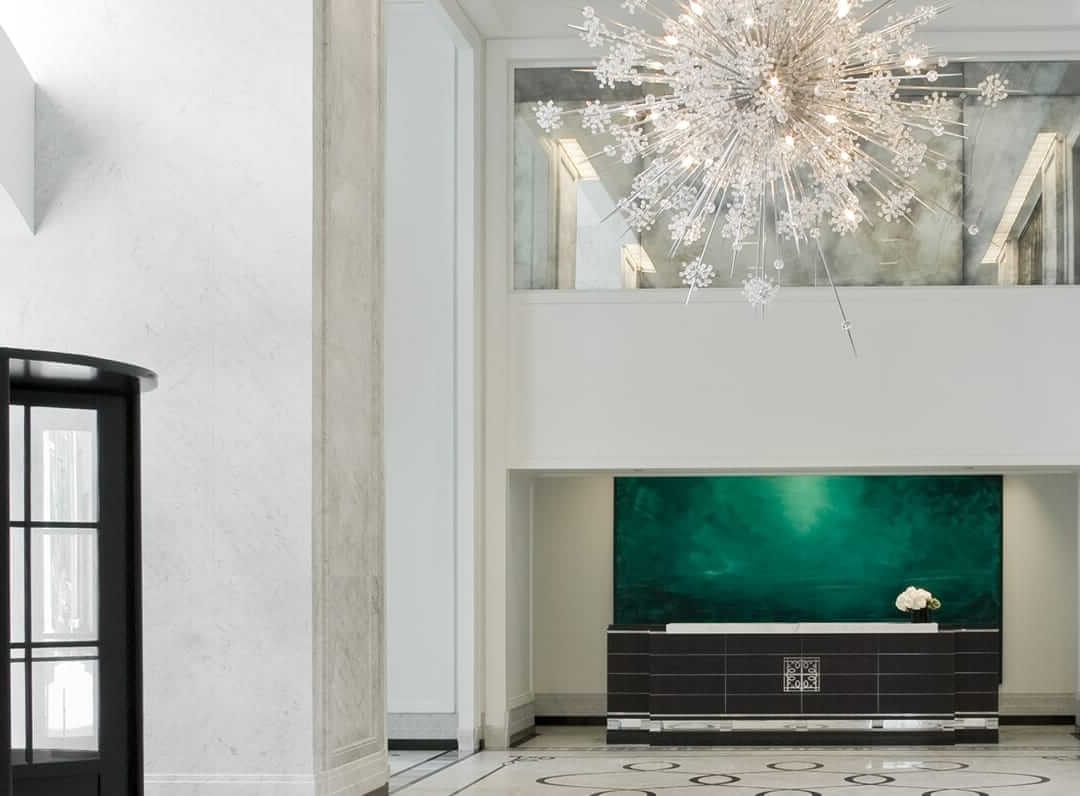 Pros
Rooms with fireplaces provide a romantic atmosphere.
Cons
7. Kimpton Gray Hotel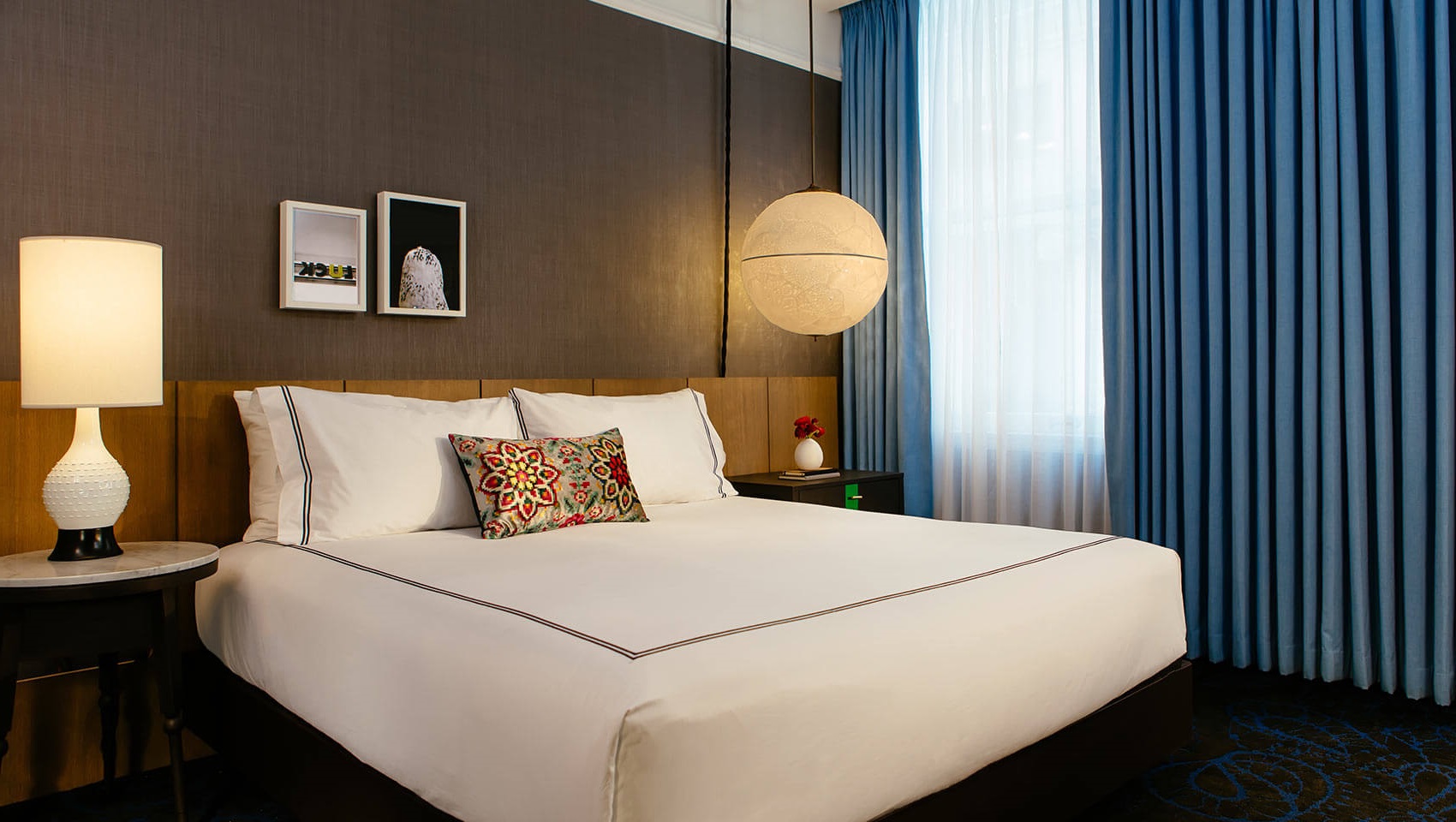 The hotel's name was inspired by the protected Georgia Gray marble present throughout most of the refurbished interiors. It was once known as the New York Life Insurance Building. The Kimpton Gray Hotel, with its flair for elegance and as one of the greatest hotels in downtown Chicago, is excellent for business travelers.
Rooms are named because its relaxing grey color palette, with powder blue accents and unique artwork. Consolidating ancient elements with fresh furniture – smooth platform beds imply mid-century calm, contrasting over the darkened log-built armoire with the ornate interior channels a more flamboyant lot.
The lobby bar Vol. 39 has been given the bookcases and leathery appearance of a romantic law office renovation. When on a high, there's Boleo, an Argentinian rooftop club with a massive retractable roof that offers Latin American street cuisine. It's a favorite hangout for both tourists and locals. This 4.5-star hotel has all of the brand's hallmark facilities, such as complimentary wine receptions, and is priced between $239 and $339.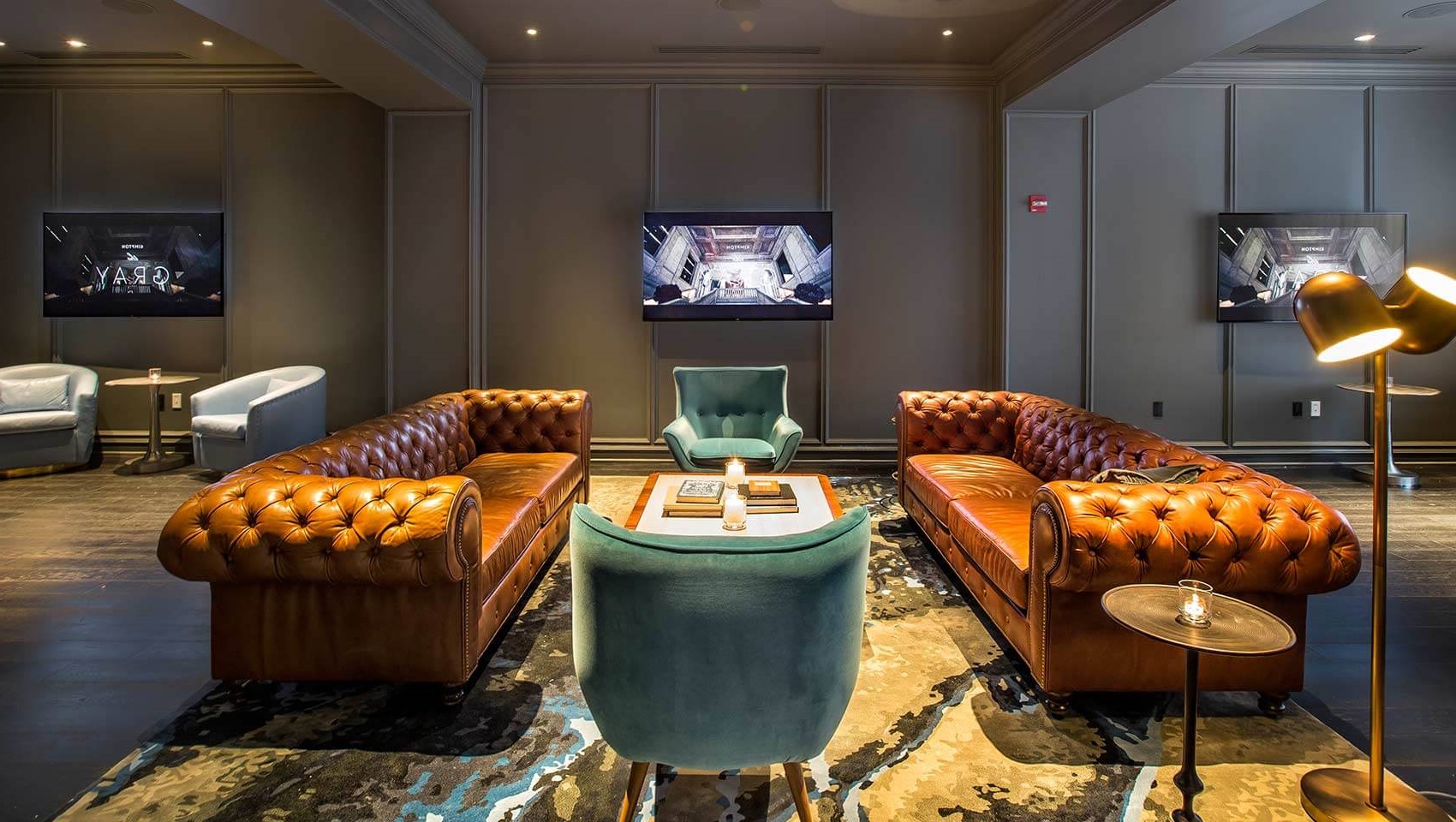 Pros
Popular rooftop restaurant with a downtown setting.
The location is ideal for business travelers.
Cons
The location in the center of the city allows for noise.
8. The Gwen, a Luxury Collection Hotel, Michigan Avenue Chicago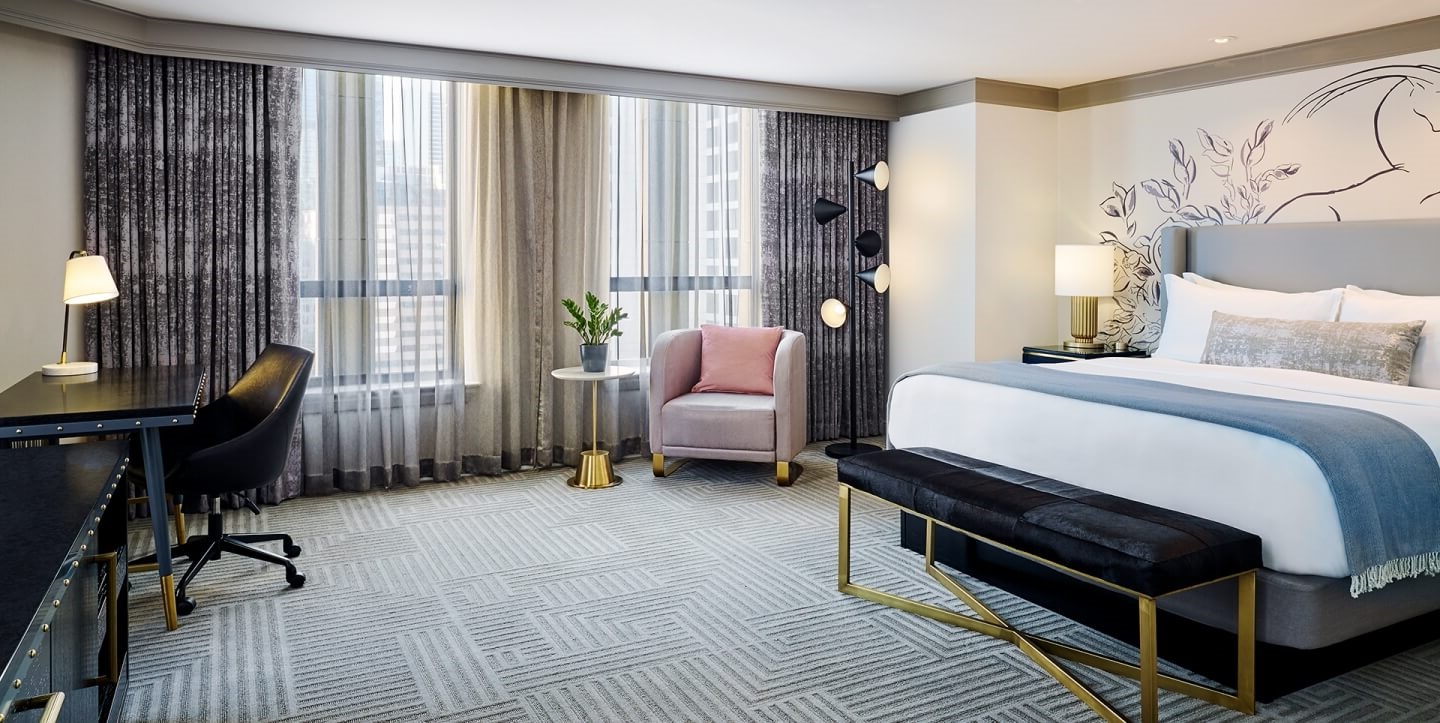 The Marriott Bonvoy Gwen Hotel is located on the iconic Magnificent Mile in an Art Deco classic structure. The hotel is connected to The Shops at North Bridge in Chicago's River North neighborhood, just a few blocks from the Chicago River.
Unlike other expensive hotels in Chicago, this hotel has an old-world charm with beautiful tones and sophisticated décor, crystal chandeliers, and exquisite furnishings. The rooms merely change color to match the lobby, and they include ultra-luxe Frette linens.
Upstairs at the Gwen, a rooftop bar and diner from one of Chicago's most known chefs, is active during favorable weather seasons. There's also a chic rooftop patio with fire pits. On weekends, it serves brunch with creative beverages and small foods. The other in-house restaurant, Kostali by Naha, features a Mediterranean menu and has potential for a supper menu. This 4.5-star hotel has rates ranging from $309 to $439.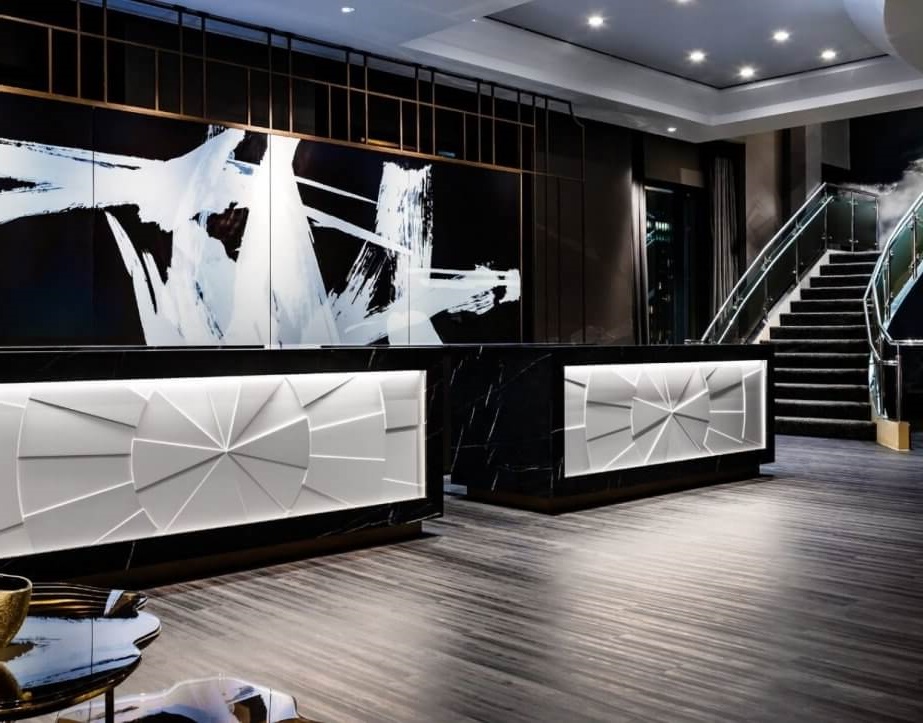 Pros
The rooftop patio and location of this hotel are its features.
Cons
The location on bustling Michigan Avenue necessitates a less-than-quiet atmosphere.
9. Radisson Blu Aqua Hotel Chicago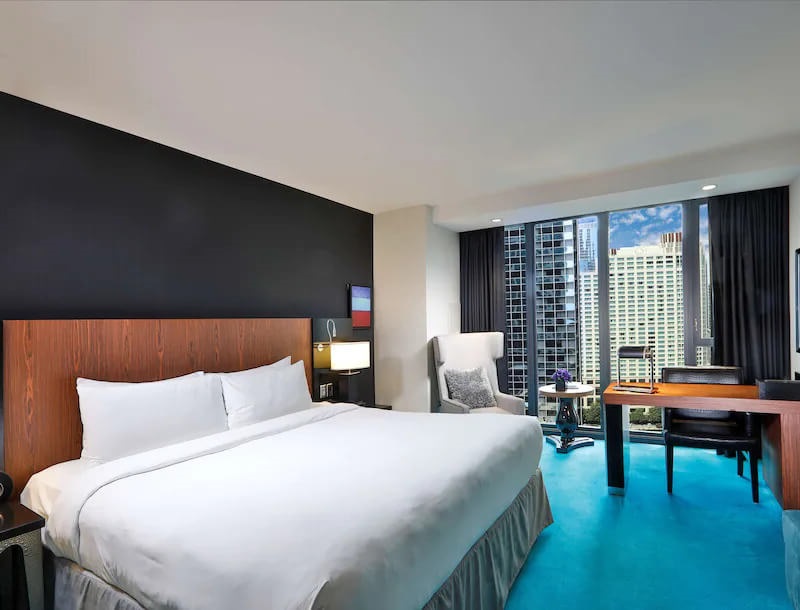 The Radisson Blu Aqua Hotel Chicago combines panoramic views of Chicago with a contemporary, cosmopolitan design. This contemporary hotel next to Millennium Park and The Magnificent Mile is a hidden gem. The foyer alone features a 50-foot fireplace and interesting art, plus this hotel has an app.
The elegant rooms feature a modern minimalist theme with varied color palettes. The standard room décor is high-key turquoise colors, with white walls and hardwood flooring in certain suites. It is the location of the Fire Lake Grill House & Cocktail Bar, which serves Midwestern cuisine.
There are several rooftop amenities, such as a lap pool and hot tub. There are indoor and outdoor pools, as well as a fantastic gym. There's an 8,000-square-foot exercise center with a half-court basketball court and a 25-yard lap pool, as well as a 1/5 mile jogging track and a dedicated yoga room. The rates for this 4.5-star hotel range from $205 to $416.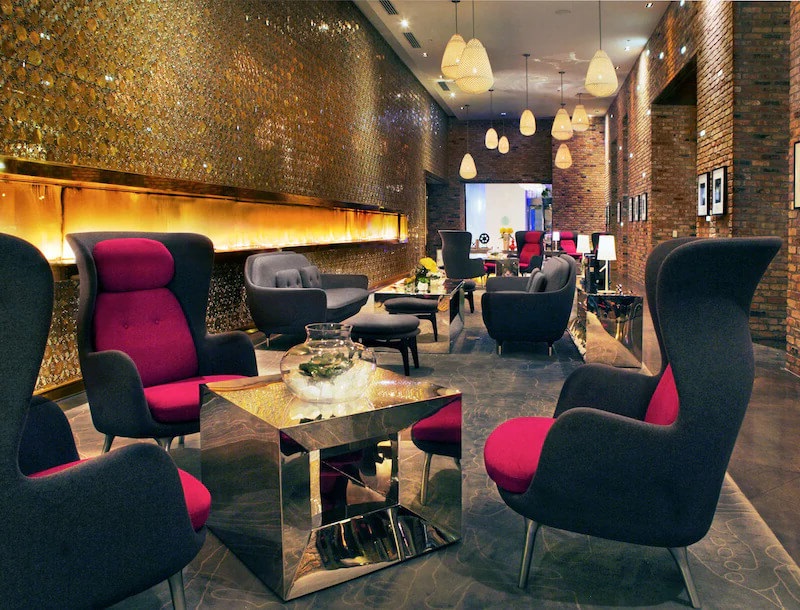 Pros
There are three pools on-site, as well as a spa and a large garden.
Cons
The excessively expensive price for the quality of the accommodations.
10. The Drake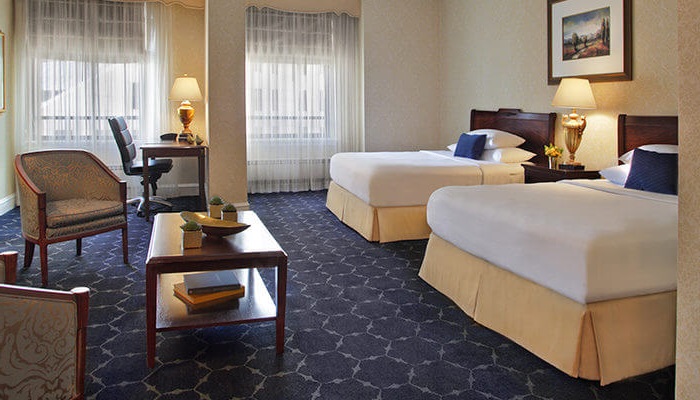 Drake's old-fashioned manner has been so endearing since the 1920s. It has entertained various aristocrats, including Queen Elizabeth II and Princess Diana, for nearly a century. The location is fantastic – across the street from Oak Street Beach and surrounded by a plethora of retail and dining options. There's the stunning vistas of Lake Michigan and the metropolis directly from the lakefront.
The Drake's guest rooms have kept its historical beauty while incorporating modern comforts. All of the rooms have Italian marble baths, trademark tranquilly beds, and Hilton linens.
Coq d'Or, which offers drinks, lunch, and dinner everyday, is one of two in-house restaurants. There is also an American breakfast buffet offered at The Camellia Room. Palm Court serves afternoon tea, and Lavazza welcomes tourists looking for coffee or fast meals. This is a 4-star hotel with rates ranging from $196 to $420.

Pros
A historic hotel in an ideal position.
Cons
Rooms may require refurbishment.
FAQ About Chicago Hotels
TRAVELING TO THE UNITED STATES?
---
Do You Have U.S. ESTA VISA Travel Authorization? If You Have ESTA Application, Check if it is Still Valid!
Conclusion
There are separate rooms for those looking for luxury, families, business travelers, and visitors! The best hotels in Chicago go above and above to make their visitors feel at ease. These top ten 'best hotels in Chicago' choices will make your stay in this breezy city memorable and enjoyable.